The Double Comfort Safari Club Reader's Guide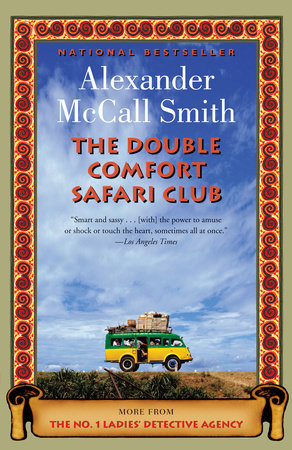 The Double Comfort Safari Club Reader's Guide
READERS GUIDE
The questions, topics, and other material that follow are intended to enhance your group's conversation about
The Double Comfort Safari Club
, the latest installment in Alexander McCall Smith's beloved series, The No. 1 Ladies' Detective Agency.
Introduction
In this story, Precious Ramotswe deals with issues of mistaken identity and great fortune against the beautiful backdrop of Botswana's remote and striking Okavango Delta.
Mma Ramotswe and Mma Makutsi head to a safari camp to carry out a delicate mission on behalf of a former guest who has left one of the guides a large sum of money. But once they find their man, Precious begins to sense that something is not right. To make matters worse, shortly before their departure Mma Makutsi's fiancé, Phuti Radiphuti, suffers a debilitating accident, and when his aunt moves in to take care of him, she pushes Mma Makutsi out of the picture. Finally, a local priest and his wife independently approach Mma Ramotswe with concerns of infidelity, creating a rather unusual and rocky situation. Nevertheless, Precious is confident that with a little patience, kindness, and good sense things will work out for the best.
Questions and Topics for Discussion
1. Mr. J.L.B. Matekoni thinks of himself as less clever than his wife. What happens in the opening scene that proves him to be as observant and intuitive as Mma Ramotswe herself (pp. 7–14)?
2. The differences between men and women have long been a topic of discussion between Mma Ramotswe and Mma Makutsi. Mma Makutsi thinks, "Of course men and women were different, and women were, on the whole, different in a better way. . . . Women were capable of doing rather more than men" (p. 38). Does this prove true in the course of the story?
3. Botswana is more than just a setting in these stories. Mr. J.L.B. Matekoni thinks about the country as he drives to the aid of Mma Mateleke (p. 4), while Mma Ramotswe thinks about her father's Botswana "in which young people had shown respect for older people" (p. 34). What does Botswana represent, for Mma Ramotswe particularly?
4. Mma Makutsi challenges the patience and kindness of Mma Ramotswe often in this novel. How does Mma Ramotswe respond to Grace's suggestion about switching teapots? Why does she buy Grace a new pair of boots?
5. "How to Love Your Country Again" is a chapter that appears not to advance the plot. What is the purpose, then, of this seeming pause in the story? What are some of the observations and reflections here that provide insight into Mma Ramotswe's character?
6. What is at stake in the struggle between Grace and Phuti's aunt? Do you find Phuti's timidity disturbing as the story goes on? Is this an aspect of his character that Grace fully accepts?
7. What is the lesson of the visiting priest who gives the sermon in the cathedral? Why does Mma Ramotswe change her mind about telling people not to weep (pp. 67–68)?
8. Mma Ramotswe defines wisdom as "an understanding of the feelings of others and of what would work and what would not work; which stood by one's shoulder and said this is right or this is wrong, or this person is lying or this person is telling the truth" (p. 34). What do you think of this definition of the term? Is wisdom the key to her success as a detective?
9. Violet Sephotho has convinced Robert Kereleng to put his new house in her name. Why does her plan backfire (pp. 147–49)? Why is Grace so happy about this (pp. 153–54)?
10. When Precious and Grace travel to the Okavango Delta, several comic scenes develop. What are some of your favorite funny moments during their trip?
11. Mma Ramotswe has been hired to find an unnamed guide at a safari camp, to whom an American woman has left a large amount of money. A coincidence—two women named Mrs. Grant—causes Mma Ramotswe to tell the wrong man he will receive the bequest. But another coincidence resolves the difficulty (pp. 187, 194). Would you consider this outcome a matter of plot manipulation or a plausible situation, given the closeness of kinship ties in a place like Botswana?
12. Why does Mma Potokwane succeed in the confrontation with Phuti's aunt? What is Mma Potokwane willing to do that Mma Ramotswe did not do (pp. 206–10)? Is this because Mma Ramotswe is too kind to act forcefully?
13. In most detective fiction, readers seek the identity of the criminal or the resolution of a mystery. Who is the guilty party, and what if anything is the mystery, in The Double Comfort Safari Club? How does Mma Ramotswe differ from most fictional detectives? How do plot and pace differ, and what other unique features distinguish the No. 1 Ladies' Detective Agency series from other detective fiction?
14. How does Mma Ramotswe figure out what is going on in Mma Mateleke's marriage? How well does she manage her tricky conversations with the husband and the wife?
15. The novel's ending brings a happy reunion of Grace and Phuti, who says that Grace will be "Mma Radiphuti . . . very soon now" (p. 210). Do you expect that the marriage will take place in the next installment?


(For a complete list of available reading group guides, and to sign up for the Reading Group Center e-newsletter, visit www.readinggroupcenter.com.)
About this Author
Alexander McCall Smith is the author of the bestselling No. 1 Ladies' Detective Agency series (an HBO TV series), as well as the Isabel Dalhousie series, the Portuguese Irregular Verb series, the 44 Scotland Street series, and the latest, the Corduroy Mansions series. He is professor emeritus of medical law at the University of Edinburgh and has served on many national and international bodies concerned with bioethics. He was born in what is now known as Zimbabwe and taught law at the University of Botswana. He now lives in Scotland and plays the bassoon in the Really Terrible Orchestra in his spare time.
Suggested Reading
Chinua Achebe,
Things Fall Apart
; Chimamanda Ngozi Adichie,
Half of a Yellow Sun
; J. M. Coetzee,
Disgrace
; Nuruddin Farah,
Gifts
; Alexandra Fuller,
Don't Let's Go to the Dogs Tonight
; Nadine Gordimer,
Six Feet of the Country
; Bessie Head,
When Rain Clouds Gather
; Norman Rush,
Mating
; Wole Soyinka,
Aké: The Years of Childhood
Back to Top