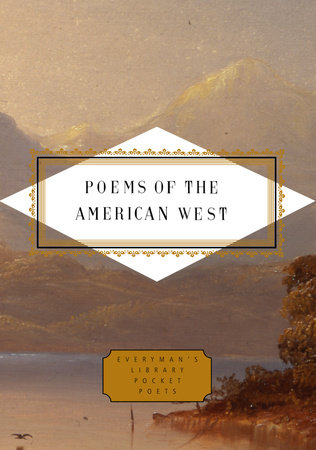 Poems of the American West
Edited by
Robert Mezey
Edited by
Robert Mezey
Best Seller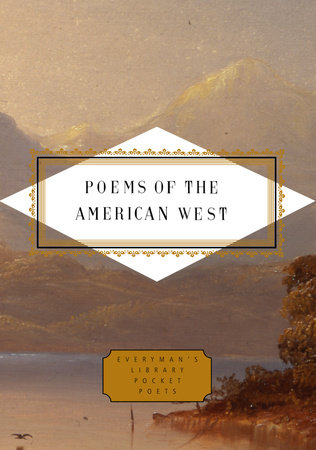 Sep 10, 2002
|
ISBN 9780375414596
Buy the Hardcover:
YOU MAY ALSO LIKE
QUICK VIEW
Collected Poems
Hardcover
$40.00
QUICK VIEW
Early Poems
Paperback
$18.00
QUICK VIEW
The Random House Book of 20th Century French Poetry
Paperback
$26.00
QUICK VIEW
The Complete Poems
Paperback
$22.00
QUICK VIEW
A Shropshire Lad and Other Poems
Paperback
$19.00
QUICK VIEW
Selected Poems
Paperback
$16.00
QUICK VIEW
QUICK VIEW
Early Poems
Paperback
$14.00
QUICK VIEW
Decadent Poetry
Paperback
$19.00
QUICK VIEW
Unsettling America
Paperback
$18.00
Table Of Contents
Foreword

ROBERT FROST (1874–1963)
Once by the Pacific
Auspex
The Gift Outright

GUILLAUME APOLLINAIRE (1880–1918)
Annie

WITTER BYNNER (1881–1968)
Defeat

ROBINSON JEFFERS (1887–1962)
Compensation
The Eye

FOLKSONGS
Me and My Uncle
Jesse James
The Streets of Laredo
The Buffalo Skinners

THOMAS HORNSBY FERRIL (1896–1988)
Bookmarks
Science Came West

BERTOLT BRECHT (1898–1956)
Hollywood
Landscape of Exile

JANET LEWIS (1899–1998)
For John Muir, a Century and More Afte His Time

TRIBAL POEMS
Chippewa: "Sometimes I go about"
Yokuts: Song of the Eclipse
Makah: Song
Hidatsa: We Made a Fire
Papago: Song of the Brown Buzzard
Dakota: Song of Reproach
Chippewa: Where the Fight Was
Pawnee: Better to Die Young
Crow: Prayer Offering
Malecite: Tale
Pawnee: Buffalo Dance Song
Chemehuevi: Love Song
Sanpoil: After Hunting
Yuma: Death Song
Sioux: "The earth is all that lives"

YVOR WINTERS (1900–1968)
The Journey
On Rereading a Passage from John Muir
John Sutter
To the Holy Spirit

BREWSTER GHISELIN (1903–1996)
Rattlesnake
Headland

KENNETH REXROTH (1905–1982)
From Andree Rexroth
—Kings River Canyon

THEODORE ROETHKE (1908–1963)
The Rose

JOSEPHINE MILES (1911–1985)
West from Ithaca

J. V. CUNNINGHAM (1911–1985)
Montana Pastoral
From To What Strangers, What Welcome
Montana Fifty Years Ago

KARL SHAPIRO (1913–2000)
California Winter
Western Town
California Petrarchan

VIRGINIA HAMILTON ADAIR (b. 1913)
Mojave Evening
Second Coming

WELDON KEES (1914–1955)
Two Cities

WILLIAM STAFFORD (1914–1998)
At the Bomb Testing Site
The Tillamook Burn
In the Oregon Country
What Ever Happened to the Beats?
Traveling Through the Dark

ANN STANFORD (1916–1987)
The Four Horsemen

CHARLES BUKOWSKI (1920–1994)
Vegas

LEE GERLACH (b. 1920)
Genesis

CHARLES FOSTER (1922–1967)
How Everything Was in the End Resolved in California

LOUIS SIMPSON (b. 1923)
West
The Redwoods

ZBIGNIEW HERBERT (1924–1998)
Sequoia

JOHN HAINES (b. 1924)
Pawnee Dust
Ghost Town
Alive in the World
Men Against the Sky

EDGAR BOWERS (1925–2000)
Someone in San Francisco
Breakages

DONALD JUSTICE (b. 1925)
Henry James by the Pacific
Banjo Dog Variations

ALAN STEPHENS (b. 1925)
After Work: Foreword
From Water Among the Stones Along the Matilija
—XVI The End of Something
—XVII Yucca Whipplei

DAVID WAGONER (b. 1926)
Tumbleweed
Fire by the River

HENRI COULETTE (1928–1989)
The Extras
From The Hermit
—Elsewhere
Quake
The Garden

JAMES WRIGHT (1928–1980)
The Frontier
Outside Fargo, North Dakota

WILLIAM DICKEY (1928–1994)
On His Way to Wyoming
Coyote's Song

CHARLES GULLANS (1929–1993)
Los Angeles Place Names
From Many Houses, Part 1

THOM GUNN (1929–2004)
Hitching into Frisco
San Francisco Streets

BERT MEYERS (1929–1979)
From Landscapes
—The City
The Drive

MILLER WILLIAMS (b. 1930)
Pity and Fear

PETER EVERWINE (b. 1930)
Collecting the Animals
The Marsh, New Year's Day
How It Is

COUNTRY & WESTERN LYRICS
This Ain't My First Rodeo [Vern Gosden, Max D. Barnes and Hank Cochran]
A Better Class of Losers [Randy Travis and Alan Jackson]
Lone Star State of Mind [Fred Koller]
Faster Horses [Tom T. Hall]

GARY SNYDER (b. 1930)
Mid-August at Sourdough Mountain Lookout
Hay for the Horses

DICK BARNES (1932–2000)
Granite Intrusive
Few and Far Between
On a Painting by David Hockney
Pomona Laundresses
Shoot Out
Willie Boy
Erles
Trophy Hunt
Bagdad Chase Road in July

RHINA P. ESPAILLAT (b. 1932)
When We Sold the Tent

RICHARD SHELTON (b. 1933)
Sonora Wind
From Whatever Became of Me
Requiem for Sonora

JOHN RIDLAND (b. 1933)
Lunch at Deer Creek
Black Angel

VERN RUTSALA (b. 1934)
The Shack Outside Boise

N. SCOTT MOMADAY (b. 1934)
Fort Sill
Earth and I Gave You Turquoise

CHARLES WRIGHT (b. 1935)
Laguna Blues

GEORGE KEITHLEY (b. 1935)
From The Donner Party
—Land Logic

ROBERT MEZEY (b. 1935)
In Texas: Variation on a Theme of Borges'

LUIS SALINAS (b. 1937)
My Fifty-Plus Years Celebrate Spring

STEVE KOWIT (b. 1938)
Jacumba

LAWSON FUSAO INADA (b. 1939)
Utica, North Platte

GLOVER DAVIS (b. 1939)
The Eagle

TED KOOSER (b. 1939)
Abandoned Farmhouse
Mrs. Jones:
Country-Western Music
A Summer Night

RON KOERTGE (b. 1940)
Road Kill
Ruidoso, N. M.

OLIVIA SIMPSON ELLIS (b. 1941)
Looking West
Signing Your Life Away

MICHAEL SHEPLER (b. 1942)
Diary of a Lost Girl
Out There in the Dark

C. G. HANZLICEK (b. 1942)
Moment

B. H. FAIRCHILD (b. 1942)
The Men
Brazil

NANCY WARE (b. 1942)
No Name

MICHAEL CREAGAN (b. 1944)
Taking a Walk on Sunday

LARRY LEVIS (1946–1996)
The Poet at Seventeen

GREG PAPE (b. 1947)
Winter Night Under Black Mountain

R. S. GWYNN (b. 1948)
At Rose's Range

TIMOTHY STEELE (b. 1948)
A Shore

LYNN EMANUEL (b. 1949)
One Summer Hurricane Lynn Spawns Tornados as Far West as Ely

DAVID ST. JOHN (b. 1949)
Chapter Forever

TIMOTHY MURPHY (b. 1951)
Buffalo Commons
The Last Sod Busters
"It is Very Far North . . ."
The Failure

JAMES GALVIN (b. 1951)
Not So Much on the Land as in the Wind
Three Sonnets

SUZANNE LUMMIS (b. 1951)
Notes Taken at Ocean Beach, San Francisco
Poem Noir
Earthquake

ALBERTO RIOS (b. 1952)
Wet Camp
Spring in the Only Place Spring Was

MARK JARMAN (b. 1952)
The Supremes

GARY SOTO (b. 1952)
Saturday at the Canal

SUZANNE DOYLE (b. 1954)
Heart's Desire

JOE BOLTON (1961–1990)
Laguna Beach Breakdown
The Lights at Newport Beach
Days of Summer Gone

Acknowledgments
Be the first to know!
And go from well-read to best read with book recs, deals and more in your inbox every week.
And go from well-read to best read with book recs, deals and more in your inbox every week.
Dismiss
Thanks!
Something awesome is on its way.
Back to Top
Become a Member
Start earning points for buying books! Just for joining you'll get personalized recommendations on your dashboard daily and features only for members.
Find Out More
Join Now
Sign In
Success!
Your account has been created. Upload book purchases, access your personalized book recommendations, and more from here.