The Icarus Girl Reader's Guide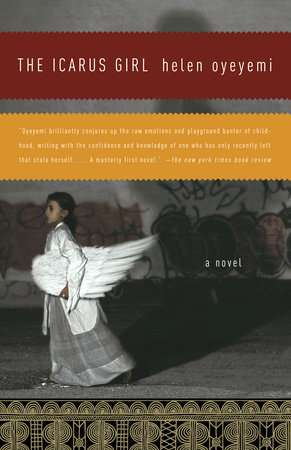 The Icarus Girl Reader's Guide
READERS GUIDE
Deftly blending the motifs of African folklore with an original new voice, Nigerian born Helen Oyeyemi tells
a haunting story of twins and ghosts, of a little girl growing up between cultures and colors, to capture the mysterious power of myth to transform reality.
Powerfully imaginative and compelling,
The Icarus Girl
is perfect for you next reading group choice. Here are some questions to enhance your discussions:
Questions and Topics for Discussion
1. Jessamy Harrison has a Nigerian mother and an English father. How important is Jess's mixed race? How important are these two very different cultures to her? 
2. What is the significance of the "long-armed woman" who appears in Jess's dreams? What does she mean when she says "We are the same"?
3. Jess readily accepts TillyTilly's ability to alter Jess's reality. Is TillyTilly a ghost, a demon, Jess's alter ego as Dr. McKenzie suggests, or something else?
4. How successful is Helen Oyeyemi at capturing the voice, thoughts and fears of a troubled eight-year-old? 
5. Jess's grandfather tells her "Two hungry people should never make friends." What does he mean? How important is Jess's grandfather to her?
6. The ibeji statue's "aid" of Jess in the Bush does not constitute a victory for Jess and Fern. What do you think happens at the end of the novel?

(Questions and content courtesy of Nan A. Talese/Doubleday.)
Back to Top