Going Home Again Reader's Guide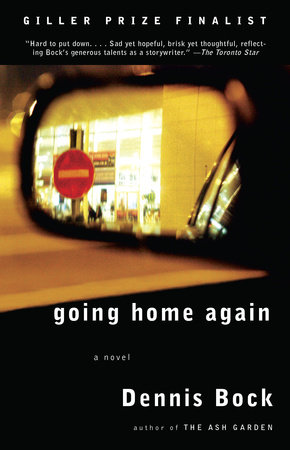 Going Home Again Reader's Guide
READERS GUIDE
The introduction, author biography, discussion questions, and suggested reading that follow are designed to enhance your group's discussion of 
Going Home Again
, the compelling new novel by Dennis Bock.
Introduction
With wit and compassion, Dennis Bock paints a vibrant portrait of an ordinary man, bringing to life his charged relationship with his older brother, his haunting first love affair, his life as a long-distance father, and the tragic deaths that force him to confront who he is and what he really wants.  
When his marriage begins to fall apart, Charlie Bellerose reluctantly leaves his wife and daughter in Madrid and returns to his native Canada. The owner of several language academies around the world, he focuses on opening a new school in Toronto and reestablishing a relationship with his estranged brother, Nate. Nate, the father of two boys, is in the midst of a messy divorce, and Charlie finds comfort in his role as uncle and in rediscovering a long-buried affection for his brother. With his work at the school, a budding romance with a local woman, and, most of all, his Skype sessions and visits with his beloved daughter, Charlie is settling into a new life—until a chance encounter with his first love stirs bittersweet memories and illuminates the complicated web of loyalty and rivalry, love and heartbreak that has shaped him.The questions, topics for discussion, and suggested reading that follow are designed to enhance your group's discussion of
Going Home Again,
an engaging and compelling novel.
Questions and Topics for Discussion
1. Why do you think Bock begins with a prologue that offers a provocative glimpse of the novel's ending? What does the scene convey about Charlie's marriage, his relationships with Isabel and Ava, and his feelings about Nate? Are your first impressions of the brothers confirmed or belied as the novel unfolds?
2. On the surface, Nate seems to be an easygoing and confident man. What aspects of his behavior when Charlie arrives show him to be a more troubled and complex person than he would like to appear?
3. "That I began to like my brother again couldn't have surprised me more" (p. 24). What enables Charlie to overcome the anger and resentment he has toward Nate? How do their current circumstances influence the way he feels? How does sibling rivalry, past and present, affect their interactions? How does their relationship compare to yours with your siblings?
4. Discuss the incident at the swimming pool (pp. 25–31). Why does Charlie react the way he does? Do you think he was right in deciding not to tell Nate about what happened?
5. Charlie thinks ". . . our loved ones were capable of far more than we were able to handle . . . there were conflicting worlds within us all, and those worlds were ready and willing to defy us at the worst possible moment?" (p. 35). To what extent does this explain or justify the anger and humiliation that characterizes many family disputes? How does it relate to the brothers' concerns about their children?
6. What does Charlie's reaction to seeing Holly reveal about the effect she and Miles had on him (p. 40)? How do his memories of their days together compare to his recollections of Nate when they were young (p. 32, pp. 66–68, pp. 71–75)? Why do some periods of our lives remain vivid while others fade? Have you ever tried to burn a particular memory into your mind, as Charlie does after Miles's death (p. 81)?
7. Why do Holly and Charlie distance themselves from each other after Miles dies? What brings them together a year later? Does Charlie's interpretation of why they can't stay together make sense (p. 103), or is his decision to leave "cowardly" (p. 105)?
8. In what ways do Charlie's travels in Europe and particularly his time in Spain mark a turning point in his life?
9. What does Isabel's last-minute change to the Christmas plans indicate about her attitude about the separation (pp. 124–25)? What spurs Ava's accusations that "you [Charlie] think I'm just some stupid kid you can lie to, and I'll just believe whatever you tell me" (p. 134? Why does the visit in Paris leave Charlie struggling with his decision to move to Canada (p. 138)? Are children sometimes more able or willing to recognize the repercussions of their parents' choices?
10. What incidents are warning signs of Nate's downward spiral? Is Charlie guilty of ignoring the significance of these events?
11. Do you agree with Charlie that Ava, Titus, and Quinn are fated to "limp into adolescence and early adulthood with the same fears and anger that hobbled me and their father" (p. 118)? What determines the prospects of happiness for children of divorce? Can a friend or family member play a role in preventing or mitigating the harmful fallout of a couple's breakup?
12. When Holly tells her story about the night Miles died, Charlie thinks, "In less than a minute the last twenty years had been entirely recast . . ." (p. 199).  What do you think would have happened between Holly and Charlie if he had known the truth immediately? Is Holly's decision to keep it a secret justifiable? In what ways does Holly's revelation give him a new perspective on his marriage?
13. After Nate commits a horrific act of violence, Charlie can't "understand why at this grim stage of his life [Nate] so desperately needed to hold sway over me" (p. 250). What explanations can you offer for Nate's behavior as well as Charlie's reaction to it?
14. Discuss the novel's title. Beyond his literal moves to Canada and back to Madrid, what does the notion of "going home again" mean to Charlie?
15. How does Charlie's profession relate to the themes of Going Home Again? Using examples such as Ava's brainteaser (pp. 8–9), Charlie's experiences with a Spanish girlfriend (p. 65), and his thoughts on the way Germans speak English (pp. 100–101), discuss how the study and use of language is woven into and enhances the meaning of the novel.
16. Going Home Again moves between past and present. Is Bock equally successful in bringing the different times to life, or are the depictions of the characters and events of one period or setting more vivid and engaging? Do you think your age, personal experiences of love and marriage, and gender contribute to your point of view?
About this Author
Dennis Bock, a novelist and short story writer, is the author of
The Ash Garden
and
The Communist's Daughter.
His travel writing and book reviews have appeared in the Toronto
Globe and Mail, The Washington Post,
and other publications. He lives in Toronto.
Suggested Reading
Julian Barnes,
The Sense of an Ending;
Anne Enright,
The Forgotten Waltz;
Jeffrey Eugenides,
The Marriage Plot;
Jonathan Franzen,
Freedom;
Mary Gordon,
The Love of My Youth;
Carol Shields,
Larry's Party;
Elizabeth Strout,
The Burgess Boys
Back to Top