Tar Beach Teacher's Guide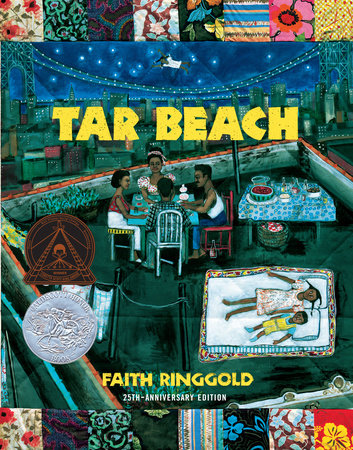 Tar Beach Teacher's Guide
TEACHING GUIDE
ABOUT THIS BOOK
Inspired by people who have overcome adversity, Faith Ringgold creates picture books for children that celebrate freedom, courage, and peace.
Through the character of 8-year-old Cassie Lightfoot in Tar Beach and Aunt Harriet's Underground Railroad in the Sky, Ringgold takes young readers on a flight through time and introduces them to famous people and events in American history. In Tar Beach, through her dreams and her ability to fly, Cassie makes things better for her family during the Great Depression. One night, while flying among the stars, Cassie and her brother, Be Be, encounter Harriet Tubman and learn about slavery in Aunt Harriet's Underground Railroad in the Sky.
ABOUT THIS AUTHOR
Faith Ringgold was born in Harlem in 1930. She received a degree in art education from the City College of New York and was an art teacher long before she became a professional artist. She is best known for her "painted story quilts," some of which hang in the Solomon R. Guggenheim Museum in New York City. Tar Beach, Ringgold's first book for children, won the Coretta Scott King Award for illustration and was named a Caldecott Honor Book. Ringgold is now a professor of art at the University of California at San Diego. She lives in California and in New Jersey.
TEACHING IDEASPre-Reading Activity
Discuss the meaning of the familiar expression, "free as a bird." Ask students to write a short composition or poem about where they would fly if they had the freedom and ability to do so. Give each student a paper square and ask them to design a quilt square that best represents their idea. Use the quilt squares to make a border surrounding a display of students' written works.
Thematic Connections Dreams
Discuss with the class the difference between fanciful and realistic dreams. Why would Cassie Lightfoot's dream in Tar Beach be considered a fanciful dream? Tell students that many of the changes that have occurred in the world began with a dream. Ask the class to discuss Martin Luther King, Jr.'s dream for the world. What was Harriet Tubman's dream? Compare Mama Love's fanciful dream in The Invisible Princess to Dr. King's "real" dream. How did Martin Luther King, Jr. help the dreams of his ancestors come true?
Freedom
Ask students to discuss how flying is used as a metaphor for freedom in Tar Beach and Aunt Harriet's Underground Railroad in the Sky. In Talking to Faith Ringgold, Ringgold says that she believes that she can do anything. How does believing in oneself give a person the freedom to try new things?
Courage
Ask students to define courage. Why does it take courage to become a hero or a heroine? Invite the class to name the many ways that Martin Luther King, Jr., Harriet Tubman, and Patience in The Invisible Princess showed courage.
Interdisciplinary Connections Social Studies
Ask students to draw a map of the United States and color the slave states. Then have them find out the location of the terminals on the Underground Railroad and mark them on the map.
Tar Beach is set in Harlem during the Great Depression. Discuss with the class the meaning of the word "depression." Ask the class to research the many hardships that families faced during this time. How was the Depression even more difficult for African Americans? How might Cassie's life be different today?
Math
Harriet Tubman was born on a plantation in Maryland. She made 19 trips north on the Underground Railroad, taking over 300 slaves to freedom. Ask students to use a map to determine three different routes that Harriet Tubman could have taken from Bucktown, Maryland, to St. Catharines in Canada. Have students calculate the distance of each route. Which route was the best to take? They should consider factors such as distance, terrain, access to waterways, etc.
Science
Cotton was grown on most of the large plantations in the South. Ask students to research how the invention of the cotton gin changed the industry and how cotton is harvested today. Students may also want to trace the development of the cotton mills and list the uses of cotton.
One Step Beyond: The Arts Music & Storytelling
When all of the slaves were freed in The Invisible Princess, there was "music and dancing and storytelling." Divide the class into two groups. Instruct one group to research music like "Go Down Moses" that dates back to the days of slavery. Have the other group locate stories that originated from the African American culture. Allow each group time to perform some of the songs and stories that they discovered.
Creative Drama
Martin Luther King, Jr. is famous for his "I Have a Dream" speech. Plan a class production entitled "Dreams of Freedom," making Cassie Lightfoot the narrator. Ask students to research famous African Americans and their contributions to "freedom" for their race. Some suggestions may include: Dr. Martin Luther King, Jr., Harriet Tubman, Sojourner Truth, Ida Wells, Mary McLeod Bethune, Rosa Parks, and Coretta Scott King. Have students prepare and deliver speeches about "freedom" that each of these individuals might make. Present this production to another class in celebration of Black History Month.
Teaching Ideas prepared by Pat Scales, Director of Library Services of the South Carolina Governor's School for the Arts and Humanities in Greenville, SC.
VOCABULARY
Ask students to list unfamiliar words in each book and try to define the words from the context of the stories. Words they may need to discuss in The Invisible Princess include repentance, tumultuous, and remorse. Students may need discussion regarding terms that refer to slavery and the civil rights movement, including: conductor, slave master, overseers, boycott, fugitives, segregation, and integration.
FURTHER READING
Aunt Harriet's Underground Railroad in the Sky by Faith Ringgold[0-517-88543-3]
The Invisible Princess by Faith Ringgold; illustrated by the author[0-440-41735-X]
My Dream of Martin Luther King by Faith Ringgold[0-517-88577-8]
Talking to Faith Ringgold by Freeman; Faith Ringgold[0-517-88546-8]
Back to Top