Mr. Peanut Reader's Guide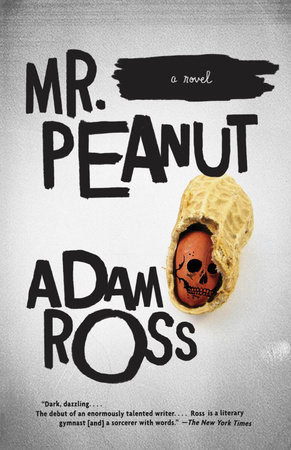 Mr. Peanut Reader's Guide
READERS GUIDE
The questions, discussion topics, and suggestions for further reading that follow are designed to enhance your group's discussion of Adam Ross's mesmerizing first novel,
Mr. Peanut.
Introduction
David Pepin has been in love with his wife, Alice, since the moment they met in a university seminar on Alfred Hitchcock. After thirteen years of marriage, he still can't imagine a remotely happy life without her—yet he obsessively contemplates her demise. Soon she
is
dead, and David is both deeply distraught and the prime suspect.
The detectives investigating Alice's suspicious death have plenty of personal experience with conjugal enigmas: Ward Hastroll was happily married until his wife inexplicably became voluntarily and militantly bedridden, and Sam Sheppard is especially sensitive to the intricacies of marital guilt and innocence, having decades before been convicted and then exonerated of the brutal murder of
his
wife.
Still, these men are in the business of figuring things out, even as Pepin's role in Alice's death grows ever more confounding when they link him to a highly unusual hit man called Mobius. Like the Escher drawings that inspire the computer games David designs for a living, these complex, interlocking dramas are structurally and emotionally intense, subtle, and intriguing; they brilliantly explore the warring impulses of affection and hatred and pose a host of arresting questions. Is it possible to know anyone fully,
completely
?
Are murder and marriage two sides of the same coin, each endlessly recycling into the other? And what, in the end, is the truth about love?
Exhilarating and profoundly moving,
Mr. Peanut
is a police procedural of the soul, a poignant investigation of the relentlessly mysterious human heart—and a first novel of the highest order.
Questions and Topics for Discussion
1. How do the three different marriages depicted in Mr. Peanut relate to one another? What traits differentiate each marriage?
2. In our question and answer session with Adam Ross, he expressed his hope that "readers experience a series of recognitions. That they read about each marriage and say, 'Yes, I've been there.' " What, if anything, struck a chord with you about the relationships in Mr. Peanut?
3. Are married people capable of change? Does Mr. Peanut answer this question?
4. Mobius remarks upon "the dual nature of marriage, the proximity of violence and love" (p. 238). Discuss how Mr. Peanut links marriage and violence.
5. How convincingly does Ross portray deep love alongside the ugly thoughts of deception, betrayal, and murder? Does Mr. Peanut straddle this line with perfect balance, or do you feel the story tips one way or the other?
6. What is Mobius's role in the novel?
7. How do M.C. Escher's drawings manifest themselves in the narrative style and content of Mr. Peanut?
8. Is Mr. Peanut something other than straightforward narrative realism? Are there any obvious impossibilities within the novel? What do these deviations from reality mean within the context of the novel's plot?
9. What do you make of the Alfred Hitchcock references in Mr. Peanut?
10. On page 11 Sheppard reflects, "Murder . . . is an interruption of habit, or its culmination." What do you think he means by that?
11. On page 21 Ross writes, "We tell stories of other people's marriages, Detective Hastroll thought. We are experts in their parables and parabolas. But can we tell the story of our own? If we could, we might avoid our own cruelties and crime." How so?
12. How does Mr. Peanut relate to the fatal marriages we encounter in the news, e.g., the Dr. Sam Sheppard case and the O. J. Simpson case?


(For a complete list of available reading group guides, and to sign up for the Reading Group Center enewsletter, visit: www.readinggroupcenter.com.)
About this Author
Adam Ross lives in Nashville, Tennessee, with his wife and their two daughters.
Suggested Reading
Edward Albee,
Who's Afraid of Virginia Woolf?;
Jennifer Egan,
A Visit from the Goon Squad;
Milan Kundera,
The Unbearable Lightness of Being;
Vladimir Nabokov,
Lolita;
Gary Shteyngart,
Super Sad True Love Story
Back to Top