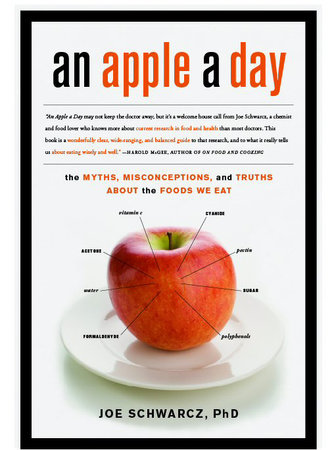 An Apple a Day
The Myths, Misconceptions, and Truths About the Foods We Eat
The Myths, Misconceptions, and Truths About the Foods We Eat
The Myths, Misconceptions, and Truths About the Foods We Eat
By Joe Schwarcz

By
Joe Schwarcz
By Joe Schwarcz

By
Joe Schwarcz
By Joe Schwarcz

By
Joe Schwarcz
Best Seller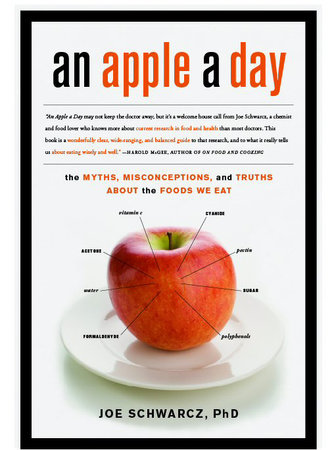 Dec 28, 2010 | ISBN 9781590514580
*This title is not eligible for purchase to earn points nor for redemption with your code in the
Reader Rewards
program
People Who Read
An Apple a Day

Also Read
Inspired by Your Browsing History
Praise
Publishers Weekly

"Readers will not need a PhD in chemistry to follow along; Schwarcz wisely limits technical terms to the minimum while adequately explaining the chemistry involved in digestion."


Library Journal
Rachel M. Minkin

"… an entertaining guide through the tangle of conflicting research studies, advertising claims, special interest groups, age-old myths and popular opinion that make diet a cloudy subject. … leaves readers with a rational framework for evaluating the complex nature of foods and how they affect health."


ForeWord Magazine

"An Apple a Day hashes out hype and irrational panic one chemical compound and one foodstuff at a time. Between ubiquitous cover-ups and endemic hysteria about what's in our food and our bloodstreams, there's nothing more helpful than a clear-speaking and apparently non-aligned food chemist who is willing to identify the real risks and defuse the rampant bad information out there. Addressing allegations that companies like Monsanto and Novartis intentionally poison consumers, Schwarcz urges skepticism, because "no company wants to undermine its existence or its profits by marketing a dangerous substance." Discounting unfounded rumors, Schwarcz identifies a handful of foodstuffs and practices that should cause real concern. The most serious are the rampant use of antibiotics in livestock and indications that trans fats may do serious harm to people's memories."


Back to Top