Emma's War Reader's Guide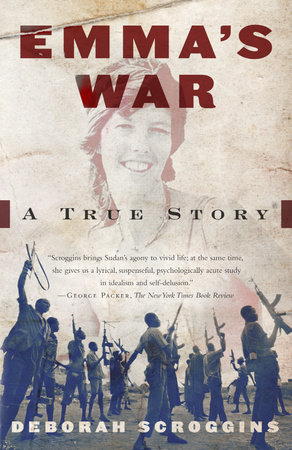 Emma's War Reader's Guide
READERS GUIDE
"Scroggins brings Sudan's agony to vivid life; at the same time, she gives us a lyrical, suspenseful, psychologically acute study in idealism and self-delusion." —George Packer,
The New York Times Book Review


The introduction, discussion questions,* suggested reading list, and author biography that follow are intended to enhance your group's reading of
Emma's War
—the remarkable true story of a woman whose tragically short life epitomized the clash of ideals with reality, and the struggles of war-torn Sudan.
Introduction
Tall, striking and adventurous, young British relief worker Emma McCune came to Sudan determined to make a difference in a country decimated by the longest-running civil war in Africa. She became a near legend in the bullet-scarred, famine-ridden country, but her eventual marriage to the rebel commander Riek Machar made international headlines—and spelled disastrous consequences for her ideals.
Enriched by Deborah Scroggins' firsthand experience as an award-winning journalist in Sudan, this unforgettable account of Emma McCune's tragically short life also provides an up-close look at the volatile politics of the region. It's a world in which international aid fuels armies as well as the starving population, and where the northern-based Islamic government—with ties to Osama bin Laden—is locked in a war with the Christian and pagan south over religion, oil and slaves. Tying together these vastly disparate forces as well as Emma's own role in the problems of the region,
Emma's War
is at once a disturbing love story and a fascinating exploration of the moral quandries behind humanitarian aid.
Questions and Topics for Discussion
1. Emma McCune came from an ex-colonial family who could not adjust to life in England after their return from India. Eventually her parents divorced and her father committed suicide. How do you think Emma's childhood influenced her later decision to move to Africa? How does the author show the past shaping the present, both in Emma's life and in the larger tragedy of Sudan?
2. When Emma arrived in Khartoum for the first time, the city was celebrating the anniversary of the killing of Gen. Charles Gordon more than a hundred years before. What are the differences in the way the Sudanese and the British view Gordon and his campaign against slavery? Is Gordon's story relevant to Emma's? How does the author use their stories as metaphors for the Western experience in Africa?
3. Emma told a television correspondent, "Sudan has magic that takes hold of you for better or worse" [p. 42]. What attracted Emma to Sudan? What are the positive and negative aspects of such a place?
4. Emma found a job in southern Sudan helping the rebel Sudan People's Liberation Army (SPLA) reopen schools in areas where they had been closed for up to six years. She quickly found herself in conflict with some of the rebel commanders. Why were schools such an important political issue? How did the Western relief workers' ideas about childhood differ from those of the local people?
5. The author calls Sudan "a layered war" and she says you need a "map like one of those cellophane diagrams of the human body that used to be in encyclopedias" to understand it [p. 79]. What did you learn about the nature of war from the book?
6. Emma's fellow aid workers accused her of breaking the rules of neutrality that are supposed to govern humanitarian operations by having affairs with SPLA officers. She contended that their criticism was actually, though perhaps unconsciously, motivated by sexism. Does her claim seem legitimate? Would their attitude have been different if Emma had been a man?
7. Scroggins writes, "It was not so much a political vision that animated Emma as an ideal of romantic love" [p. 233]. Do you agree with that statement? What do you think Emma saw in Riek Machar? What did he see in her?
8. Riek tells Emma that that the Nuer prophet Ngungdeng foretold that a unmarked, left-handed Nuer chief would marry a white woman. The Christian prophet Paul Kon Ajith tells the Dinka that the Nuer raids are punishment for their failure to forsake their old gods [p. 294]. Various characters refer to Biblical prophecy from the Book of Isaiah that Scroggins uses as the book's epigraph [pp. 207-09]. What is the role of prophecy and religion in the story?
9. Riek's attempted coup against SPLA leader John Garang divided the rebel movement in two and led to intertribal warfare that killed tens of thousands of southern Sudanese. Garang's faction blamed Riek and Emma for the fighting. But the Nuer say Riek was merely going along with what the Nuer elders wanted. Do you think Riek was an evil person or just swept along by circumstances?
10. Emma married Riek even though he already had a Nuer wife and children living in England. In interviews, she defended polygamy: "You never have to worry that your husband is having an extramarital affair," she said, "You will know all about it" [p. 237]. Nevertheless, she was shocked and hurt when she learned that Riek had slept with his first wife, Angelina, on a trip to London. What explains Emma's conflicting feelings about polygamy? Did she truly believe her initial interpretation, or was it a way to validate or justify her situation?
11. Emma never lost her faith in education as a means to help the southern Sudanese improve their lives. Yet the Sudanese leaders tearing their country apart—the Islamic fundamentalist leader Hassan al-Turabi, the SPLA's John Garang and Emma's own husband Riek Machar all held doctorates from Western universities, leading one southerner to comment, "the ones who are making all these mistakes are the so-called Ph.D's—poverty, hunger and disease" [p. 317]. After reading the book, what role do you think education or the lack of it has played in Sudan's troubles?
12. Emma's former colleagues were horrified to discover that she and Riek were eating food intended for the refugees at Nasir. Others pointed out that the aid workers themselves continued to eat catered meals even when the refugees went hungry. Scroggins describes eating a meal of gazelle in a famine camp full of starving people. What did you conclude from the book about the moral complexities of food aid in war? Has it changed the way you view international relief?
13. Some of Emma's friends thought that toward the end of her life, she was becoming disenchanted with Riek's double-dealing [p. 325]. Was that wishful thinking on their part or do you think she would have left him if she had lived? What about her death? Do you agree with Scroggins that it was probably an accident or do you think she may have been murdered?
14. In addition to relating Emma McCune's story, the book also tells the story of Deborah Scroggins' deepening involvement and disillusionment with Sudan as a reporter. What were the differences between the two women? The similarities?
15. Scroggins writes that after the US debacle in Somalia, she felt that the West should get out of Africa. But in the end, she seems to conclude that the West has no choice but "to tend to the world's festering sores" [p. 351]. Is this a cop-out answer? What do you think foreigners can or should do to help Africa?
About this Author
Deborah Scroggins has won six national journalism awards for her reporting from Sudan and the Middle East. For
Emma's War
she was also awarded the Ridenhour Book Prize and the Georgia Author of the Year Award. A former correspondent for
The Atlanta Journal-Constitution,
she has published articles in
Granta, The Independent, Vogue,
and
Glamour.
She lives in Atlanta.
* Discussion questions written by the author.
Suggested Reading
Lesley Blanch,
The Wilder Shores of Love: The Exotic True-Life Stories of Isabel Burton, Aimee Dubucq de Rivery, Jane Digby, and Isabelle Eberhardt
; Philip Gourevitch,
We Wish to Inform You That Tomorrow We Will Be Killed With Our Families: Stories from Rwanda
; Aidan Hartley,
The Zanzibar Chest: A Story of Life, Love, and Death in Foreign Lands
; Janet Wallach,
Desert Queen: The Extraordinary Life of Gertrude Bell: Adventurer, Adviser to Kings, Ally of Lawrence of Arabia
.
Back to Top