Life on the Mississippi Reader's Guide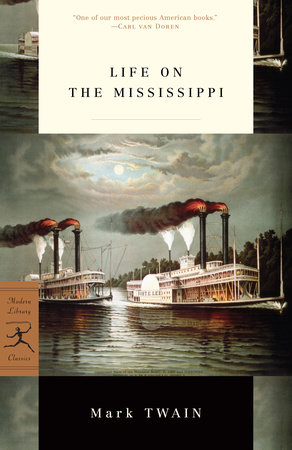 Life on the Mississippi Reader's Guide
READERS GUIDE
Questions and Topics for Discussion
1. "The Mississippi is well worth reading about," writes Twain. "It is not a commonplace river, but on the contrary is in all ways remarkable." How does the author support this claim?
2. According to William Dean Howells, "Mr. Clemens is the first writer to use in extended writing the fashion we all use in thinking, and to set down the thing that comes into his mind without fear or favour of the thing that went before, or the thing that may be about to follow." Is this an apt description of Twain's technique in Life on the Mississippi? What are the strengths and weaknesses of this unique brand of storytelling? 
3. In chapter XXI, Mark Twain transports himself and his readers twenty-one years into the future, from an antebellum to a post–Civil War society. When the worldly "scribbler of books" revisits his beloved river and the towns along the Mississippi, what changes does he discover? 
4. Recounting how he "confiscated" his now legendary "nom de guerre" from the recently deceased Captain Isaiah Sellers (see chapter L), the author declares, "I . . . have done my best to make it remain what it was in his hands—a sign and symbol and warrant that whatever is found in its company may be gambled on as being the petrified truth." Is Life on the Mississippi truly a memoir? Is it fact, or fiction, or a mixture of both? 
5. Consider some of the most memorable characters in Twain's book, such as the two riverboat pilots, Mr. Bixby and Mr. Brown. What qualities typify the heroes and villains, and what conclusions might you draw about the author's own set of values? 
6. Commenting on Twain's novel Pudd'nhead Wilson, Langston Hughes wrote that the author, "in his presentation of Negroes as human beings, stands head and shoulders above the other Southern writers of his times." Is this same sensibility evident in Life on the Mississippi? 
7. According to Lawrence Howe, "Reconstructing his antebellum career in this era of Reconstruction helped Twain discover how to resume and complete Tom Sawyer. The momentum of finishing that novel launched him into Huckleberry Finn." Do any elements (such as plot, setting, style, or characterization) of Life on the Mississippi remind you of Twain's two legendary novels? 
Back to Top