Shredderman: Secret Identity Teacher's Guide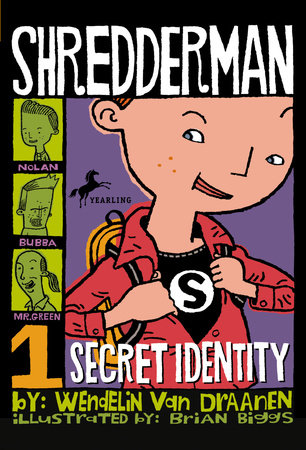 Shredderman: Secret Identity Teacher's Guide
TEACHING GUIDE
NOTE TO TEACHERS
Nolan Byrd is a great kid who feels "invisible."
With no friends and a bully named Bubba
constantly hounding him, school isn't an easy
place to be. It's a good thing that Nolan has
terrific parents who support him, and a cool
teacher who inspires him. Fed up with Bubba
and his bullying ways, Nolan creates a Web site
for his alter ego, cyber-superhero Shredderman.
As Shredderman, Nolan exposes Bubba the
bully, and along the way, discovers that the
fight for truth and justice is bigger and more
important than his own problems.
ABOUT THIS BOOK
Nolan Byrd is a fifth grader with a big problem: Bubba Bixby. Sick of getting
"pounded" and being called "nerd," Nolan creates Shredderman, a cyber-superhero,
to expose Bubba for the bully he is.
ABOUT THIS AUTHOR
Growing up,
Wendelin Van
Draanen
was a
tomboy who loved
to be outside chasing
down adventure. She
did not decide that
she wanted to be an
author until she was
an adult. When she
tried her hand at writing a screenplay about a family
tragedy, she found the process quite cathartic, and
from that experience, turned to writing novels for adults.
She soon stumbled upon the joys of writing for children.
Van Draanen lives with her husband and two sons in
California.
Q. What inspired you to write the Shredderman
series?
A.
A confluence of several things: having been
bullied as a child; seeing my oldest son ostracized at
school; being a computer science teacher; and observing
that kids find ways to bully other kids.
I wanted to create something fun, fast-paced,
and substantive that would help spark a love
of reading.
Q. What do you like best about your character
Nolan Byrd?
A.
That he's a champion of the underdog. He's undaunted,
creative, enthusiastic, and is such
a sweet kid.
Q. What has been the best compliment you've ever
received from a child about the Shredderman
series?
A.
The most touching comment came from a shy fourthgrade
boy who approached me after a school visit and
whispered, "I wish Shredderman went to our school."
I leaned forward and whispered back, "He does."
Then I tapped him on the chest and said, "He's right
inside. You just have to let him out."
DISCUSSION AND WRITING1
. Nolan creates many links on his
Web site to "give Bubba Bixby a little
trouble." (p. 17) Do you think that
Nolan should have posted a picture
of Bubba's "big butt"? What's the difference
between standing up for oneself
and exacting revenge?
2.
On page 33, Nolan asks himself,
"How come a bully like Bubba had
friends and I didn't?" Why do you
think Bubba has friends and Nolan
doesn't?
3.
Discuss how Nolan changes over
the course of the book. Ask students
to offer examples of how Nolan
stands up for himself as a result
of becoming Shredderman.
4.
On page 132, Nolan witnesses
Mr. Bixby being mean to his wife
and son. Discuss the saying: children
learn what they live. How does this
saying relate to Bubba and his cruel,
bullying behavior?
SUGGESTED ACTIVITIES1
. Mr. Green assigns the class the
project of designing a newspaper
page. Place your students in small
groups and challenge them to create
their own newspaper page. Like Mr.
Green, give students a guideline sheet
that they
can follow as they do the assignment.
2.
Review the Superhero Semantic
Map from the pre-reading activity
with your class, and challenge each
student to create a superhero.
Students should describe their superhero
in writing, create a drawing of
him/her, and come up with a motto
that describes the hero's mission,
such as Shredderman's motto:
"Yours in truth and justice."
3.
Start a pro-buddy/anti-bully
campaign in your school. Have
students create posters and public
service announcements, form a
student mentoring program, and
spearhead a "random acts of
kindness week" as a school wide
program to promote friendship
and decrease bullying.
VOCABULARY
Assertive
(p. 2),
putrid
(p. 6),
meditate
(p. 13),
injustice
(p. 13),
camouflage
(p. 26),
preoccupied
(p. 29),
identity
(p. 45),
live-action
(p. 59),
data
(p. 60),
vengeful
(p. 72),
censoring
(p. 100), and
sidekick
(p. 108).
ABOUT THIS GUIDE
Prepared by Colleen Carroll, Education Consultant, Curriculum Writer, and Children's Book Author, Sleepy Hollow, NY.
Back to Top