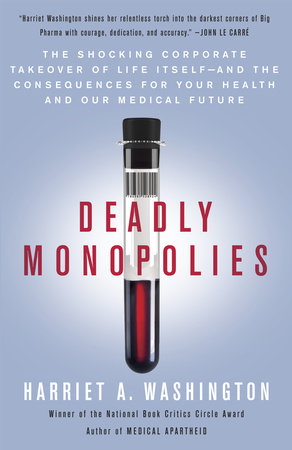 Deadly Monopolies
The Shocking Corporate Takeover of Life Itself–And the Consequences for Your Health and Our Medical Future
The Shocking Corporate Takeover of Life Itself–And the Consequences for Your Health and Our Medical Future.
By Harriet A. Washington

By
Harriet A. Washington
By Harriet A. Washington

By
Harriet A. Washington
Best Seller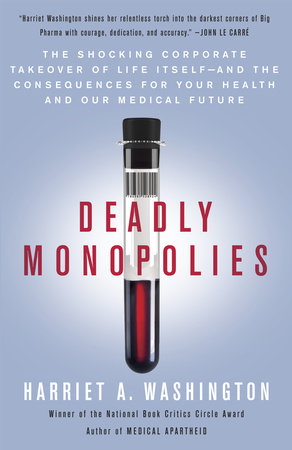 Nov 13, 2012 | ISBN 9780767931236
Inspired by Your Browsing History
Praise
Praise for Harriet A. Washington's Deadly Monopolies:

"Important. . . . Humane. . . . An extraordinary achievement. . . . Deadly Monopolies explores contentious issues in modern biomedical research that have been aggravated by the field's commercial emphasis. . . . Washington offers an overarching framework that enables readers to see connections that are often obscured. The book's brilliance lies in the compassionately told narratives of individuals whose lives have been affected by the increasing corporate control of scientific research."
—The American Prospect
 
"Harriet Washington shines her relentless torch into the darkest corners of Big Pharma with courage, dedication and accuracy."
—John le Carré

"Harriet Washington has written an important and compelling book. She shows how recent changes in patent law have caused drug prices to soar, while reducing innovation by drug companies to near-zero. Well-documented, yet highly readable, the book paints a vivid picture of an industry that now exploits monopoly rights to patients' genes, and relies on taxpayer-funded NIH research for its few novel and important drugs—even as it turns out an endless stream of trivial variations of top-selling old drugs."
—Marcia Angell, M.D., author of The Truth About the Drug Companies and former editor of the New England Journal of Medicine

"Big Pharma is not going to like Deadly Monopolies one bit, but you probably will—especially if, like most Americans, you're finding the co-pay on your drugs too much to handle. Washington correctly reminds us that, as hard as high drug costs are in the USA, they are lethal for the world's poor. Brava Harriet Washington!"
—Laurie Garrett, Pulitzer Prize-winning writer and author of I Heard the Sirens Scream: How Americans Responded to the 9/11 and Anthrax Attacks

"Patents, we're repeatedly told, are crucial to fostering innovation. Deadly Monopolies reveals how the privatization of medical science is retarding research, putting patients at risk, and making what cures we have exorbitantly expensive. This book is a meticulously documented exposé of what's gone wrong with our medical innovation system, and a roadmap for change."
—Merrill Goozner, author of The $800 Million Pill: The Truth Behind The Cost of New Drugs

"[Washington] adeptly details the wide-ranging repercussions of this monopolistic research model and recounts chilling anecdotes that reveal a pattern of shady practices by biotech and pharma companies. . . . The author clearly presents data to elucidate these complex issues, and cogently argues that there are opportunities to reinstate transparency, collaboration and altruism in drug development and disbursement. A gripping, revelatory account."
—Kirkus Reviews (starred review)
Table Of Contents
INTRODUCTION: PATENTS, PROFITS, AND THE HIGH COST OF LIVING
Chapter 1 A NEW LEASE ON LIFE
Chapter 2 THE HIGH COST OF LIVING
Chapter 3 HITTING THE BRAKES
Chapter 4 POISON PILLS
Chapter 5 GENE PATENTS
Chapter 6 LIQUID ASSETS, LETHAL RISKS
Chapter 7 A TRAFFIC IN TISSUES
Chapter 8 BIOCOLONIALISM
Chapter 9 THE LABORATORY OF THE WEST
EPILOGUE: BACK TO THE FUTURE?
Back to Top