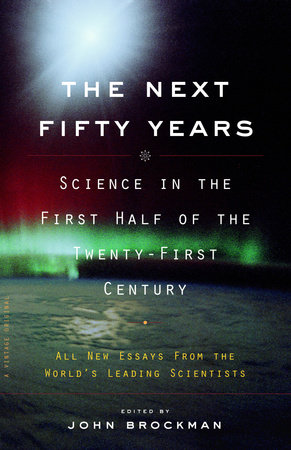 The Next Fifty Years
Science in the First Half of the Twenty-first Century
Science in the First Half of the Twenty-first Century
Science in the First Half of the Twenty-First Century
Edited by
John Brockman
Edited by
John Brockman
Edited by
John Brockman
Edited by
John Brockman
Read by
Henry Leyva

,

Jennifer Wiltsie

,

Oliver Wyman

and

Simon Prebble


Edited by

John Brockman



Read by
Henry Leyva

,

Jennifer Wiltsie

,

Oliver Wyman

and

Simon Prebble


Edited by

John Brockman




Best Seller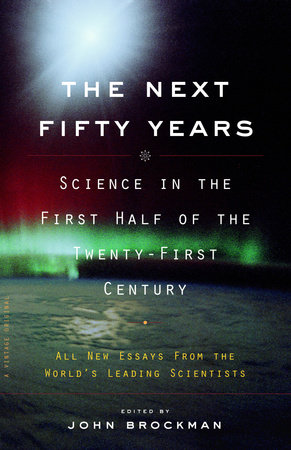 May 14, 2002 | ISBN 9780375713422
Buy the Audiobook Download:
People Who Read
The Next Fifty Years

Also Read
Inspired by Your Browsing History
Table Of Contents
Introduction: by John Brockman
###
Part I: The Future, in Theory
###
[p.xx]
Lee Smolin: The Future of the Nature of the Universe
"We will probably know more about the detailed history and
properties of the universe than we know now about the history of
the surface of our planet."
###
[p. xx]
Martin Rees: Cosmological Challenges: Are We Alone, and Where?
"We can't predict what role life will eventually carve out for itself: It could become extinct, or it could achieve such dominance that it would influence the entire cosmos."
###
[p. xx]
Ian Stewart: The Mathematics of 2050
"There will be `virtual unreality' systems, allowing mathematicians to `visit' abstract conceptual structures such as non-euclidean geometries or ranges of giant primes and manipulate them at will."
###

[p. xx]
Brian Goodwin: In the Shadow of Culture
"Why is animism so threatening to the Western scientific worldview? Is there any sign that the dialectic of science is beginning to bring this view into the light again?"
###
[p. xx]
Marc D. Hauser: Swappable Minds
"Imagine that we could download the neuronal signals from any animal, creating a kind of hard-drive library of their thoughts while they were interacting with the world."
###
[p. xx]
Alison Gopnik: What Children Will Teach Scientists
"The greatest achievement of a unified theory of learning may be to demonstrate that the most brilliant scientists and the most ordinary kids are engaged in the same enterprise."
###
[p. xx]
Paul Bloom: Toward a Theory of Moral Development
"It may be that the nature of moral thought or consciousness is simply beyond our understanding, not because they have a special, mystical status but because we aren't smart enough to understand such things. We might be like dogs trying to understand calculus."
###
[p. xx]
Geoffrey Miller: The Science of Subtlety
"Our more recently evolved, distinctively human capacities–for creativity, kindness, humor, imagination–remain understudied in brain-imaging labs."
###
[p. xx]
Mihaly Csikszentmihalyi: The Future of Happiness
"In the past, we were like passengers on the slow coach of evolution. Now evolution is more like a rocket hurtling through space, and we are no longer passengers but its pilots."
###
[p. xx]
Robert M. Sapolsky: Will We Still Be Sad Fifty Years from Now?
"Our technology isn't likely to help reduce our stress, despite (or maybe even because of) our expectation that it will."
###
[p. xx]
Steven Strogatz: Fermi's "Little Discovery" and the Future of Chaos and Complexity Theory
"Nonlinearity giveth chaos, and nonlinearity taketh it away."
###
[p. xx]
Stuart Kauffman: What Is Life?
"The biosphere may actually be doing something that cannot be stated at all beforehand. If so, the way Newton, Einstein, Bohr, and Boltzmann taught us to do science is limited."
###
Part II: The Future, in Practice
###
[p. xx]
Richard Dawkins: Son of Moore's Law
"Genetics today is pure information technology. This, precisely, is why an antifreeze gene can be copied from an arctic fish and pasted into a tomato."
###
[p. xx]
Paul Davies: Was There a Second Genesis?
"The existence of complex life on Earth probably depends on certain rather special features of our solar system."
###
[p. xx]
John H. Holland: What Is to Come and How to Predict It
"When complex adaptive systems are involved, prediction is fraught with hazard."
###
[p. xx]
Rodney Brooks: The Merger of Flesh and Machines
"The generalization we are facing is that we humans are machines–and as such, subject to the same technological manipulations we routinely apply to machines."
###

[p. xx]
Peter Atkins: The Future of Matter
"By mid-century the bits and pieces of fully synthetic life will be in position….In the longer term there will be no need to stick with carbon, and the speculative dream of at least partial incorporation of silicon and germanium into living things and the generation of an entirely new kind of life will come true."
###
[p. xx]
Roger C. Schank: Are We Going to Get Smarter?
"We will begin to understand in the next fifty years that experience and one's ability to extend its range is the ultimate measure of intelligence and the ultimate expression of freedom."
###
[p. xx]
Jaron Lanier: The Complexity Ceiling
"Accompanying the parade of quixotic overstatements of theoretical computer power has been a humiliating and unending sequence of disappointments in the performance of real information systems."
###
[p. xx]
David Gelernter: Tapping into the Beam
"The continuous, ubiquitous Cybersphere will replace today's chaotic, stuttering Internet."
###
[p. xx]
Joseph LeDoux: Mind, Brain, and Self
"New technologies are enabling us to study normal human brain function, and they promise a new level of understanding of the relation of the human brain to the human mind."
###
[p. xx]
Judith Rich Harris: What Makes Us the Way We Are: The View from 2050
"Developmentalists of the twentieth century…thought they understood the sources of individual differences in behavior and personality, but…they were mostly wrong."
###
[p. xx]
Samuel Barondes: Drugs, DNA, and the Analyst's Couch
"Fifty years from now, everyone who visits a psychiatrist will bring with them a new source of information–a password providing access to their personal DNA file on the National Health Service computer."
###
[p. xx]
Nancy Etcoff: Brains, Wearables, and Brief Encounters
"At a time of giddy optimism in the neurosciences, it is a time of discontent in psychiatry and wary optimism in clinical psychology. If current trends continue, there will be few psychiatrists in practice fifty years from now."
###
[p. xx]
Paul W. Ewald: Mastering Disease
"Chronic diseases may be a consequence of infectious agents that cryptically cause tissue damage, which eventually manifests itself in such serious diseases as heart attack, cancer, or Alzheimer's."
Back to Top