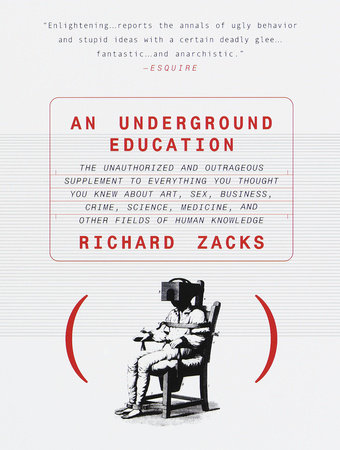 An Underground Education
The Unauthorized and Outrageous Supplement to Everything You Thought You Knew About Art, Sex, Business, Crime, Science, Medicine, and Other Fields
The Unauthorized and Outrageous Supplement to Everything You Thought You Knew About Art, Sex, Business, Crime, Science, Medicine, and Other Fields
By Richard Zacks

By
Richard Zacks
By Richard Zacks

By
Richard Zacks
Best Seller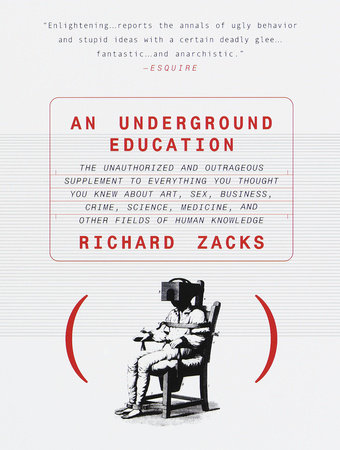 Apr 20, 1999 | ISBN 9780385483766
People Who Read
An Underground Education

Also Read
Inspired by Your Browsing History
Praise
Astonishing facts!

Bizarre photographs!

Fascinating & sometimes deeply weird true stories!

Just a small taste of the intellectual smorgasbord contained in this volume.

Did you know:

that in the original story of Goldilocks the bears torture and kill their impolite visitor?
that Pope Leo XIII appeared in an advertisement for cocaine-laced wine in the 1880s?
that people didn't eat with forks until the 1700s?
that Sir Isaac Newton's famous humble-pie quote "If I have seen further, it is by standing on the shoulders of giants" was actually written to a dwarf scientist named Robert Hooke and clearly meant as an insult?
that Thomas Edison secretly helped develop the electric chair in a scheme to have the lethal machine named after his arch-rival, George Westinghouse?
that the first pediatric guide written in the United States recommended that expectant mothers breastfeed puppies?
that for two centuries French scientists obsessively experimented on freshly decapitated heads in an effort to discover whether the bodiless brain still functioned?
that Cleopatra was ugly as sin?
Back to Top