A Week in Winter Reader's Guide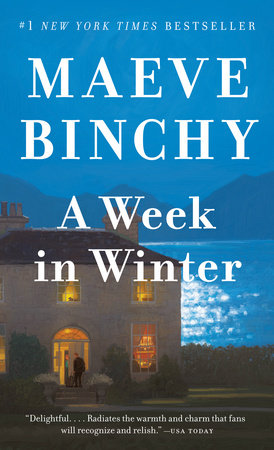 A Week in Winter Reader's Guide
READERS GUIDE
The questions, discussion topics, and suggestions for further reading that follow are intended to enrich your discussion of Maeve Binchys's novel
A Week in Winter.
Introduction
Chicky Ryan loves the small Irish seaside town of Stoneybridge where she grew up.  She's happy living at home, working at the local factory, and walking along the wild Atlantic coast.  Then one day Walter Starr, an attractive American tourist, sweeps her off her feet. Surprising herself, and in spite of her family's dire warnings, she returns to New York with him. To placate her family, she writes of her wonderful life with Walter, even making up a story about their quiet wedding ceremony. But her fantasy is cut short when Walter announces he is moving on.  Left on her own, Chicky gets a job at a boardinghouse, mastering the ins and outs of making the guests feel at home and building a small savings account. Eager to put her family's constant questions about Walter to rest, she writes that he died in a car accident. On a visit to Stoneybridge, Chicky finds a way to merge both her lives: she buys Stone House, a run-down mansion on the coast and turns it into a cozy inn. It is the perfect setting for Binchy's much-admired talent for capturing character and place.  
With the help of her niece and the son of an old friend, and the delighted support of the elderly former owner, Chicky restores the charm and beauty of Stone House and its surrounding grounds. The opening week in early December brings a diverse and intriguing group of vacationers: a pair of women obviously uncomfortable with each other; a handsome American intent on hiding his true identity; and a husband and wife, both doctors, trying to figure out their future. Joining them are a young Swede torn between his obligation to take over his father's business and his passion for music; a long-married couple who won their week at Stone House in a contest; a cold, disagreeable retired headmistress; and a librarian haunted by unwelcome visions.  Each guest arrives with a story—of a failed or shaky romance, missed opportunities, or unrealized dreams—and each discovers that a week in winter can be the beginning of change.
Questions and Topics for Discussion
1. Why is Chicky attracted to Walter? Why does she defy her mother's doubts and admonitions about going to New York [p. 6]? "Reality was, for Chicky, this whole fantasy world that she had invented of a bustling, successful Manhattan lifestyle" [p. 9]. Do Chicky's deceptions blind her to Walter's true character? Does she love him?  What other feelings might explain her pleas to him to stay [p. 11]? 
2. After Walter leaves, Chicky vows she will never go back to Stoneybridge. Is she motivated by pride and stubbornness or does her decision reflect realistic concerns about the reactions her return is likely to generate? How do her periodic visits home influence her feelings about her family and Stoneybridge [p. 15]?
3. Step-by-step, Chicky takes charge of her life in New York. What character traits help her succeed? Discuss Mrs. Cassidy's observations when Chicky leaves for Stoneybridge after twenty years in New York [p. 22-23].  In what ways does Chicky's temperament, as well as her skills, prepare her for life as an innkeeper?
4. In Winnie and Lillian's antagonistic relationship, which woman initially has the upper hand and why?  How does Teddy's behavior affect their opinions and interactions? What do they learn about each other when they are trapped in the cave? What do they learn about themselves?
5. Why is John eager to hide his true identity during his stay at Stone House?  What advantages does he enjoy as an actor and what toll has his career taken on his personal life? Do you think he represents a majority of celebrities? Are Orla's insights about the nature of fame persuasive [pp. 155-60]? 
6. Henry and Nicola are shaken by the deaths they have seen as doctors. Why have their attempts to create satisfying careers been futile? What does the prospect of practicing in Stoneybridge offer them both personally and professionally?
7. What does Anders's story convey about the difficulties of making a choice when one is faced with a conflict between duty and desire? How do his mother's and Erika's actions and advice, as well as his relationship with his father, influence him?  What aspects of his experiences in Ireland help him to clarify his goals? What does his conversation with Chicky reveal about the way we ultimately make decisions [pp. 226-27]?
8. The description of the Walls and their obsession with contests is at once humorous and touching. What does their story demonstrate about the foundations of a loving long-term marriage?  How do their enthusiasms change and enrich the experiences of the group at the inn? 
9. Nell Howe is the only guest unmoved by the charms of Stone House. What accounts for her resistance to the atmosphere at the inn and her critical opinions of her fellow guests? What do her conversations with Rigger [pp. 271-72] and Carmel [pp. 296-98] reveal about her and the reasons she is unable or unwilling to bond with other people? Does her stay at Stone House change her in any way?
10. Why does Freda try to ignore or repress the visions she has?  How do they interfere with her everyday life and her hopes and plans for the future?  Even without her special "feelings," is she foolish to embark on a love affair with Mark?  Why does she decide to tell a "group of strangers" [p. 323] about her psychic powers?  Reread the predictions she makes  [p. 324]. Which of them do you think will come true?
11. Talk about how Binchy introduces each of the guests at Stone House.  How does she pique your interest in them? Which character makes the strongest first impression? Which one takes the longest to get to know?
12. Anders tells himself,  "Problems don't solve themselves neatly like that, due to a set of coincidences. Problems are solved by making decisions" [p. 224].  Discuss how the various stories in A Week in Winter confirm or belie this observation.
13. Minor characters are an important part of A Week in Winter. What do Miss Queenie, Orla, and Rigger and Carmel contribute to the novel? What insights do their behavior, attitudes, and ambitions provide into the connections as well as the conflicts between traditional and contemporary Irish culture and society? Why does Nuela refuse to see her son, Rigger? What makes her change her mind?
14. Binchy is well known for making the landscape of rural Ireland as vital as the characters in her novels. What descriptions of the countryside and the coast in the wintertime are particularly vivid or evocative? How do they help set the mood of the narrative?
About this Author
Maeve Binchy is the author of many best-selling books, including most recently
Minding Frankie, Heart and Soul,
and
Whitethorn Woods
.
Circle of Friends
and
Tara Road
, an Oprah's Book Club Selection, were both made into films. Binchy has written for
Gourmet; O, The Oprah Magazine; Good Housekeeping
; and several other publications.  She died in July 2012 at the age of seventy-two, shortly after finishing
A Week in Winter.
Suggested Reading
Anita Brookner,
Hotel du Lac
; Jan Karon,
Home to Holly Springs
; Peter Mayle,
Hotel Pastis
; John McGahern,
By the Lake
; Rosamunde Pilcher,
Winter Solstice
; Colm Toibin,
Brooklyn
; William Trevor,
Love and Summer.
Back to Top