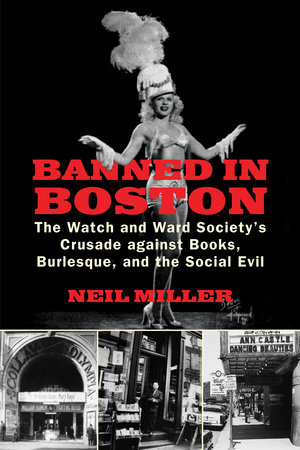 Banned in Boston
The Watch and Ward Society's Crusade against Books, Burlesque, and the Social Evil
The Watch and Ward Society's Crusade against Books, Burlesque, and the Social Evil
By Neil Miller

By
Neil Miller
By Neil Miller

By
Neil Miller
Best Seller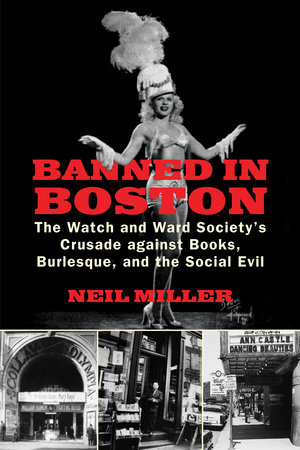 Sep 20, 2011 | ISBN 9780807051115
*This title is not eligible for purchase to earn points nor for redemption with your code in the
Reader Rewards
program
People Who Read
Banned in Boston

Also Read
Inspired by Your Browsing History
Praise
"…Miller's book is rich with colorful anecdotes."—Journal of American History 

"This is a superb example of breathtaking research, presented in a style that will appeal to a broad audience…Rather than delivering a detailed history of the Watch and Ward, he offers up a series of vignettes that are historically accurate yet thoroughly entertaining in their telling. This is social history at its finest, and Miller should be applauded for resurrecting the history of this influential group that had a national reputation."—Choice Reviews 

"The fight for artistic freedom in America begins in Boston, and Miller gives us a front-row seat."–Christopher M. Finan, president of the American Booksellers Foundation for Free Expression and author of From the Palmer Raids to the Patriot Act

"Miller relates a wealth of historical anecdotes…[they] left no shortage of entertaining censorship initiatives for Miller to recall here for readers' enjoyment."–Booklist

"As a catchphrase, 'banned in Boston' made history; as an imprimatur it sold books." —Chronicle Review
"With precision, perception, and wry wit, Neil Miller serves up a juicy tale of censorship past. From sex, drugs, and a swearing parrot to almost anything French,
Banned in Boston
demonstrates that campaigns to save us from ourselves never go out of fashion."—Nan Levinson, author of
Outspoken: Free Speech Stories
"A lively history of the notorious Watch and Ward Society, which for a century sought to establish decency by suppressing 'obscene' works by authors such as Boccaccio, Whitman, Dreiser, Faulkner, and Mencken. This is a must read for anyone interested in understanding how censorship ultimately destroys not indecency, but freedom."—Geoffrey R. Stone, author of
Perilous Times: Free Speech in Wartime from the Sedition Act of 1798 to the War on Terrorism
"I read this book with one eye over my shoulder, fully expecting the Watch and Ward police to burst in and confiscate it for being too provocative! But it would have been worth it. Neil Miller has given us everything we could ask for in an enjoyable history—a revealing subject, well-drawn characters, and a colorful portrait of another era, all wrapped in a fast-paced, easy-to-read story.
Banned in Boston
is a Boston gem."—Stephen Puleo, author of
A City So Grand
,
The Boston Italians
, and
Dark Tide
"Neil Miller has created a fascinating and often funny history of a time when censors ruled. The fight for artistic freedom in America begins in Boston, and Miller gives us a front-row seat."—Christopher M. Finan, president of the American Booksellers Foundation for Free Expression and author of
From the Palmer Raids to the Patriot Act: A History of the Fight for Free Speech in America
"As a catchphrase, "banned in Boston" made history; as an imprimatur it sold books. Now telling its story in rollicking fashion is Banned in Boston: The Watch and Ward Society's Crusade Against Books, Burlesque, and the Social Evil (Beacon Press), by Neil Miller…"- Chronicle Review
"…Miller relates a wealth of historical anecdotes regarding the likes of H. L. Mencken, Upton Sinclair, and Walt Whitman …the society moved on to other matters of perceived public good, but it left no shortage of entertaining censorship initiatives for Miller to recall here for readers' enjoyment."-Booklist
"Miller, who knew almost nothing about the history of book banning in Boston before beginning research for his book, was presented with the idea for this latest project by his publishers at Beacon Press after they discovered that their office was located in the old New England Watch and Ward Society headquarters. Ironically enough, the building is now a hub of dissemination of many of the types of literature that the society once sought to ban, he said."-The Tufts Daily
"A fast-paced, highly readable account of a forgotten…chapter in Boston's history."
–PhiloBiblos
"Mr. Miller has provided a service by being the first to document the entire history of the notorious Watch and Ward Society, from its formation in 1878 to its last, dying gasps in the 1950s. The story is fascinating and often funny, and the author (who teaches journalism at Tufts University) tells it with clarity and perception."- The Washington Times
"Banned in Boston is Neil Miller's entertaining and informative account of the Society's activities from its founding through its heyday in the early 1960s…Banned in Boston provides a balanced look at a local movement that represented a widespread – and continuing – tension within American society."- Suite 101
Table Of Contents
Prologue
The Battle of Brimstone Corner, April 1926
 
 
Part I: Early Days
Chapter 1
Founding Fathers, 1878

Chapter 2
First Forays into Censorship, 1881–1898

Chapter 3
Politics, Poker and the "Social Evil"
 
Chapter 4
Mrs. Glyn and Sin, 1903–1909
 
Chapter 5
Tough Guys and "Blue Bloods," 1907–1925
   
Part II: The Watch and Ward Go to War
 
Chapter 6
New Bedford, 1916
 
Chapter 7
The Battle of Diamond Hill, 1917–1918
 
Chapter 8
Café Society, 1917–1919
 
Chapter 9
Corruption Fighters, 1913–1924
  
Part III: Decline and Fall
 
Chapter 10
Mencken versus Chase, Round 2, 1926
 
Chapter 11
Censorship Goes Wild, 1927–1928
 
Chapter 12
Boston, 1929
 
Chapter 13
The Dunster Bookshop Fiasco, 1929
 
Chapter 14
Depression Days, 1930–1938

Back to Top