Last Man in Tower Reader's Guide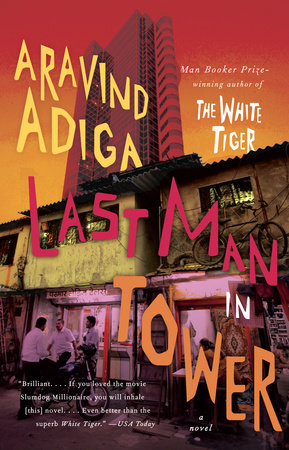 Last Man in Tower Reader's Guide
READERS GUIDE
The questions, discussion topics, and reading list that follow are intended to enhance your reading group's discussion of Last Man in Tower, Aravind Adiga's vivid, compulsively readable follow-up to his award–winning novel The White Tiger.
Introduction
"[Adiga's] terrific first novel The White Tiger deservedly won the Man Booker Prize. This one is even better. The whole of Mumbai comes under his microscope in the tale of a middle-class apartment block in a slummy area—and what happens when a property tycoon bribes the various inhabitants to leave. The result is as well-paced as any crime story, but so much more. Every one of the huge cast of characters is brilliantly drawn. I'm aghast with admiration. There is no one writing fiction as good as this in Britain or America." —A. N. Wilson, Reader's Digest (UK)  
Aravind Adiga's powerful new novel is a stunning, darkly comic story of greed and murder that lays bare the teeming metropolis of Mumbai.  
Real estate developer Dharmen Shah's offer to buy out the residents of Vishram Society—a formerly respectable, now crumbling apartment complex that abuts the infamous Dharavi slums—is more than generous. But one man stands in the way of Shah's luxury high-rise: Masterji, a retired schoolteacher who will not leave his home in Vishram's Tower A. Shah is a dangerous man to refuse, but as the demolition deadline looms, Masterji's neighbors—friends who have become enemies, acquaintances turned conspirators—may stop at nothing to score their payday.  
An electrifying, suspense-filled story of money and power, luxury and deprivation, peopled by brilliantly drawn, unforgettable characters, Last Man in Tower exposes the hearts and minds of the everymen and -women of a great, booming city—ordinary people pushed to their limits in a place that knows none.
Questions and Topics for Discussion
1. What are some of the major themes of the novel? How does Adiga set them forth even in the first pages through his description of Vishram Society? What do you think the banyan tree symbolizes?
2. The novel begins, "If you are inquiring about Vishram Society, you will be told right away that it is pucca—absolutely, unimpeachably pucca." What does the word pucca mean? Why is this fact about Vishram important to the story?
3. How does Adiga use humor as social commentary?
4. On page 7, there is a quote adapted from the Bhagavad Gita: "I was never born and I will never die; I do not hurt and cannot be hurt; I am invincible, immortal, indestructible." Which characters in the novel seem to feel this way?
5. Why is Masterji so respected at the beginning of the novel? How would he be treated in the United States?
6. According to Masterji, his wife's favorite saying was " 'Man is like a goat tied to a pole.' Meaning, all of us have some free will but not too much" (page 41). Does this prove true for him?
7. There are dozens of scenes that revolve around food. What do the characters' eating habits tell us about them?
8. Is Dharmen Shah a villain? What are his intentions? Who else might be considered a villain in the story?
9. Discuss Masterji's friendship with Mr. and Mrs. Pinto. Does envy come into play? How does the offer change their relationship?
10. What is the symbolism behind Mr. Kothari's flamingos? What are some of the other characters' influential memories?
11. There are several instances of betrayal in the novel. Whose struck you as most shocking?
12. The offer brings out many different emotions and reactions from the residents of Vishram. In general, how is the reaction of the women different from that of the men in the building?
13. Several of the characters have children, Masterji included. How does their role as parents influence their decision-making? How does parenting in the novel's modern-day India compare to parenting in the United States?
14. After reading the sign his neighbors have posted criticizing him, Masterji thinks, "A man is what his neighbours say he is" (page 196). Is this true in the novel? How does that notion affect Masterji? Do you think the neighbors' opinions were entirely new or had just lain dormant until he refused the offer?
15. What role does class play in the story? How does the neighbors' treatment of Mary and Ram Khare reflect their attitudes in general?
16. Why do you think Mr. Pinto changes his mind about accepting the offer? Is it only about the money or are there other reasons as well?
17. When Shah hears the news about Masterji, he says, " 'I thought it would be a push down the stairs, or a beating at night. That's all…I forgot we were dealing with good people'" (pages 358–359). What does he mean?
18. Why does Ajwani refuse to sign?
19. The last line of the novel is, "Nothing can stop a living thing that wants to be free." What is this referring to?
20. Why doesn't Masterji just agree to sell? What would you have done?
About this Author
Aravind Adiga is the author of The White Tiger, which was awarded the 2008 Man Booker Prize, and a collection of stories, Between the Assassinations. He was born in India and attended Columbia and Oxford universities. He is a former correspondent for Time magazine  and his work has appeared in The New Yorker, Granta, the Financial Times, and The Sunday Times. He lives in India.
Suggested Reading
A Fine Balance
by Rohinton Mistry;
The Shadow Lines
by Amitav Ghosh; the
Bhagavad Gita
; the
Ramayana;
Midnight's Children
by Salman Rushdie;
The Astral
by Kate Christensen;
The Yacoubian Building
by Alaa Al Aswany;
Major Pettigrew's Last Stand
by Helen Simonson.
Back to Top