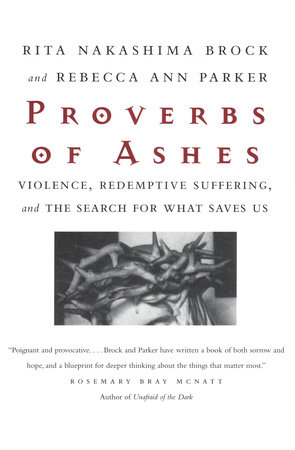 Proverbs of Ashes
Violence, Redemptive Suffering, and the Search for What Saves Us
Violence, Redemptive Suffering, and the Search for What Saves Us
By Rita Nakashima Brock and Rebecca Ann Parker

By
Rita Nakashima Brock

and

Rebecca Ann Parker



By Rita Nakashima Brock and Rebecca Ann Parker

By
Rita Nakashima Brock

and

Rebecca Ann Parker




Best Seller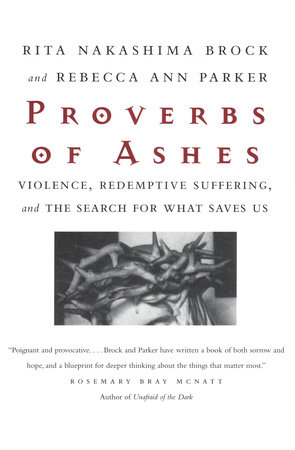 Nov 18, 2002 | ISBN 9780807067970
*This title is not eligible for purchase to earn points nor for redemption with your code in the
Reader Rewards
program
People Who Read
Proverbs of Ashes

Also Read
Inspired by Your Browsing History
Praise
A searing indictment, personal and experiential, pastoral and theological, of the most unfortunately successful idea in the history of Christian thought.
-John Dominic Crossan, author of Jesus: A Revolutionary Biography

"Poignant and provocative. . . . Brock and Parker have written a book of both sorrow and hope, and a blueprint for deeper thinking about the things that matter most."
-Rosemary Bray McNatt, author of Unafraid of the Dark

"Parker and Brock unveil their own deep pain and suffering to build the book's backbone. They blend self-disclosure with serious theology to underscore their outlook." -Cecil S. Holmes, Cleveland Plain Dealer

"Provocative. . . . The authors weave theological reflections with deeply moving personal accounts of abuse and trauma, including their own experiences." -The Other Side

"[Readers] cannot help but be swayed by the book's searing passion and profoundly literary style (a remarkable achievement in a coauthored work). Brock and Parker have thrown down a gauntlet that cannot be ignored." -Publishers Weekly

"You don't have to be a Christian to applaud the courage and vision of these two devout women who boldly propose that human sacrifice has no place at the heart of Christianity. Their gospel of presence and restoration is good news for everyone."
-Judith Herman, author of Trauma and Recovery

Rita Nakashima Brock is a research associate at Starr King School for the Ministry at the Graduate Theological Union in Berkeley, California. She is the author of the award-winning Journeys by Heart: A Christology of Erotic Power. Rebecca Ann Parker, an ordained United Methodist minister in dual fellowship with the Unitarian Universalist Association, is president and professor of theology at Starr King School for the Ministry at the Graduate Theological Union.
Back to Top