Have You Seen Marie? Reader's Guide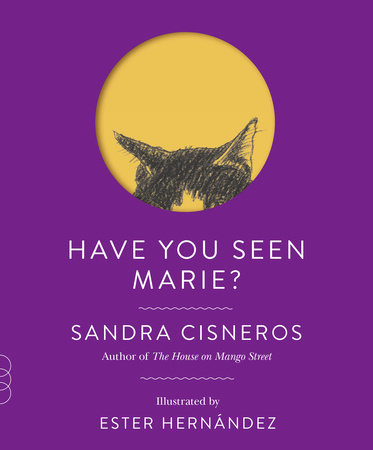 Have You Seen Marie? Reader's Guide
READERS GUIDE
The questions, discussion topics, and reading list that follow are intended to enhance your all-ages reading group's discussion of
Have You Seen Marie?
, Sandra Cisneros's simple, magical story of love, loss, and recovery.
FAMILY ACTIVITIES


— Read the book aloud with your family and show the pictures to younger members of the family who are not yet able to read.
— As a group, write and illustrate a story related to your own loss.
— Plan a small memorial celebration just for your family. Share stories about your loved one—funny, sad, wistful—and do something you enjoyed doing together.
— Gather mementos that remind you of your lost loved one and create a memory box or altar together. Display it in a prominent place in your home.
Introduction
"Best-selling Cisneros chronicles a search for a runaway cat that turns into a way to work through grief and discover community. . . . The deliberately informal, rough-edged illustrations give a nice sense of Cisneros' multicultural, bohemian neighborhood . . . [T]his warmhearted tale offers comfort to anyone coping with the loss of a loved one."
—Kirkus Reviews
The internationally acclaimed author of
The House on Mango Street
gives us a deeply moving tale of loss, grief, and solace: a lyrically told, richly illustrated fable for all ages about a woman's search for a cat who goes missing in the wake of her mother's death. For families dealing with their own grief, it offers a way to begin an open discussion with all members that can lead to healing.
The word "orphan" might not seem to apply to a fifty-three-year-old woman. Yet this is exactly how Sandra feels as she finds herself motherless, alone like "a glove left behind at the bus station." What just might save her is her search for someone else gone missing: Marie, the black-and-white cat of her friend, Roz, who ran off the day they arrived from Tacoma. As Sandra and Roz scour the streets of San Antonio, posting flyers and asking everywhere, "Have you seen Marie?" the pursuit of this one small creature takes on unexpected urgency and meaning. With full-color illustrations that bring this transformative quest to vivid life,
Have You Seen Marie?
showcases a beloved author's storytelling magic, in a tale that reminds us how love, even when it goes astray, does not stay lost forever.
Questions and Topics for Discussion
1. The epigraph is from a poem by Elena Poniatowska: "It's then I ask you, mama, my mother, my heart, my mother,/my heart, my mother, mama, the sadness I feel. Where do I put it?/Where, mama?" What does this tell us about the story to come?
2. "Every day I woke up and felt like a glove left behind at the bus station," the narrator says at the beginning of the book. What emotion is she expressing? Have you ever felt that way?
3. Ester Hernández, the illustrator, lost her own mother just before Cisneros approached her to collaborate on the book. Do you think it helped her in her grieving to create this art?
4. How do the illustrations reflect the emotions of the narrator and her friend and show us what they are feeling?
5. In addition to the narrator's loss of her mother and her friend's loss of Marie, several other characters in the book have experienced loss. Does it help them to know that others have suffered, too?
6. On page 42, the women encounter a neighbor who is sitting on her porch, knitting. It reminds the narrator of her mother, who "used to knit ugly scarves no one wanted to wear." Have you ever had a memory triggered by something like that? Why do you think our memories work that way?
7. Throughout the book, people promise to help in some way, but usually forget or become distracted. Why do people make promises they don't keep? What do you do when someone disappoints you like that?
8. The narrator says she feels like an orphan, though normally we think of orphans as children. In what ways is she an orphan? How would you try to help her feel better?
9. How does searching for Marie help her cope with her loss?
10. Towards the end of the story, the river, the wind, the trees, and the moon all speak to the narrator. How does this help her?
11. The Afterword opens: "In Mexico they say that when someone you love dies, a part of you dies with them. But they forget to mention that a part of them is born in you—not immediately, I've learned, but eventually, and gradually." Does this idea help you to feel better in thinking about people you've lost?
12. Later in the Afterword, Cisneros writes, "I wish somebody had told me that love does not die, that we can continue to receive and give love after death." Do you agree with her? Who has given you love, and to whom have you given it?
13. Cisneros also explains in the Afterword that "There is no getting over death, only learning to travel alongside it." What does this say about why she wrote this book and how we remember loved ones we have lost?
About this Author
ABOUT THE AUTHOR
Sandra Cisneros is the author of two highly celebrated novels,
The House on Mango Street
and
Caramelo.
Her awards include National Endowment of the Arts Fellowships, the Lannan Literary Award, the American Book Award, and a MacArthur Fellowship. Other books include the story collection
Woman Hollering Creek;
two books of poetry; and two books of children's literature
.
Her work has been translated into more than twenty languages. Cisneros is the founder of the Alfredo Cisneros Del Moral and Macondo Foundations, which serve creative writers.
www.sandracisneros.com  
ABOUT THE ILLUSTRATOR
Ester Hernández is an internationally acclaimed visual artist whose work is in the permanent collections of the Smithsonian American Art Museum, the Library of Congress, the San Francisco Museum of Modern Art, and the Museo Casa Estudio Diego Rivera y Frida Kahlo in Mexico City. She lives in San Francisco.
www.esterhernandez.com
Back to Top