The Light in the Ruins Reader's Guide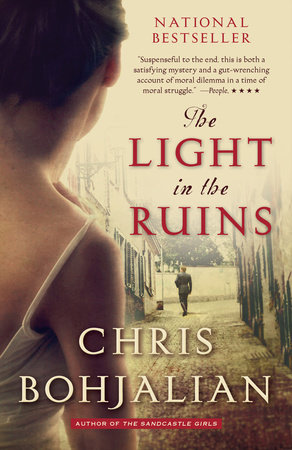 The Light in the Ruins Reader's Guide
READERS GUIDE
In order to provide reading groups with the most informed and thought-provoking questions possible, it is necessary to reveal important aspects of the plot of this book—as well as the ending. If you have not finished reading The Light in the Ruins we respectfully suggest that you may want to wait before reviewing this guide.
Introduction
The
New York Times
bestselling author of
Midwives
and
The Sandcastle Girls
now turns his creative eye to Tuscany during the Second World War, crafting a spellbinding novel of love and revenge. Set in the idyllic hills south of Florence, The Light in the Ruins traces an Italian family of noble lineage through the ravages of war and its aftermath. As German soldiers begin to descend on their ancient villa, Antonio and Beatrice Rosati believe they can keep their family safe, even if it means submitting to the Nazis' demands of hospitality. But when a young German lieutenant begins to court their daughter, they find themselves torn between the threat of the invaders and the threat of Italian partisans who accuse them of aiding and abetting. More than a decade later, a serial killer begins targeting the Rosatis, and police investigator Serafina Bettini finds herself revisiting her own tragic history within the haunting grounds of the villa.
A novel that sparks questions about how far we might go to protect ourselves, our loved ones, and our way of life,
The Light in the Ruins
will captivate your reading group. We hope this guide will enrich your discussion of Chris Bohjalian's mesmerizing ode to the human spirit.
Questions and Topics for Discussion
1. Before reading The Light in the Ruins, how much did you know about the Nazi occupation of Italy and the rise of fascism? Which historical aspects of the novel surprised you the most?
2. If you had been in Antonio and Beatrice's position, would you have shown any hospitality to the Germans? How would you have navigated the grim choices such families were forced to make?
3. Chris Bohjalian is known for creating unique narrators. What sort of person did you picture when you read the italicized passages? How did your theories about the killer shift?
4. How did love flourish between Cristina and Friedrich despite their circumstances? How did they rise above their cultural differences?  What does their romance say about the human experience?
5. What does Enrico and Teresa's story illustrate about the emotional cost of war? Who are the novels heroes?
6. Discuss Serafina's relationship to the past. Why is she able to ignore those who accuse the Rosatis of colluding with the enemy?
7. How did you react to Friedrich's compassion and sensitivity? What was it like to experience a character who so strongly defies stereotypes?
8. What does Vittore's interest in archaeology say about his personality? What timeless aspects of life are captured in the novel's artifacts? How do antiquities provide a form of immortality to the people who created them?
9. Discuss the novel's title. How is it reflected in the theme of survival, albeit with physical or emotional scars? How could someone like Francesca—who was criticized for making waves—find meaning in life after so many tragic losses? Why is Villa Chimera ultimately an appropriate name for the estate?
10. Compare Marco and Vittore. Which one uses power more effectively? How do they perceive their heritage and their responsibilities to their families?
11. What are your theories about the making of a soldier like Erhard Decher? What does it take for someone to become as ruthless and as loyal as he? In what ways did his supposed strengths lead to his downfall?
12. In the closing scenes, when Muller orders Cristina to take him to the hideout of the partisans, would you have done as she did? Could you give your life to protect another?
13. Which aspects of The Light in the Ruins echo the storytelling in previous Bohjalian novels you have enjoyed?
About this Author
Chris Bohjalian is the author of more than a dozen books, including the
New York Times
bestsellers
The Sandcastle Girls, The Night Strangers, Secrets of Eden, Skeletons at the Feast, The Double Bind, Before You Know Kindness, The Law of Similars,
and
Midwives
. He won the New England Book Award in 2002, and his novel
Midwives
was a selection of Oprah's Book Club. His work has been translated into over 25 languages and thrice before become movies ("Secrets of Eden," "Midwives" and "Past the Bleachers"). He has also written for a wide variety of magazines, including
Cosmopolitan, Reader's Digest,
and the
Boston Globe Sunday Magazine
, and he has been a Sunday columnist for
Gannett's Burlington Free Press
since 1992. A graduate of Amherst College, Bohjalian lives in Vermont with his wife and daughter.
Back to Top