Wish You Were Here Reader's Guide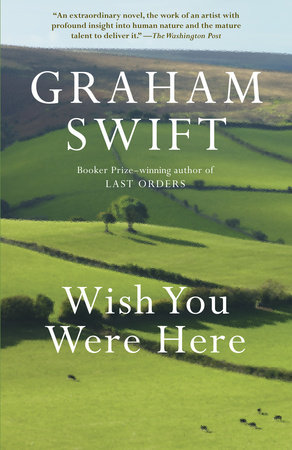 Wish You Were Here Reader's Guide
READERS GUIDE
The questions, discussion topics, and reading list that follow are intended to enhance your reading group's discussion of
Wish You Were Here,
Booker Prize–winning author Graham Swift's latest novel.
Introduction
"Swift weaves a story which is as much a lament for a vanished way of life as an attack on the madness of modernity. With unmistakable echoes of Thomas Hardy and E. M. Forster, he portrays a rural England that is no longer merely under threat, but has been comprehensively vanquished . . . Swift exercises a compelling mastery of tone and trajectory, and Jack's criss-crossing of southern England (reminiscent of Hardy's Tess traversing the Dorset countryside), following the route of his brother's repatriated remains, unsure whether he is ahead of or behind them, makes for an emotionally gripping narrative . . . Swift portrays the struggle of the dispossessed individual with all the complex and overwhelming force of what, in Yeats's words, 'is past, or passing, or to come.'" —
Times Literary Supplement
[UK]
From the prizewinning author of the acclaimed
Last Orders, The Light of Day,
and
Waterland,
a powerfully moving new novel set in present-day England, but against the background of a global "war on terror" and about things that touch our human core.  
On an autumn day in 2006, on the Isle of Wight, Jack Luxton—once a farmer, now the proprietor of a seaside caravan park—receives the news that his brother, Tom, not seen for years, has been killed in combat in Iraq. The news will have far-reaching effects for Jack and his wife, Ellie, and will compel Jack to make a crucial journey: to receive his brother's remains, but also to return to the land of his past and of his most secret, troubling memories. A gripping, hauntingly intimate, and compassionate story that moves toward a fiercely suspenseful climax,
Wish You Were Here
translates the stuff of headlines into heartwrenching personal truth.
Questions and Topics for Discussion
1. "Wish you were here" is a powerful phrase in the novel. Why is it so significant?
2. Jack says, "…cattle aren't people, that's a fact" (p. 4). But in what ways in the novel are cattle like people, or vice versa?
3. What parallels can you draw between Jack and Tom and the earlier pair of Luxton brothers?
4. "To become the proprietor of the very opposite thing to that deep-rooted farmhouse. Holiday homes, on wheels." (p. 29) What is Swift telling us through Jack's observation?
5. What does their Caribbean holiday symbolize to Ellie? To Jack?
6. Did Jack really want to leave Devon, ten years earlier? If Ellie hadn't suggested the Isle of Wight, what do you think might have happened?
7. Before they move, Jack sells the ancestral Luxton cradle, but keeps the shotgun and the medal. Why?
8. Madness comes up again and again—mad-cow disease, the madness of war, the possibility that Jack has gone mad. What point is Swift making?
9. Time shifts frequently over the course of the novel, hopscotching across decades. How does Swift use these shifts to expand and deepen the story?
10. Why does Ellie refuse to accompany Jack back to Devon?
11. Why is putting down Luke such a pivotal act for Tom and Jack?
12. What do we learn when Swift shifts from Jack's point of view to others'—Major Richards's, the hearse driver's, Bob Ireton's? What do we learn from the brief section told from Tom's perspective?
13. At several points, Swift writes extended hypothetical passages—what might have happened if one character had said or done something slightly different. What effect does this have? How does it help to fully form the characters?
14. How does the Robinsons' transformation of Jebb Farm work as a metaphor for twenty-first-century life?
15. ". . . anyone (including the owners of Jebb Farmhouse, had they been in occupation) might have seen two hand-prints on the top rail, one either side of the black-lettered name." (p. 267) What do Jack's hand-prints symbolize?
16. "Security" means different things to the Luxtons and the Robinsons. Which definition do you think Swift endorses?
17. What does the medal represent? What does it mean when Jack tosses it into the sea?
18. Does Tom really believe Ellie had a hand in Jimmy's death? Why does he say it?
19. Tom's ghost plays a major role in the novel's final scene. What does he represent?
About this Author
Graham Swift is the author of eight previous novels, including
Last Orders,
which was awarded the Booker Prize. He is also the author of a collection of short stories and a work of nonfiction. His work has been translated into more than thirty languages.
Suggested Reading
Saturday
by Ian McEwan;
A Week in December
by Sebastian Faulks;
Falling Man
by Don DeLillo;
The Sense of an Ending
by Julian Barnes;
The Gathering
by Anne Enright;
The Return of the Native
by Thomas Hardy.
Back to Top