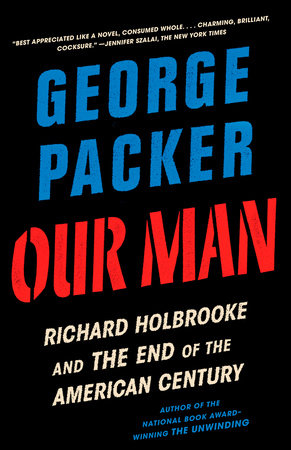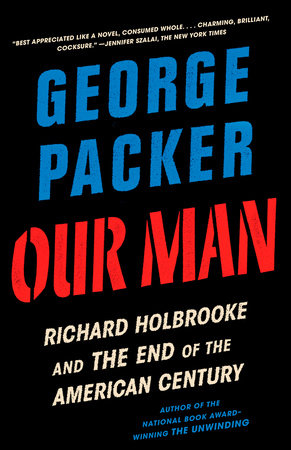 May 26, 2020
|
ISBN 9780307948175
Buy the Audiobook Download:
YOU MAY ALSO LIKE
QUICK VIEW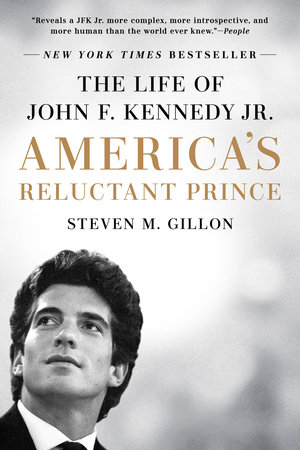 America's Reluctant Prince
Paperback
$18.00
QUICK VIEW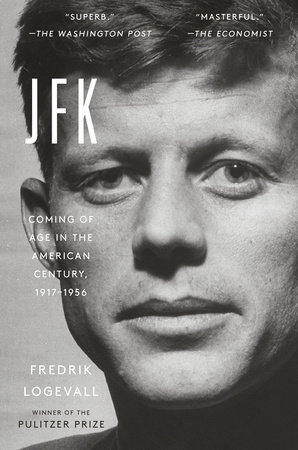 QUICK VIEW
Life Undercover
Paperback
$18.00
QUICK VIEW
The Prince of Providence
Paperback
$18.00
QUICK VIEW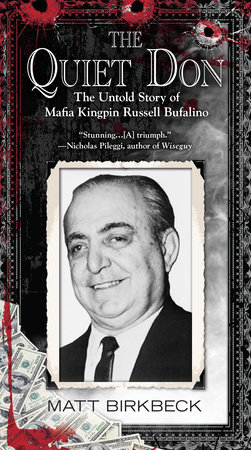 The Quiet Don
Paperback
$9.99
QUICK VIEW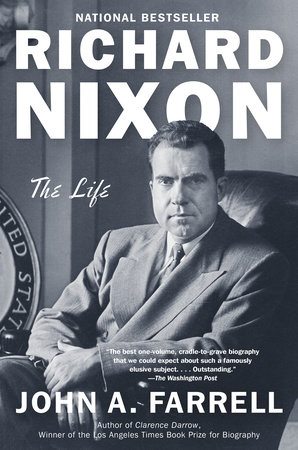 Richard Nixon
Paperback
$24.00
QUICK VIEW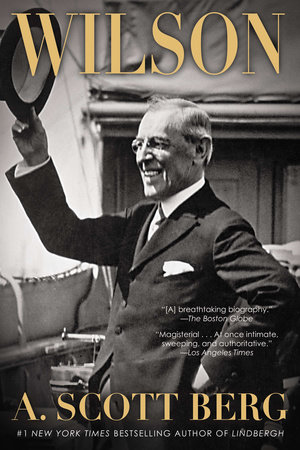 QUICK VIEW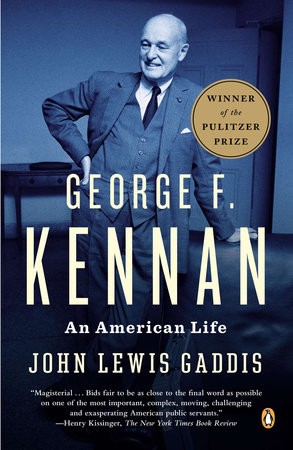 George F. Kennan
Paperback
$25.00
QUICK VIEW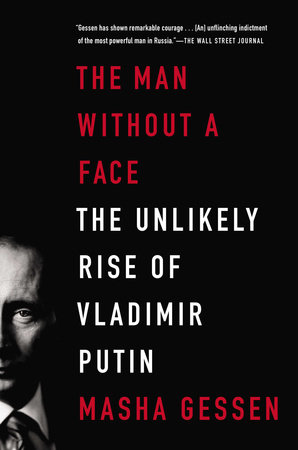 The Man Without a Face
Paperback
$18.00
QUICK VIEW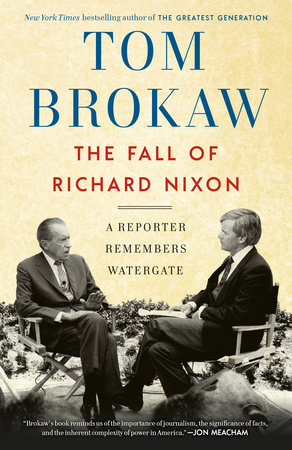 The Fall of Richard Nixon
Paperback
$17.00
Praise
"It is impossible to read George Packer's new biography of Richard Holbrooke without a piercing sense of melancholy, not only that a man so supremely alive should be dead, but also because such people—Our Man, in Packer's title, the incarnation of vanished glory, imperial hubris, exceptional Americanism—no longer walk the earth… Extraordinary."—James Traub, Foreign Policy
 
"This book is a real accomplishment; it's hands down the best biography I have read this year… Deeply researched and reported… Sure to win a prize (or two or three) in the 2019 literary-awards sweepstakes." —Adam B. Kushner, Philadelphia Inquirer

"This is the kind of biography (massive, detailed) by the kind of author (respected, experienced) reserved for great books on great men… Packer make[s] a case for Holbrooke's place in the pantheon, showing that there was real idealism and skill buried beneath the layers of self-regard."
—Mary Ann Gwin, The Seattle Times

"Riveting… A pitch-perfect portrait." —Norman Pearlstine, Los Angeles Times

"Holbrooke… has never been as interesting as he is in Packer's sympathetic hands."—Durango Herald

"As Packer so artfully shows us, the diplomatic journey of Holbrooke and the U.S. in the last half-century carries a ton of insightful lessons about how to resolve complicated challenges that haven't been solved – or even considered – before."—Howard Homonoff, Forbes

"Holbrooke's life—and Packer's telling of it—also offers a set of lessons about the limits of American liberalism at home and abroad, in the past and in the present…[Packer] addresses his readers in the manner of a brilliant… dinner-party conversationalist, weaving in context and anecdote and gossipy digressions that make us feel we're being given a privileged, intimate view of the American elite… It gives us a better understanding of what happened to a generation of liberals who helped create the country we now live in." —The Nation

"I was hooked after the first paragraph — maybe after the first sentence… Packer's writing is lively and quick, packed with voice and with asides to the reader that only add to his credibility. Read it for the first 150 pages alone — the best primer on Vietnam you'll find."—Laurie Hertzel, Minneapolis Star Tribune

"A brilliant, abrasive diplomat struggles to resolve foreign conflicts while fighting bureaucratic wars at home in this scintillating biography… Packer makes him a Shakespearean character—egomaniacal, devious, sloppy enough to make presidents deny him the prize of becoming secretary of state, yet charismatic and inspiring—in a larger-than-life portrait brimming with vivid novelistic impressions… In Holbrooke's thwarted ambitions, Packer finds both a riveting tale of diplomatic adventure—part high drama, part low pettiness—and a captivating metaphor for America's waning power"—Publisher's Weekly (starred)

"The riveting life of a deeply flawed diplomat whose chief shortcoming seems to have been the need to be more recognized than he was… In the end, though egotistical and quick to be insulted, Holbrooke was also, by Packer's absorbing account, highly capable.
Students of recent world history and of American power, hard and soft, will find this an endlessly fascinating study of character and events."—Kirkus (starred)

"In his supercharged new biography, George Packer doesn't lose sight of Holbrooke's spasms of near greatness, or of the high ideals that were in symbiosis with his oily machinations… At one breathless moment, Packer asks himself: 'What was he like? He didn't want to miss a minute of his life.' In this book, we don't, and we come away enlightened and sad."—Charles Trueheart, American Scholar

"In an entertaining and humane new biography, Our Man, George Packer portrays a deeply flawed figure of tremendous energy, blindness, and passion… It is a subject worthy of Packer's considerable narrative gifts: a tragicomic hero who poured all of his infuriating ambitions and intensities into a life of purpose on stages both global and bureaucratically small."—Michael O'Donnell, Washington Monthly

"The book has all the qualities of a nonfiction novel… For future historians, Our Man will be a valuable artifact." —Thomas Meaney, The New Republic

"A pensive portrait of a man permanently biased toward action… Packer, who knew Holbrooke personally, celebrates the man's larger-than-life qualities while remaining clear-eyed about his profound flaws. And by the end, he convincingly argues that Holbrooke's passing signifies the loss of something larger still, a sense of American possibility, now seemingly out of reach."—Booklist (starred)

"In capturing the essence of Richard Holbrooke and the era he embodied, George Packer portrays a figure far more fraught than I ever imagined… A vividly detailed non-fiction narrative that aims to capture its subject in full… Holbrooke's immense talents were ultimately undercut by his profound shortcomings; they make the story of his exceptional life as tragic as it is fascinating."
—Rennie A. Silva, Diplomatic Courier

"Packer, a staff writer at the Atlantic, hasn't written a traditional biography… Holbrooke is a fascinating character."—Foreign Policy

"If to have read the book is to have met the man, then George Packer has done us an infinite service… He has made a contribution to our understanding of the conduct of diplomacy."
—Matthew Asada, The Foreign Service Journal

"By the end of the second page, maybe the third, you will be hooked. You'll come to understand that the author, New Yorker writer George Packer, understood Holbrooke, understood power, understood America in its eclipse at the end of the 20th century and into the 21st. You'll come to understand that Packer knew the great man, in fact thought he was great: great of ambition, of character, of intelligence, of intuition, of impulse, and, above all, great of flaws, including betrayal. And you'll realize that Holbrooke, who died nine years ago, was central to what was central to much of postwar American life, and that in a terrifying way his story is America's story." —David M. Shribman, Boston Globe

"Packer is a graceful stylist… A highly readable and innovative biography." — Jamie Kirchick, Commentary

"Extraordinary." —Lee Scott, The Florida Times-Union

"Not only a riveting read but also an eye-opening psychodrama, revealing the feuds and friendships behind the scenes that often drove and always colored American foreign policy for five decade… This tale of Holbrooke's diplomatic ambition and dramatic death is also intended as an authoritative historical statement about the end of an era.. The Holbrooke story will never be told better."—James P. Rubin, Politico

"This is a comprehensive biography, well-written and compelling, presenting flaws and all… Engaging." —Donald Camp, American Diplomacy

"Deeply researched, compelling."—Arab News

"Stunning… The book is probably the best guide you can find to navigating a transitional moment in American leadership and foreign policy… A gripping read." —Ben Smith, Buzzfeed

"This story is both gripping and surprisingly pacey, its wheels greased by revealing excerpts from Holbrooke's personal letters and the private reflections he recorded to tape. Added to this is Packer's arresting thesis: that his brash but erudite and driven subject symbolises something about America's engagement with the world following the Second World War that will never be recovered after Trump."—John Bew, New Statesman

"You may ask yourself, is it worth one of the best American non-fiction writers producing a book of just under 600 pages on an arrogant and abrasive egotist whose highest sustained rank in the State Department was that of a lowly assistant secretary? The answer is unabashedly yes. This is a remarkable work about a remarkable, if deeply flawed, statesman whose career was intimately intertwined with the 50 years of American decline from Vietnam to Afghanistan."—Jonathan Powell, The Spectator

"[A] magisterial tome, a blend of biography and diplomatic history on par with Steve Coll's Ghost Wars or Neil Sheehan's A Bright Shining Lie… you really should read this book if you're at all interested in the decline of our country's elites or America's role in the world over the past 50 years." —Fred Kaplan, Slate
 
"Packer's energetic prose… carries the reader easily through the three main acts of Holbrooke's diplomatic life… impeccably sourced." —Paddy Hirsch, NPR

"Mesmerizing… An elegy not just for Holbrooke but for the vision of American power he represented… Insightful and beautifully written…" —Barbara Spindel, The Christian Science Monitor

"No book could achieve the intensity, completeness, and narrative depth of Our Man without the author's belief that he had been put on this earth to do it. The strength of the book is its focus on Holbrooke's character, which Packer pursues much as James Boswell pursued the human truth of Samuel Johnson. The point is not to analyze things—why Yugoslavia flew to pieces, or what Johnson did for the English language with his dictionary. The point is to winkle out and bring to light the whole truth of the man: what he was like in all his contradictions." —Thomas Powers, The New York Review of Books
 
"Our Man is a great, exuberant read, gossipy and thoughtful."—Roger Boyes, The Times

"[S]prawling, mesmerizing…"—Max Boot, The Washington Post

This unconventional biography, written like a novel without notes or index, is a joy to read. The book is a singular achievement, bringing alive the last decades when America counted characters such as Holbrooke in the halls of policy-making… Packer ma[kes] Holbrooke's life a metaphor for brash, ambitious America.—Nayan Chanda, Global Asia

"Captivating… Packer is a masterful storyteller and wordsmith."—Hussein Ibish, The World News

"This book is a real accomplishment; it's hands down the best biography I have read this year… Deeply researched and reported… Brilliant, ambitious, arrogant and committed, Holbrooke, who died suddenly in 2010, is a mesmerizing subject, and friends and enemies alike helped Packer craft this biography. Sure to win a prize (or two or three) in the 2019 literary-awards sweepstakes."—Mary Ann Gwin, The Seattle Times

"Outstanding…One of the most fascinating dissections of US power – its strengths and serious weaknesses – I've ever read." —Steve Bloomfield, The Guardian
 
"In Our Man, George Packer has delivered a deeply affecting and ultimately tragic biography of a distinguished diplomat…. Packer brilliantly describes Holbrooke's personal journey through each episode, exploring along the way how these wars came to shape him — and how Holbrooke applied his considerable guile, fortitude and intelligence to shape the course of the conflicts."—Kurt Campbell, The Financial Times
 
"Best appreciated like a novel, consumed whole…charming, brilliant, cocksure."—Jennifer Szalai, The New York Times
Awards
Los Angeles Times Book Prize WINNER 2019
Dayton Literary Peace Prize for Nonfiction FINALIST 2020
National Book Critics Circle Awards FINALIST 2019
Plutarch Award FINALIST 2020
Pulitzer Prize (Biography) FINALIST 2020
Get the latest updates about George Packer
And go from well-read to best read with book recs, deals and more in your inbox every week.
And go from well-read to best read with book recs, deals and more in your inbox every week.
Dismiss
Thanks!
Something awesome is on its way.
Back to Top
Become a Member
Just for joining you'll get personalized recommendations on your dashboard daily and features only for members.
Find Out More
Join Now
Sign In
Success!
Your account has been created. Upload book purchases, access your personalized book recommendations, and more from here.