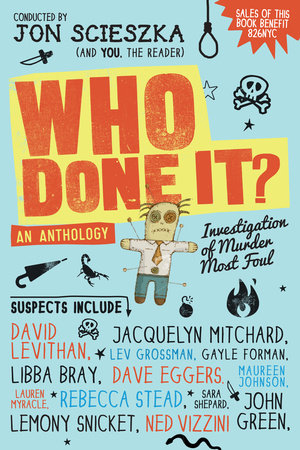 Who Done It?
By Jon Scieszka

By
Jon Scieszka
Best Seller
Inspired by Your Browsing History
Also in Teen & Young Adult Fiction
Praise
Praise for Who Done It?
 
"Go buy this book for your kids. Every kid on the planet needs this book. And the extra bonus is that proceeds from Who Done It? benefit 826nyc, the literacy non-profit founded by Dave Eggers!"
—NCBLA Executive Director Mary Brigid Barrett
 
"Well worth a read."
—The Guardian (UK)
 
"Wonderful and fun to read. Included in these pages is some fabulous description, lots and lots of creativity…[will] keep even the pickiest teen happy for hours."
—Tulsa Books Examiner

"Curl up and check out the laugh-out-loud alibis."
—Justine Magazine

"Who Done It? is essentially a who's who of fabulous YA…And they're all talking. But someone's lying. The 'alibis' range from poetry to comics, and are hilarious."
—Persephone Magazine
"With a lively blend of self-incrimination and finger-pointing, Who Done It? will keep readers guessing to the end."
—Shelf Awareness
"Filled with in-jokes and carried to ridiculous extremes by a mammoth stable of YA and children's authors…clever."
—Kirkus Reviews
 
"The finger-pointing and self-incrimination begin in every form imaginable…David Levithan offers his alibi in verse….Indeed, the pen is being used mightily to drum up support for creative writing; proceeds from sales will benefit Dave Eggers' (another among the accused) 826 program in New York."
—Booklist
"Jon Scieszka combines humor and Clue style campy mystery in his 
Who Done It?
"
—Crimespree Magazine
"How did you get my phone number? Stop calling me or I'm getting the police involved."
—Maureen Johnson, author of The Name of the Star and The Last Little Blue Envelope

"Wah-huh?"
—Gayle Forman, author of If I Stay and Where I Went
"Who are you? Why are you writing down everything I'm saying? What book? What are you talking about?"
—Lemony Snicket, author of A Series of Unfortunate Events and Who Could That Be at This Hour?
"Papery. And rectilinear."
—Barry Lyga, author of I Hunt Killers
"Of all the books I've ever read, this was definitely the most recent."
—Jennifer Smith, author of The Statistical Probability of Love at First Sight

"If you already know who done it, this is not the book for you."
—Mo Willems, author of Don't Let the Pigeon Drive the Bus
"Deliciously cheesy."
—Jo Knowles, author of See You At Harry's

"Exceptionally rectangular."
—Kiersten White, author of Paranormalcy
"My God. It's full of words."
—Kieran Scott, author of the He's So/She's So trilogy
"Not enough pictures."
—Ricardo Cortés, co-author of Go the F–k to Sleep
"Cures everything from sleeplessness to insomnia."
—Natalie Standiford, author of The Secret Tree
"Wicked awesome."
—Lisa Brown, How to Be
"Who is Jon Scieszka?"
—Casey Scieszka, co-author of To Timbuktu
"I'll get back to you with a blurb as soon as I have some time."
—Leslie Margolis, author of Everybody Bugs Out
"This book is full of slanders, falsehoods, and outrageous defamations of character. In other words, it was perfect!"
—Adam Gidwitz, author of A Tale Dark and Grimm

"Without a doubt, one of the top 10,000 books of the year."
—Robin Wasserman, author of The Book of Blood and Shadow

"Stays crunchy in milk."
—Gordon Korman, author of Swindle
 
"It makes an excellent step so I can reach all my shoes."
—Kate Brian, author of the Private series
"What an outrageous, hysterical, cheesy, fantastic, ingenious book!"
—Emily's Crammed Bookshelf
"Funny, creative, and clever. Buy a copy for yourself and another for a young reader in your life."
—Beth Fish Reads
Back to Top