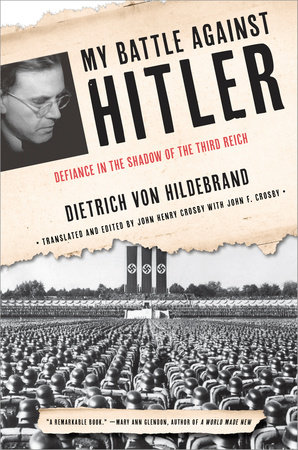 My Battle Against Hitler
Defiance in the Shadow of the Third Reich
Defiance in the Shadow of the Third Reich
By Dietrich von Hildebrand and John Henry Crosby
Foreword by
Roger Scruton
By
Dietrich von Hildebrand

and

John Henry Crosby


Foreword by

Roger Scruton



By Dietrich von Hildebrand and John Henry Crosby

By
Dietrich von Hildebrand

and

John Henry Crosby




Best Seller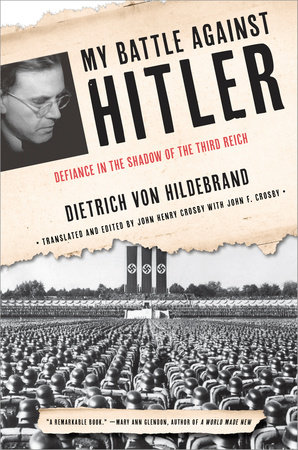 Oct 25, 2016
|
ISBN 9780385347532
Inspired by Your Browsing History
Buy other books like My Battle Against Hitler
Praise
"Dietrich von Hildebrand is already well-known and respected as one of the great Catholic philosophers of the twentieth century. However, this engaging collection of his personal writings on the topic of Hitler and Nazism allows us to appreciate his wisdom and courage even more fully. His faith in God and understanding of the human person enabled him to clearly see the threat posed by his evil ideology. This memoir reveals the strength of character that von Hildebrand bravely displaced throughout his twenty-year battle against of the greatest evils of his age. Even amid significant personal danger, he never wavered in his commitment to the truth. We remember Dietrich von Hildebrand's intellectual contributions, but let us also recall his witness to human dignity in the face of evil." – Cardinal Timothy Dolan, Archbishop of New York
 
"Dietrich von Hildebrand's memoirs give us an inroad into the soul of another Germany, a Germany thoroughly different from that of Adolf Hitler and of the Nazis. In the years just after the First World War, he warned against the danger of exaggerated nationalism and pleaded for the reconciliation between European nations. Later he would defend the common Christian and Jewish roots of European civilization. His example warms the hearts of all those who love freedom and are willing to defend the values of our civilization." –Rocco Buttiglione, Italian statesman and close collaborator with St. John Paul II
 
"At this moment in history, no memoir could be more timely than Dietrich von Hildebrand's account of how and why he risked everything to witness against the spreading evil of National Socialism. With much of today's world silent as Christians face increasing persecution, many good men and women are asking themselves what they can do.  This remarkable book will challenge and inspire them." –Mary Ann Glendon, Learned Hand Professor of Law, Harvard University and Former US Ambassador to the Holy See
 
"There is but one man who can stand with Dietrich Bonhoeffer, both in intellectual brilliance and in bravery toward the Nazis; that man is Dietrich von Hildebrand. I am privileged to strongly recommend this important book as a superb introduction to this great hero of the faith. May it spawn a new generation of devotees and champions of his extraordinary thought and life." –Eric Metaxas, New York Times bestselling author of Bonhoeffer, Pastor, Martyr, Prophet, Spy and Miracles.  
 
"Dietrich von Hildebrand, unlike so many European Christians of his time, was an early and vigorous critic of National Socialism; a man of brilliant intellect and articulate pen who spoke out forcefully against Nazi hatred of the Jews; a scholar who defended the Christian understanding of society and the human person at immense personal cost.  This wonderful collection of his writings acquaints us intimately with an extraordinary man of faith.  It's mandatory reading for anyone interested in a fuller understanding of a profoundly important era." –Charles J Chaput, O.F.M. Cap., Archbishop of Philadelphia
 
"Dietrich von Hildebrand was brave in his public writings against the Nazis, brave in his hair-raising escape from Vienna in 1938. He was also bold and uncompromising in his convictions about responsibility, love, and liberty. This book brings the bold von Hildebrand back into our midst." –Michael Novak, author of Writing from Left to Right 

"In the life of Dietrich on Hildebrand, we see how Catholic faith and sacramental life gave him insight, strength and freedom of spirit to confront the anti-Christian tides that swept through Western culture in the twentieth century. This compelling and inspiring memoir is a testimony to the integrity of a Christian who challenged the destructive force of the Third Reich, its dehumanizing political philosophy and its false vision of human life. I strongly recommend this memoir as a testimony to the transforming influence of the lay vocation at work in the world, exemplified in Dietrich von Hildebrand." -Cardinal Donald Wuerl, Archbishop of Washington, D.C.
 
Back to Top