Bridget Jones: Mad About the Boy Reader's Guide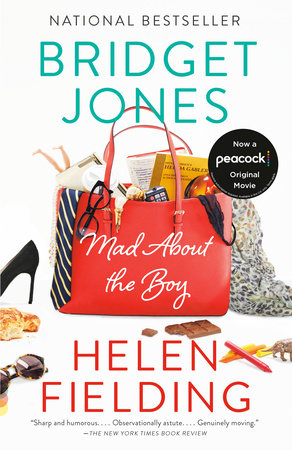 Bridget Jones: Mad About the Boy Reader's Guide
READERS GUIDE
The questions, discussion topics, and reading list that follow are intended to enhance your reading group's discussion of
Bridget Jones: Mad About the Boy,
the long-awaited continuation of Bridget Jones's boisterous, smart, and moving diary.
Introduction
What do you do when your girlfriend's sixtieth birthday party is the same day as your boyfriend's thirtieth?
Is it better to die of Botox or die of loneliness because you're so wrinkly?
Is it wrong to lie about your age when online dating?
Is it morally wrong to have a blow-dry when one of your children has head lice?
Is it normal to be too vain to put on your reading glasses when checking your toy boy for head lice?
Does the Dalai Lama actually tweet, or is it his assistant?
Is it normal to get fewer followers the more you tweet?
Is technology now the fifth element? Or is that wood?
If you put lip plumper on your hands do you get plump hands?
Is sleeping with someone after two dates and six weeks of texting the same as getting married after two meetings and six months of letter writing in Jane Austen's day?
Pondering these and other modern dilemmas, Bridget Jones stumbles through the challenges of loss, single motherhood, tweeting, texting, technology, and rediscovering her sexuality in—Warning! Bad, outdated phrase approaching!—Middle Age.
In a triumphant return after fourteen years of silence, 
Bridget Jones: Mad About the Boy
 is timely, tender, touching, page-turning, witty, wise, outrageous, and bloody hilarious.
Questions and Topics for Discussion
1. Who is "the boy"? Is it who you first thought it would be?
2. How did you react when you read about Mark Darcy's fate?
3. Age is a major theme in this novel. Why does Bridget feel the struggles more acutely than some of her contemporaries?
4. Bridget's friends deal with aging in different ways. Talitha believes in Botox while Bridget notes that Woney has not done any of this "rebranding" (page 66). Why do these different characters make these different decisions?
5. Dating rules have changed dramatically since Bridget's last appearance. How well does she adapt?
6. Bridget is adapting Hedda Gabbler, which she explains is a story about "the perils of trying to live through men" (page 17). What is Fielding's intent with this parallel?
7. In what ways did Daniel change from the previous books? And how did he stay the same?
8. Why does Roxster tell Bridget he "hearts" her? (page 250). Does he really mean "love," or is this something else?
9. Mr. Wallaker tells Bridget, ". . . other people's lives are not always as perfect as they appear, once you crack the shell" (page 323). How does Bridget finally learn this lesson? What earlier opportunities did she have to learn it?
10. On page 361, Tom tells Bridget about a new survey: "It proves that the quality of someone's relationships is the biggest indicator of their long-term emotional health—not so much the 'significant other' relationship, as the measure of happiness is not your husband or boyfriend but the quality of the other relationships you have around you." How does this bode for Bridget? Which characters might have cause for concern?
11. At the carol concert, Mr. Wallaker looks at Bridget in a certain way and she realizes she loves him. What finally brings her around?
12. What is the significance of the owl?
13. Bridget's last entry ties up the story in a cozy, comforting way. What do you imagine will happen next?
About this Author
Helen Fielding, a journalist and novelist, is the author of four previous novels—
Bridget Jones's Diary, Bridget Jones: The Edge of Reason, Cause Celeb, 
and 
Olivia Joules and the Overactive Imagination.
Suggested Reading
The View from Penthouse B
by Elinor Lipman;
The Rosie Project
by Graeme Simsion;
Finding Colin Firth
by Mia March;
The Husband's Secret
by Liane Moriarty;
Me Before You
by JoJo Moyes;
How Stella Got Her Groove Back
by Terry McMillan;
Saturday Night Widows
by Becky Aikman
Back to Top