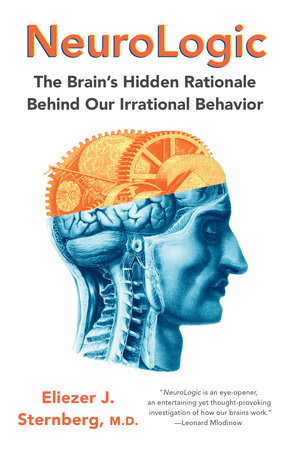 NeuroLogic
The Brain's Hidden Rationale Behind Our Irrational Behavior
The Brain's Hidden Rationale Behind Our Irrational Behavior
The Brain's Hidden Rationale Behind Our Irrational Behavior
Best Seller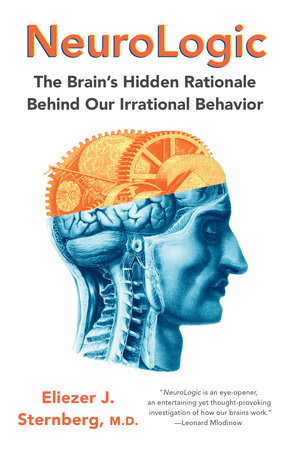 Dec 13, 2016
|
ISBN 9780345807250
Buy the Audiobook Download:
YOU MAY ALSO LIKE
QUICK VIEW
Laughter
Paperback
$16.00
QUICK VIEW
Consciousness and the Brain
Paperback
$19.00
QUICK VIEW
The Strange Order of Things
Paperback
$18.00
QUICK VIEW
The Science of Fear
Paperback
$18.00
QUICK VIEW
How to Think
Hardcover
$24.00
QUICK VIEW
The Man Who Wasn't There
Paperback
$16.00
QUICK VIEW
How to Fly a Horse
Paperback
$18.00
QUICK VIEW
Your Brain Is (Almost) Perfect
Paperback
$16.00
QUICK VIEW
Radical Evolution
Paperback
$18.00
QUICK VIEW
The Book of Woe
Paperback
$19.00
Praise
"Sternberg is not content to remain within the cozy confines of his medical specialty. That's revealing, not just of his prodigious intellect but also because, as he refuses to be just another neurologist, the subject of his inquiry also refuses to be just another organ . . . [an] audacious, wise and compelling book." —Marianne Szegedy-Maszak, The Washington Post

"A research-rich study of the neurological circuitry behind the narratives we use to make sense of things. Sternberg cracks open the brain's "black box" to examine its parallel conscious and unconscious systems, and explores states from dreaming and acts on 'autopilot' to memory, hallucinations and trauma." —Nature

"An enchanting journey . . . the author writes with brio and dash . . . of the brain's ability to draw the story of our life, from experience and from thin air." —Kirkus Reviews

"Eliezer J. Sternberg's NeuroLogic is an eye-opener, an entertaining, yet thought-provoking investigation of how our brains work—including why we do some of the strange things we do. Sternberg pries open our minds to expose the way our brain operates, providing insight into topics ranging from our perceptions and habits, to hypnosis, language, and learning. Neurologic expertly guides the reader through the unconscious logic of the human brain. I came away from this book with an enhanced sense of who I am as a person." —Leonard Mlodinow, author of Subliminal
 
"In NeuroLogic, Sternberg takes us on a fascinating exploration of the impulses and quirks that make us human. An innovative, engaging look inside the black box that is the mind." —Maria Konnikova, author of Mastermind: How to Think Like Sherlock Holmes
 
"Dr. Sternberg's enthusiasm for neuroscience bursts out of every page. In clear language he tackles a series of fascinating neurological curiosities that are windows into the wonder of the brain." —Dr. Sally Satel, author of Brainwashed: The Seductive Appeal of Mindless Neuroscience
 
"Neurologic is an exciting adventure, bringing the most fascinating mysteries of the mind to a very human level. It is a deeply engaging, thought-provoking, and fun read. Sternberg reaches a new level of popular neuroscience literature in the footsteps of Oliver Sacks but with fresh, novel appeal." —Hal Blumenfeld, MD, PhD, author of Neuroanatomy through Clinical Cases

"With his explanation of the hidden logic behind the brain's quirks, Eliezer Sternberg establishes himself as a fresh new voice for neuroscience."  —Sebastian Seung, author of Connectome

"Each chapter in Sternberg's book reads like a detective novel. His passion for neurology shines through every page. Unlike many brain books, it is encyclopedic in range and scholarly in content, yet highly readable. It is also a valuable antidote to the ' neuron envy' syndrome that many philosophers and psychologists suffer from." —VS Ramachandran, author of The Tell-Tale Brain

"The more we learn about the brain the more illogical it seems we are, until you look inside our skulls and examine the brain from an inside perspective, at which point a certain neuro-logic emerges. Eliezer Sternberg's brilliant examination of the human mind reveals the many reasons for our many seemingly unreasonable beliefs and actions. If you want to know why people think and act as they do in such irrational ways, NeuroLogic is the first book you should turn to for some rational answers." —Michael Shermer, author of The Believing Brain


Table Of Contents
Introduction: Our Unconscious Logic

1. WHAT DO THE BLIND SEE WHEN THEY DREAM?
On Perception, Dreams, and the Creation of the External World
Filling in the Gaps . . . The Stuff That Dreams Are Made Of . . . Down the Rabbit Hole . . . A Vision for the Sightless . . . Luke Skywalker Lives in Your Temporal Lobe . . . A Corridor of Sound . . . The Dream Machine

2. CAN ZOMBIES DRIVE TO WORK?
On Habit, Self-Control, and the Possibility of Human Automatism
Zombies Among Us . . . Vision Without Seeing . . . Mice in a Plus-Maze . . . Focusing by Being Unfocused . . . How to Identify a Fake Smile . . . Why We Forget to Pick Up a Gallon of Milk . . . Why Do We Eat When We're Not Hungry? . . . Executive Dysfunction . . . Murder on Autopilot . . . Two Systems for Multitasking

3. CAN YOUR IMAGINATION MAKE YOU A BETTER ATHLETE?
On Motor Control, Learning, and the Power of Mental Simulation
The Internal Simulator . . . Flexing Mental Muscle . . . PETTLEP . . . Insights from Stroke . . . How Do You Scratch a Phantom Itch? . . . Neuronal Mirrors . . . Why Is Yawning Contagious? . . . Empathy, Pornography, and the Autism Spectrum . . . Gut Feelings

4. CAN WE REMEMBER THINGS THAT NEVER HAPPENED?
On Memory, Emotion, and the Egocentric Brain
A Web of Snapshots . . . The Brains of Rival Sports Fans . . . Why Do We Remember Where We Were on 9/11? . . . Brains in Midtown and Downtown . . . Ignorance Is Bliss . . . "It's Not a Lie If You Believe It" . . . Fairy Tales in the Confabulating Brain

5. WHY DO PEOPLE BELIEVE IN ALIEN ABDUCTIONS?
On Paranormal Experience, Narrative, and the Development of Strange Beliefs
"I Was Abducted by Aliens!" . . . Sleep Paralysis . . . Afraid of Your Shadow? . . . Conversations with God . . . The Walking Dead . . . Cheating on Your Wife—with Your Wife? . . . Visions from the Brink . . . Fighter Pilots and Heart Attack Victims . . . Hostage Hallucinations . . . Attack of the "Old Hag"

6. WHY DO SCHIZOPHRENICS HEAR VOICES?
On Language, Hallucinations, and the Self/Nonself Distinction
Whispers from the Microphone . . . "He Can't Speak If I Interrupt Him" . . . "Someone Else Is Speaking Whenever I Speak" . . . How Are People Similar to Electric Fish? . . . System Failure . . . Can the Deaf Hear Voices in Their Heads? . . . A Disorder of Self-Monitoring . . . Why Can't You Tickle Yourself? . . . Déjà Vu

7. CAN SOMEONE BE HYPNOTIZED TO COMMIT MURDER?
On Attention, Influence, and the Power of Subconscious Suggestion
You Are Getting Very Sleepy . . . The Cocktail Party Effect . . . Overcoming the Stroop Effect . . . Eat Popcorn, Drink Coca-Cola . . . Invisible Faces . . . Brand Names in the Brain . . . When the Brain Makes Excuses . . . "The Knife Went In" . . . One Brain, Two Systems

8. WHY CAN'T SPLIT PERSONALITIES SHARE PRESCRIPTION GLASSES?
On Personality, Trauma, and the Defense of the Self
Finding One Self . . . A Brain Divided . . . See No Evil . . . The Fragmentation of the Mind . . . The Hypnotist Within . . . An Eye for an I . . . NeuroLogic

Appendix: Maps of the Brain
Acknowledgments
Notes
Bibliography
Index
_
Get the latest updates about Eliezer Sternberg
And go from well-read to best read with book recs, deals and more in your inbox every week.
And go from well-read to best read with book recs, deals and more in your inbox every week.
Dismiss
Thanks!
Something awesome is on its way.
Back to Top
Become a Member
Start earning points for buying books! Just for joining you'll get personalized recommendations on your dashboard daily and features only for members.
Find Out More
Join Now
Sign In
Success!
Your account has been created. Upload book purchases, access your personalized book recommendations, and more from here.