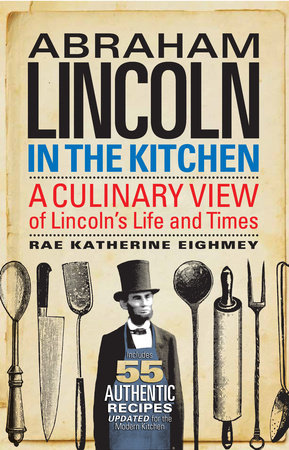 Abraham Lincoln in the Kitchen
A Culinary View of Lincoln's Life and Times
A Culinary View of Lincoln's Life and Times
By Rae Katherine Eighmey

By
Rae Katherine Eighmey
By Rae Katherine Eighmey

By
Rae Katherine Eighmey
Best Seller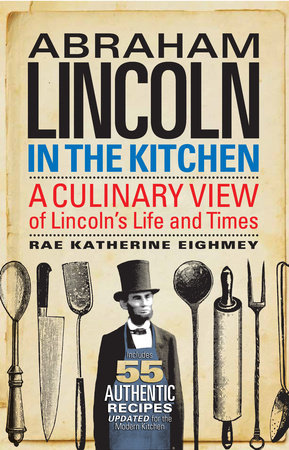 Paperback
Sep 12, 2017 | ISBN 9781588346186
Paperback

$14.95

Sep 12, 2017 | ISBN 9781588346186
*This title is not eligible for purchase to earn points nor for redemption with your code in the
Reader Rewards
program
Inspired by Your Browsing History
Praise
PUBLISHERS WEEKLY
The answer to questions of whether or not President Abraham Lincoln cooked, and what he ate, are answered in this upbeat culinary study of the life and diet of our 16th President.

LIBRARY JOURNAL
Using Lincoln family documents, period newspapers, cookbooks, and other resources, Eighmey carefully paints a picture of the Lincoln family's diet and customs. In addition to the thorough research used to re-create the president's culinary world, Eighmey adapts 55 period recipes for today's kitchen […] The author has successfully detailed the culinary world he moved in and thus given us a personal look at one of history's greatest figures.
PARADE
A fantastic new book, Abraham Lincoln in the Kitchen by Rae Katherine Eighmey, sheds light on our 16th president's culinary habits from his childhood through his time in office—and includes more than 50 period recipes that've been updated for a modern kitchen.

NPR
Eighmey's new book […] looks at our 16th president's life through the extraordinary stories of what he ate, cooked and served, along with recipes modified for the modern kitchen.

MINNEAPOLIS STAR TRIBUNE
Throughout the narrative, she often puts herself in Lincoln's XXL shoes. She gamely swings an 8-pound sledgehammer to whack hominy into pieces when her food processor can't properly shatter the hard kernels to the authentic size. She schemes over roasting a turkey on an open hearth. She measures Lincoln's 1860 Royal Oak cast-iron stove, then fashions iron plates from a camping supply store and wire racks into a makeshift oven of the same dimensions.

AMERICAN FOOD ROOTS
Eighmey has taken the scant recorded facts about Lincoln and food and spun an engaging story of what Lincoln's culinary life might have been like. She presents the facts and grounds the speculation in solid research. And her delight with her subject is infectious. Abraham Lincoln in the Kitchen is as much fun to read as it clearly was for the author to write.

CHRISTIAN SCIENCE MONITOR
From the gingerbread men of Lincoln's pioneer childhood, to barbecue and biscuits on the campaign trail, to the elegant French cuisine of White House banquets, this unique taste of history will be enjoyed by foodie readers.

NEWARK STAR-LEDGER
It's the long interludes between the recipes that are interesting and make this a bona fide food biography and history.

SAN FRANCISCO CHRONICLE
(Scholars have yet to unearth Lincoln's original notes for the Gettysburg Address: "Four s'mores and seven beers ago our fathers brought forth on this continent, a new ration …")

COLUMBIA TRIBUNE
Eighmey too, is a practiced storyteller, providing fresh insights and recipes for history buffs and curious cooks alike.
Table Of Contents
Introduction
Chapter 1 – Abraham and Mary Lincoln
Chapter 2 – Lincoln's Gingerbread Men
Chapter 3 – Life on the Indiana Frontier
Chapter 4 - Journeys of Discovery
Chapter 5 – Bacon and Black Hawk
Chapter 6 – Courtship and Cake
Chapter 7 – Eating Up Illinois Politics
Chapter 8 – "Salt for Ice Cream"
Chapter 9 – Piccalilli: Of Fruits and Vegetables
Chapter 10 – Talking Turkey
Chapter 11 – At the Crossroads of Progress
Chapter 12 – Inaugural Journey Banquets
Chapter 13 – Summer Cottage, Soldier's Bread
Chapter 14 – Cakes in Abraham Lincoln's Name
Acknowledgments
Notes
Bibliography
Index
Back to Top