A Map of Betrayal Reader's Guide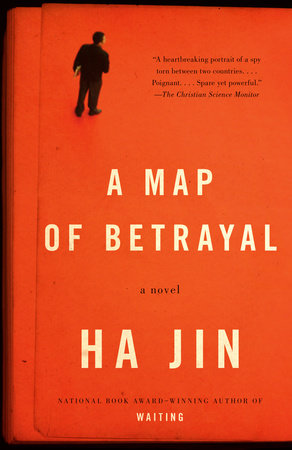 A Map of Betrayal Reader's Guide
READERS GUIDE
The questions, discussion topics, and reading list that follow are intended to enhance your reading group's discussion of
A Map of Betrayal,
National Book Award–winning author Ha Jin's tale of espionage, honor, and conflicted loyalties in the intertwined histories of China and the United States and in the lives of two families.
Introduction
Lilian Shang, a history professor in Maryland, knew that her father, Gary, had been the most important Chinese spy ever caught in the United States. But when she discovers his diary after the death of her parents, its pages reveal the full pain and longing that his double life entailed—and point to a hidden second family that he'd left behind in China.
As Lilian follows her father's trail back into the Chinese provinces, she begins to grasp the extent of her father's dilemma—torn between loyalty to his motherland and the love he came to feel for his adopted country. As she starts to understand that Gary, too, had been betrayed, she finds that it is up to her to prevent his tragedy from endangering yet another generation of the Shangs. A stunning portrait of a multinational family, an unflinching inquiry into the meaning of patriotism,
A Map of Betrayal
is a spy novel that only Ha Jin could write.
Questions and Topics for Discussion
1. Why do you think the author has chosen a double narrative for this novel? Why do you think Lilian's story is told in the first person, while Gary's is told in third?
2. Compare Gary's relationships with the three women in his life—Nellie, Suzie, and Yufeng. Do you think Gary is idealizing his first wife and his love for his first country, or do you think his memories are accurate?
3. Does Gary betray one or both countries? How does he navigate his obligations to all the women in his life (wives, girlfriend, and his daughter)? Where do his love and loyalty ultimately lie?
4. How do Ben's beliefs about patriotism compare with his actions throughout the novel?
5. Is Gary a sympathetic character? Are Lilian and Ben? With whom do you identify the most?
6. Kirkus writes that A Map of Betrayal "satisfies like the best of John le Carré, similarly demystifying and deglamorizing the process of gathering information and the ambiguous morality that operates in shades of gray." In what ways does the book deconstruct the process of spying—and the conventions of the spy novel?
7. On page 98, Lilian criticizes her Chinese students for failing to write clearly. They respond that such a straightforward writing style is "not the Chinese way" (page 99). Is this purely a cultural difference, or are Lilian's criticisms valid?
8. Lilian says of Nellie: "Although I loved my mother, I often felt uneasy when spending time with her alone" (page 90). Why is the relationship strained? How does this compare to Juli's relationship with her mother, Manrong?
9. What are Lilian's values? What are her priorities, as compared to her father's? Could she ever live permanently in China?
10. Although he longed to return home, could Gary truly have lived in China again after becoming a spy? How does life in the United States change him? How did his early reading of Nietzsche influence his life?
11. "Wherever he went, he'd feel out of place, like a stranded traveler" (page 103). Why does happiness always seem to lie elsewhere for Gary?
12. What does Gary love about American life and the American people? What does he love about Chinese life and the Chinese people?
13. On page 151, Lilian compares a nation to a house: "I believe that a country is not a temple but a mansion built by the citizens so they can have shelter and protection in it. Such a construction can be repaired, renovated, altered, and even overhauled if necessary. If the house isn't suitable for you, you should be entitled to look for shelter elsewhere." Do agree with her position?
14. Does the novel portray Gary's dual loyalties to the United States and China evenhandedly? In what ways do both countries fall short of his ideals?
15. Gary claims in his trial, "The two countries are like parents to me. They are like father and mother, so as a son I cannot separate the two and I love them both" (page 260). In sharing U.S. state secrets with China, he believed that he was helping both countries achieve friendship and peace. Do you agree?
16. How does Lillian hope to help Ben at the end of the novel? What lessons learned from Gary's life does Lillian hope to share with her niece and nephew?
17. The conclusion of the book finds Ben and Sonya on the run. How do you think they will fare? Do you think that Ben will live what Lilian would consider an honorable life?
About this Author
Ha Jin left his native China in 1985 to attend Brandeis University. He is the author of six previous novels, four story collections, three volumes of poetry, and a book of essays. He has received the National Book Award, two PEN/Faulkner Awards, the PEN/Hemingway Foundation Award, the Asian American Literary Award, and the Flannery O'Connor Award for Short Fiction. In 2014 he was elected to the American Academy of Arts and Letters. Ha Jin lives in the Boston area and is a professor of English at Boston University.
Back to Top