The Boat Rocker Reader's Guide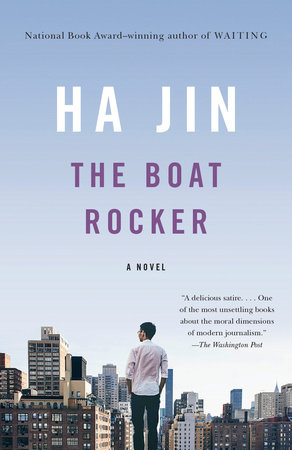 The Boat Rocker Reader's Guide
READERS GUIDE
An informative guide that will help you discuss the newest book by the author of
Waiting
and
War Trash.
Introduction
New York, 2005. Chinese expatriate Feng Danlin is a fiercely principled reporter at a small news agency whose website is read by Chinese all over the world. Danlin's explosive exposés have made him legendary among readers—and feared by Communist officials. But his newest assignment may be his undoing: investigating his ex-wife, Yan Haili, an unscrupulous novelist who has willingly become a pawn of the Chinese government in order to realize her dreams of literary stardom.
Haili's scheme infuriates Danlin both morally and personally—he will do whatever it takes to expose her as a fraud. But in outing Haili, he is also provoking her powerful political allies, and he will need to draw on all of his journalistic cunning to come out of this investigation with his career—and his life—unscathed. A brilliant, darkly funny story of corruption, integrity, and the power of the pen,
The Boat Rocker
is a tour de force.
Questions and Topics for Discussion
1. Describe Danlin, his ex-wife Yan Haili, and his boss Kaiming. How do the three of them change, or do they, over the course of the novel? Do your feelings about each of them evolve as you learn more about them?
2. What do you think of the small news agency where Danlin works? Do they bite off more than they can chew by going after the Chinese government?
3. Why do you think the Chinese government has chosen Yan Haili's debut novel to endorse and promote?
4. Why would the Chinese government go to these extremes to quiet Danlin and the agency? On a larger scale, what is really happening in the novel?
5. Danlin says, "Haili and those behind her have been exploiting 9/11. They're profiting from people's pain and loss." (p. 88) How has her novel distorted and used the events of 9/11?
6. How does censorship play into the novel? Who is censoring whom, and why?
7. Describe Danlin's relationship with Katie. Do you think they really love each other or are they both using each other? Why?
8. Why does Danlin feel betrayed and threatened by Haili? Why is he both comforted and attracted to her friends and those that are sent his way to distract him?
9. Why is the Chinese consulate so concerned with the news agency's coverage of events in NYC, such as the Falun Gong demonstration? Why do they send people to attack the demonstrators?
10. What happens after Danlin is nominated to be a Chinese public intellectual?
11. How does Katie try to help Danlin with his literary education? Do you think she wants him to be more like an American journalist? Why?
12. Is the novel critical of Chinese expats in America? How does this book portray Chinese expats loyalties to both the United States and China?
13. What is the novel saying of corrupt Chinese officials: "There is also a sea of corrupt officials who have numerous ways of getting rich—kickbacks, huge money, commissions, free shares of stocks, no-interest loans."? (p. 70)
14. How does the novel criticize the Chinese government's treatment of dissidents? Why does the Chinese government continue to control Chinese expats criticizing China?
15. Why and how does the American government get involved in Danlin and the agency's affairs? Why does Trouten want Danlin to ease off for a while?
16. Danlin writes in a letter to Vice Consul Tao, "As an intellectual, one must uphold justice, freedom and equality as universal values. Abstract as those concepts might be, despite their problematic origins and despite the West's dubious history in measuring up to them, they are still essential in improving our social conditions and making us more human." (p. 146). Discuss the tensions between the moral and political issues in the novel.
17. Both Tao and Trouten want cooperation between the two countries and try different tactics with Danlin to acquiesce and not criticize China too aggressively. Why do they do this and do they succeed in any way?
18. The news agency appears in the beginning of the novel "as an unbiased source for Chinese readers around the world—a source that reported all the news that Xinhua wouldn't." (p. 44). What happens to the news agency by the end of the novel?
19. What American notions of the Chinese government are confirmed or challenged in this novel? What do you think Ha Jin is saying about the current Chinese communist government and its effect on the individual and society and on the truth?
20. What happens at the close of The Boat Rocker? Did you see the ending coming? Why or why not? What do you think of the title?
21. In what ways, is this book similar to other Ha Jin novels you have read? How is it different? Is it more overly political?
22. How does The Boat Rocker address the uneasy relationship between the United States and China?
23. iscuss the role of journalism and the importance of free expression in the global internet age as shown in The Boat Rocker.
About this Author
Ha Jin left his native China in 1985 to attend Brandeis University. He is the author of seven previous novels, four story collections, three volumes of poetry, and a book of essays. He has received the National Book Award, two PEN/Faulkner Awards, the PEN/Hemingway Foundation Award, the Asian American Literary Award, and the Flannery O'Connor Award for Short Fiction. In 2014 he was elected to the American Academy of Arts and Letters. Ha Jin lives in the Boston area and is director of the creative writing program at Boston University.
Back to Top