The Knockoff Reader's Guide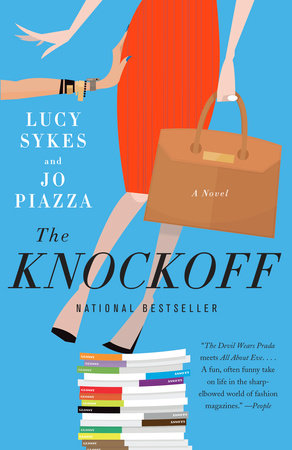 The Knockoff Reader's Guide
READERS GUIDE
The questions, discussion topics, and suggestions for further reading that follow are designed to enhance your group's discussion of
The Knockoff,
a fun and funny look at the modern world of fashion media from authors Lucy Sykes and Jo Piazza.
Introduction
Editor Imogen Tate is queen of the fashion world … until Eve, her conniving twenty-something former assistant, returns from business school with plans to knock Imogen off her pedestal, take over her job, and re-launch Imogen's beloved magazine
Glossy
as an app.
Suddenly, the Louboutin is on the other foot; Imogen may have Alexander Wang and Diane von Furstenberg on speed dial, but she doesn't know Facebook from Foursquare and once got her phone stuck in Japanese for three days. But Imogen will do anything to reclaim her kingdom—even if it means channeling her inner millennial.
Questions and Topics for Discussion
1. Imogen Tate has a high-profile position in an extremely competitive field, and she is also a wife and mother with small children. Is it fair to expect her to be fully "tech literate?"

2. Imogen's medical leave has presented physical and emotional challenges, and it has left her vulnerable at work. How is this similar to other challenges women face balancing work and life?

3. "Eve kept her ambition tucked inside her like one of those Russian nesting dolls." What was your reaction to Eve's no-holds-barred determination? If she were a male character, would your perspective be different?

4. Ashley and Eve are both millennials, are both tech-savvy, and both have big dreams. In what ways do their approaches differ?

5. When Imogen tries to speak to Eve on her landline, Eve replies "No one talks on the phone. Email me. Text me. I am in the middle of like fifty things. Please don't call." Is the phone now officially an inefficient mode of communication?

6. Imogen's friend Jenny says "They want to get rid of all us dinosaurs." The fashion industry has always revered youth, but ageism has come into play in many other industries. Have you encountered an Imogen-like experience where you work?

7. "Prom Queen" awards, mandatory wristbands, sleepovers, and choreographed dances: Eve's management style may be a bit over-the-top, but the qualities she wants to cultivate in her staff are not necessarily bad things–camaraderie, enthusiasm, and commitment. Where does her management style fail?

9. Imogen's mentor, Molly, advises Imogen to "always take the high road." Does the high road work with a boss like Eve?

10. Massimo suffered a terrible accident, but through grit and determination, has recovered use of his arms. What kind of inspiration can Imogen draw from his story?

11. Imogen succeeds in part because she is bright, hard-working, and a quick study. But perhaps more important than that, she succeeds because has a gift for nurturing friendships and for making genuine connections with people. Do you feel social media has helped you network, or do you feel it's a poor replacement for face-to-face connections?

12. What do you think the future holds for Eve? Do you have sympathy for her?

13. If you were casting a movie version of The Knockoff, who do you think should portray the roles of Imogen and Eve?
About this Author
Lucy Sykes has worked in the fashion world as a stylist, fashion editor, and fashion director. For six years Lucy was the fashion director at
Marie Claire
magazine, and was most recently fashion director for Rent the Runway. Her own children's clothing line, Lucy Sykes New York, was sold in more than a hundred department stores worldwide, including Saks Fifth Avenue, Barneys, Bergdorf Goodman, and Nordstrom. Together with her twin sister Plum, Lucy moved from London to New York City in 1997, where she now lives with her husband and two children.
Jo Piazza is the managing editor of Yahoo Travel and a regular contributor to the
Wall Street Journal
. Her work has appeared in
The
New York Times
,
New York
magazine,
Glamour
,
Gotham
, the Daily Beast, and Slate. She is the author of
Celebrity, Inc.: How Famous People Make Money
and a novel,
Love Rehab: A Novel in 12 Steps
and
If Nuns Ruled the World: Ten Sisters on a Mission
. She lives in New York City with her giant dog.
Suggested Reading
Candace Bushnell,
Killing Monica
; Heather Cocks and Jessica Morgan,
The Royal We
; Elizabeth Egan,
A Window Opens
; Liz Fenton,
The Status of All Things
; Marian Keyes,
The Woman Who Stole My Life
; Sophie Kinsella,
Confessions of a Shopaholic
; Kevin Kwan,
Crazy Rich Asians
; Wednesday Martin,
The Primates of Park Avenue
; Emma McLaughlin and Nicola Kraus,
The Nanny Diaries,
Back to Top