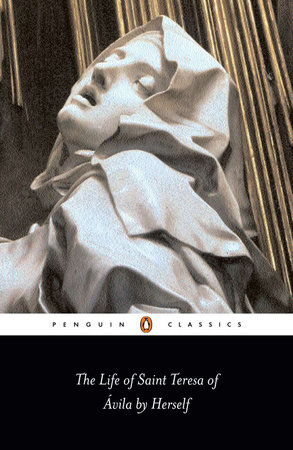 The Life of Saint Teresa of Avila by Herself
Best Seller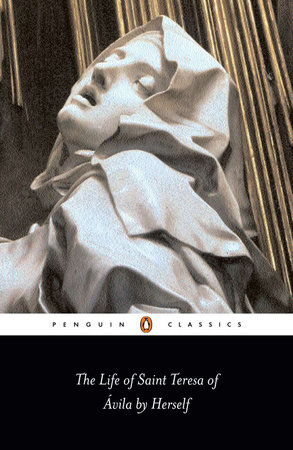 Jan 05, 1988
|
ISBN 9780140440737
Buy the Paperback:
YOU MAY ALSO LIKE
QUICK VIEW
Many Are Called
Hardcover
$17.00
QUICK VIEW
Apologia pro Vita Sua
Paperback
$22.00
QUICK VIEW
Saint Augustine
Paperback
$15.00
QUICK VIEW
Reluctant Saint
Paperback
$16.00
QUICK VIEW
Jesus and the Jewish Roots of the Eucharist
Paperback
$17.00
QUICK VIEW
Render Unto Caesar
Paperback
$15.00
QUICK VIEW
The Autobiography of Saint Therese
Paperback
$15.00
QUICK VIEW
Women and Jewish Law
Paperback
$17.95
QUICK VIEW
Dynamic Catholicism
Paperback
$23.00
QUICK VIEW
Saints Behaving Badly
Ebook
$14.99
Table Of Contents
The Life of Saint Teresa of Avila by Herself – Translated with an Introduction by J. M. Cohen Introduction
[The Saint's Prepatory Note]
1. How the Lord began to rouse her soul in childhood to a love of virtue, and what a help it is in this respect to have good parents
2. How she came gradually to lose these virtues, and of the importance of associating in childhood with good people*3. How good company reawakened her desires, and how God began to shed some light for her on the illusions under which she laboured*4. How the Lord helped her to force herself to take the habit, and of the many illnesses which His Majesty began to send her*5. She continues to speak of the great infirmities that she suffered, of the patience which the Lord gave her, and of how she derived good out of evil, as will be seen from one incident which happened in the town where she went to be cured*6. Of her great debts to the Lord for making her resigned to her great trials, of how she took St. Joseph, the glorious, as her mediator and advocate, and of the great profit that she derived from this *7. How she began to lose the graces the Lord had given her, and of the evil life she began to lead. A description of the dangers arising from the lack of strict enclosure in convents*8. Of the great profit that she derived from not entirely abandoning prayer, for fear that she might lose her soul. She describes the excellence of prayer as a help towards winning back what is lost, and exhorts everyone to practise it. She tells what great gains it brings and how very beneficial it is even for those who may later give it up, to devote some time to anything as good*9. Of the means by which God began to rouse her soul, to give it light in its great darkness, and to strengthen her virtues, so that she should not offend Him*10. She begins to explain the favours which God gave her in prayer, telling the extent to which we can help ourselves, and how important it is that we shall understand the favours God is granting us. She begs those to whom this book is to be sent to keep the rest of it secret, since they have ordered her to describe in detail the favours that she has received from God*11. She explains why we cannot attain the perfect love of God in a short time, beginning with a comparison which sets out the four stages of prayer. Here she says something about the first, which is very profitable for beginners and for those who receive no consolations in prayer*12. More about the first state. She tells how far we can, with God's help, progress by ourselves, and speaks of the danger of seeking supernatural and extraordinary experiences until the Lord bestows them on us*13. She continues to speak of this first stage, and gives advice concerning certain temptations that the devil sends at times. This chapter is very useful*14. She begins to explain the second stage of prayer, in which the Lord already grants the soul more special consolations. These she describes in order to show that they are supernatural, and this is a most noteworthy chapter*15. Continuing the same subject, she gives certain advice on behaviour during the prayer of quiet. She tells how there are as many souls that advance to this stage, but few who pass beyond it. The matters touched upon here are most essential and profitable*16. She treats of the third stage of prayer, and continues to explain things of a very lofty nature, telling what the soul that has come so far can do, and what are the effects of such great favours from the Lord. This is a subject most likely to uplift the spirit in God's praise, and to give great comfort to those who have come so far*17. She continues to explain the third stage of prayer, and completes her account of its effects. She tells of the hindrances caused in this state by the imagination and the memory*18. She treats of the fourth stage of prayer, and begins an excellent explanation of the great dignity to which the Lord raises the soul in this state. This is meant to spur those who practise prayer to make efforts to reach this exalted state, which it is possible to attain on earth, though not through our merits, but only by the goodness of God. This chapter must be read with great care, since the argument is most subtle, and contains some most noteworthy observations*19. Continuing the same subjecct, she begins to describe the effects upon the soul of this stage of prayer. She earnestly exhorts those who have attained it not to turn back, even if they should afterwards fall, nor ever to give up prayer. She describes the harm that they would suffer if they did so. All this is most noteworthy and will be of great comfort to the weak and to sinners*20. She treats of the difference between union and rapture, and explains what a rapture is. She also says something about the good that a soul derives from being, by the Lord's goodness, brought to it. She speaks of its effects*21. She continues and concludes her account of this last stage of prayer, telling what the soul who has reached it feels when it returns to live in the world. She describes the light God throws on the world's deceits. All of this is good doctrine*22. She shows how safe a path it is for contemplatives not to raise their spirits to lofty things, and how the approach to the most exalted contemplation must be by way of Christ's humanity. She tells of an incident in which she was herself deceived. This is a very profitable chapter*23. She returns to the history of her life, and tells how she began to strive for greater perfection. This is profitable matter for those who have to direct souls engaged in the practice of prayer, and teaches them how to deal with beginners. She tells of the profit that she derived from this knowledge*24. She continues the same subject and tells how her soul went on improving, once she had begun to obey; also how little use it was for her to resist God's favours, since His Majesty went on giving them to her in more liberal measure*25. She treats of the means and manner whereby these words that God speaks to the soul are perceived without being actually heard, and of some possible descriptions in regard to them. She tells how false locutions are to be distinguished from true. This is a most profitable chapter for any who may have reached this stage of prayer, because the explanation is very clear and contains much teaching *26. She continues with the same subject, relating and describing certain events which rid her of her fears, and convinced her that the spirit which spoke to her was a good one*27. She describes another way in which the Lord teaches the soul and, without speech, makes His will known to it in a wondrous manner. She also speaks of a vision and of a great favour, which was not imaginary, that the Lord granted her. This is a most noteworthy chapter*28. She tells of the great favours that the Lord bestowed on her, and of His first appearance to her. She defines an imaginary vision, and speaks of the great effects and signs produced by one that is from God. This is a most profitable and noteworthy chapter*29. She continues, and describes some great favours which the Lord showed her, relating also what the Lord said to her, to reassure her and enable her to answer those who argued against her*30. She returns to the story o her life, and tells how the Lord greatly relieved her trials by bringing her a visit from that holy man, Friar Peter of Alcantara of the Order of the glorious St. Francis. She speaks of the great temptations and inner trials which she sometimes suffered*31. She speaks of certain outward temptations and appearances of the devil, and of the torments which she suffered from him, and also offers some excellent counsel to persons travelling the way of perfection*32. She tells how it pleased God to carry her in the spirit to a place in hell that she had deserved for her sins. She describes a tithe of what was shown her there, and begins to tell of the ways and means by which the convent of St. Joseph was founded on its present site*33. She continues her account of the foundation of the glorious St. Joseph's, telling how she was commanded to let it drop, how for a time she gave it up, and how she suffered various trials in the course of which she was comforted by the Lord*34. She tells how at this time she had to leave the town. She gives the reasons and tells of her superior's command that she should go and comfort a very great lady who was in serious distress. She begins to describe what happened to her there, and to tell how the Lord in His mercy made her the instrument whereby His Majesty roused a very important person to serve him in earnest, also to say how she afterwards found help and protection from Him. This is a very noteworthy chapter*35. She continues the story of the foundation of this house of our glorious father, St. Joseph, and of the way in which the Lord ordained that holy poverty should be observed there. She gives her reasons for leaving the lady with whom she was living, and describes several other things that happened to her*36. She continues with the previous subject, and describes ho the foundation of this convent of the glorious St. Joseph was concluded. She speaks of the great opposition and many persecutions which the nuns had to endure after taking the habit, of the great trials and temptations which she herself underwent, and of how the Lord delivered her victoriously from them all, to His own praise and glory*37. She describes the effects that remained with her after the Lord had granted her a favour, and gives much sound teaching as well. She speaks of the efforts that we must make to attain one more degree of glory, and of the high value we must set on it, allowing no trial to deprive us of a blessing that is eternal*38. She describes certain great favours that the Lord bestowed on her, by graciously revealing to her some of the secrets of heaven, and by vouchsafing her further great visions and revelations. She speaks of the effects which these had upon her and of the great benefit that they did to her soul*39. She continues with the same subject, and recounts the great mercies which the Lord has shown her. She tells of His promises to help those persons for whom she might pray, and some outstanding instances in which his Majesty has favoured her in this way*40. She continues her account of the great favours that God granted her, from some of which excellent lessons can be obtained. For instruction, as she says, after obedience and the recording of such favours as will be of profit to souls, has been her principal motive in writing. With this chapter the account of her life comes to an end. May it be for the glory of the Lord. Amen
Get the latest updates about Teresa Of Avila
And go from well-read to best read with book recs, deals and more in your inbox every week.
And go from well-read to best read with book recs, deals and more in your inbox every week.
Dismiss
Thanks!
Something awesome is on its way.
Back to Top
Become a Member
Start earning points for buying books! Just for joining you'll get personalized recommendations on your dashboard daily and features only for members.
Find Out More
Join Now
Sign In
Success!
Your account has been created. Upload book purchases, access your personalized book recommendations, and more from here.