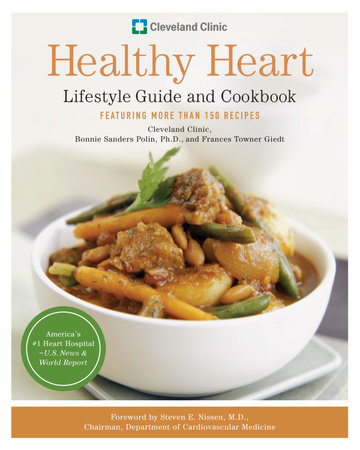 Cleveland Clinic Healthy Heart Lifestyle Guide and Cookbook
Featuring more than 150 tempting recipes
By Cleveland Clinic Heart Center and Bonnie Sanders Polin, Ph.D.

By
Cleveland Clinic Heart Center

and

Bonnie Sanders Polin, Ph.D.




Best Seller
Inspired by Your Browsing History
Buy other books like Cleveland Clinic Healthy Heart Lifestyle Guide and Cookbook
Praise
"Great advice and sensational recipes in this cooking 'bible' can make living healthy and young more likely. That's because arterial disease is reversible, and that means the recipes for keeping your heart young are in your hands now. (Since arterial youth is a large part of sexual enjoyment, it may even help drive you to the bedroom, for reasons other than sleep.)

If you do not already have heart disease, you're even luckier, because these are great recipes for those who just want to stay young at heart. You should be the world expert on your body, and this book can help you take control—arteries are important for your memory and all other functions, including avoiding wrinkles. Whether it is an artery to your heart or to your brain or to your skin, the process of aging of the arteries is the same, and its prevention can be facilitated by the right foods.

That's why you'll find it worthwhile to buy the Cleveland Clinic Healthy Heart Lifestyle Guide and Cookbook today! For yourself and for your friends and loved ones! Giving it will tell the recipients that you love them, and want them to keep or regain their rapture for life.

Cleveland Clinic Healthy Heart Lifestyle Guide and Cookbook gets my personal award for a most comprehensive, up-to-date cardiac guide and deliciously perfect heart-healthy cookbook in the world today. But it should. It's from the heart-care program ranked as the world's best by US News and World report twelve years in a row. And remember, walk 30 minutes after dinner, no excuses, and tell a supporter you did so! Only then can you go to the bedroom."

—Michael F. Roizen, MD, author or coauthor of five bestsellers on health including the #1 bestsellers YOU: The Owner's Manual, and Real Age: Are You as Young as You Can Be?, professor of internal medicine, and anesthesiology at Case Western Reserve University, and devoted cook of recipes in this book.

Back to Top