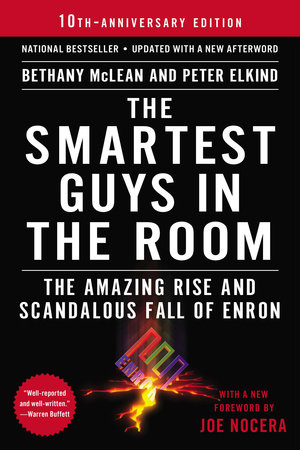 The Smartest Guys in the Room
The Amazing Rise and Scandalous Fall of Enron
The Amazing Rise and Scandalous Fall of Enron
The Amazing Rise and Scandalous Fall of Enron
By Bethany McLean and Peter Elkind
Foreword by
Joe Nocera
By
Bethany McLean

and

Peter Elkind


Foreword by

Joe Nocera



By Bethany McLean and Peter Elkind

By
Bethany McLean

and

Peter Elkind



By Bethany McLean and Peter Elkind
Read by
Dennis Boutsikaris
By
Bethany McLean

and

Peter Elkind


Read by

Dennis Boutsikaris




Best Seller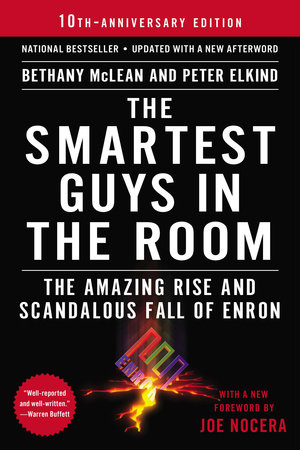 Nov 26, 2013 | ISBN 9781591846604
Buy the Audiobook Download:
People Who Read
The Smartest Guys in the Room

Also Read
Inspired by Your Browsing History
Praise
"The best book about the Enron debacle to date."
—BusinessWeek
 
"The authors write with power and finesse. Their prose is effortless, like a sprinter floating down the track."
—USA Today
 
"Well-reported and well-written."
—Warren Buffett
Table Of Contents
The Smartest Guys in the RoomAuthors' Notes and Acknowledgments
Cast of Characters
Our Values
Introduction

1. Lunch on a Silver Platter
2. Please Keep Making Us Millions
3. We Were the Apostles
4. The First Prima Donna
5. Guys with Spikes
6. The Empress of Energy
7. The 15 Percent Solution
8. A Recipe for Disaster
9. The Klieg-Light Syndrome
10. The Hotel Kenneth-Lay-a
11. Andy Fastow's Secrets
12. The Big Enchilada
13. An Unnatural Act
14. The Beating Heart of Enron
15. Everybody Loves Enron
16. When Pigs Could Fly
17. Gaming California
18. Bandwidth Hog
19. Ask Why, Asshole
20. I Want to Resign
21. The $45 Million Question
22. We Have No Cash!

Epilogue: Isn't Anybody Sorry?

Index
Back to Top