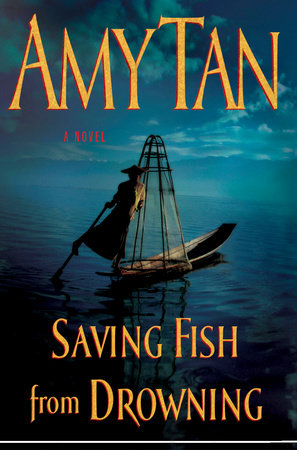 Saving Fish from Drowning
Best Seller
YOU MAY ALSO LIKE
QUICK VIEW
Add to bookshelf
Ghana Must Go
Taiye Selasi
Paperback
$17.00
QUICK VIEW
Add to bookshelf
The Bonesetter's Daughter
Amy Tan
Ebook
$14.99
QUICK VIEW
Add to bookshelf
Anil's Ghost
Michael Ondaatje
Paperback
$16.95
QUICK VIEW
Add to bookshelf
The Orenda
Joseph Boyden
Paperback
$18.00
QUICK VIEW
Add to bookshelf
Every Day Is for the Thief
Teju Cole
Paperback
$16.00
QUICK VIEW
Add to bookshelf
Disgrace
J. M. Coetzee
Paperback
$17.00
QUICK VIEW
Add to bookshelf
Wintering
Peter Geye
Paperback
$18.00
QUICK VIEW
Add to bookshelf
July's People
Nadine Gordimer
Paperback
$17.00
QUICK VIEW
Add to bookshelf
The Incendiaries
R. O. Kwon
Paperback
$16.00
QUICK VIEW
Add to bookshelf
Thirty Girls
Susan Minot
Paperback
$16.95
Author Q&A
A Conversation with Amy Tan

Q: Can you offer a window into your writing process? Do the characters come first, or does a specific scene, setting, or theme? Do you have a set duration of time that you spend writing each day, or do you work as the mood takes you?

Amy Tan: My process is a jumble, and I don't recommend anyone follow it as a way to get a book written. I use the "guilt, chaos, self-torment, and more guilt" method. I ask myself awful questions, which induce shame, and then more questions that I would not publicly admit to having. For example, at one time I wondered, What if my mother died? What would I feel? Would I be relieved in some ways to be free of the old conflicts? Would I have regrets? What would I regret? Those were the questions that propelled me to write The Joy Luck Club and, in fact, the second sentence of the first chapter states it bluntly: "My mother died . . ." Eventually, as I wrote, the questions evolved into one: "What hopes do my mother and I share in common?"

With Saving Fish from Drowning, I began with ambivalent feelings over my having received inordinate luck and helping those who have received little. Was I supposed to equalize the difference somehow? I felt assaulted by this question after my first book was published, and I had daily requests coming in over the transom and jamming up my e-mail box. Most were for heartrending causes and altogether they were far more than I would ever have time, energy, or money in several lifetimes to fulfill. I am guessing I am not alone in feeling overwhelmed by the needs of the world. We each receive the dire pleas: to house the homeless, educate the illiterate, shelter the abused, save the planet, and cure disease. We experience it personally when we see a homeless person in front of the ATM from which we are about to withdraw a heap of money or receive a call from a friend in need of money. It seems as if the problems and needs of the world are growing, endless, and that whatever one does, it is never enough. At times, I've groused to myself, "I can't save the whole damn world." And then I feel guilty for having such an ungenerous thought. Look at me! I have a surplus of happy circumstances. Of course I should help others. But who should I help? And what can I do that will make a difference?

This led to a round of other questions: How can I make decisions to help people if I don't really understand the situation? And here, I remembered my youth and the days when I chanted slogans against the Vietnam War, not aware of the complexities of that war or the country in which it was being fought. Why did I protest the war? Was it just to go along with my peers? What did I mean when I shouted with the others: "Ho! Ho! Ho Chi Minh!"? Was I actually saying I supported Ho Chi Minh?

In recent years, I have looked more often at my intentions. What inconsistent hodgepodge of my unexamined religious, social, political, and moral beliefs has served as my unconscious guide? From that mŽlange, what have I selected as my beliefs and how well do they stand up to scrutiny, daily application, and emergency use? Which beliefs have I never questioned? Should I now? How malleable are they? What do I use to chip away assumptions?

Those are questions that cause me to squirm in my chair. And then there are these: Do I choose to help others with expectation of credit? Do I want in return spiritual reward, social praise, or good karma banked for a later life? Speaking of credit, it doesn't seem right that organizations thank me more for my bigger monetary donation than someone who can afford only a smaller one; in terms of sacrifice, their contribution may be more generous. Yet, if I receive no acknowledgment whatsoever, will that change what I do in the future?

With all these questions, I am like those jugglers who spin hoops around each arm and leg, around the neck and waist, always adding one more complication. Take, for example, the question of consequences and outcomes. What if people do not appreciate my help but consider it patronizing, unwanted meddling into their personal business? What if my help makes the situation worse? What if I speak out to help people and those people are punished as a result? What would be my moral responsibility then? Do I still get the credit for trying?

Discomfort is a perfect place to start a novel. But I did not want mine to be polemical, as moral novels often can be. I decided on a comedy. Humor is a wonderfully subversive way to look at what is unpleasant, what might be an ugly truth.

The other important element I need to start any novel is a distinctive voice for the narrator. The narrator's personality should leap out of the first sentence. I don't need to analyze the psychology of the voice, but "feel" it intuitively. I'll try out the voice and usually hit a lot of false notes. It will likely take me about a hundred pages before I've refined the voice, have found its vulnerabilities and ambivalence.

Early on, I also need a setting. They're inspired by places I've been, usually those with historical and geographical interest. I am more interested in the past than the present or future. Why is that? That's a question I mull over as I write about the past. All I know is that it is unlikely I would ever set a novel in a futuristic junkyard in outer space.

With these elements in place, I begin the story. I have a loose structure that reflects my questions, a situation, and perhaps a secret. It's deliberately sketchy because I want to discover what the story is about. Too much analysis leads to a story without surprises. Too little craft, however, leads to a mess. During the first hundred pages, the story flows, bogs, veers, and spins in eddies for about fifty pages. I rework those until I finally sense a clearer direction, and I go back and trim away the excess that leads nowhere. The best times are when the story unfolds effortlessly and I know what is happening only as I write it. I sense the meaning. Those are the ecstatic times. When they occur, if asked whether the muse exists, I would say, "Absolutely."

In between all this, I do research, in fact, too much of it. I sometimes think fiction writing is an excuse to do research. I once needed to know the time zone differences between Rangoon versus San Francisco, and I read a whole book on the development of standard time. I would finish my novels a lot faster if I did not do that, but the best part of writing a book is what I learn along the way. I also pull out my scribbled notes on scraps of paper and in various-sized journals, bring forth the photos and other artifacts that I've amassed as source material. I go through them and, as with birthday gifts, I am often surprised by what is inside. My best ideas are usually penned just before I fall asleep. I think the brain does a creative shift when sleep is about to take over. The buffers go down, the assumptions fall away, and free-form ideas escape.

Every now and then, I show chunks to my editor, Molly Giles. She tells me if she finds the narrator likable or plain irritating, obtuse or simplistic. She comments on the flow of the story, the places it bogs down or becomes too grim or too fluffy. Usually I agree with her and, if not, we might talk about my intentions and see what's missing in the story to put the sense of it on track. My editor never becomes alarmed when she sees my early drafts. She's seen my work since I first began writing fiction in 1985, and she knows how I shape the story, how flexible the story is for me as I play with it.

Before being published, I wrote on a schedule, 9 a.m. to 7 p.m. These days I am less disciplined. I often have a fractured schedule, which includes fund-raiser events, publicity tours, interviews, and lunches or dinners for which I have been auctioned off as the guest. So I write catch-as-catch-can, on planes, in bed, in a writing chair that tilts back. Sometimes I write late into the night and watch the sunrise. I always think about the book first thing in the morning, last thing before I fall asleep.

When the end of a story is closer than the beginning, I become focused to an extreme, and with the last hundred pages, I am like a delirious marathon runner, dreaming of water. I may spend twelve to twenty hours at a time writing. I am living in the story. I write until my head plops onto the keyboard, and after a few hours of sleep, I begin again. That is the best and worst writing period, when I am the most excited and the most insecure, knowing the book will soon leave my hands. I force out terrible thoughts about how the book will be received–I only imagine the bad, never the good–and then I revise and revise and revise, like a dog licking a hot spot, until my editor yanks it out of my hands and says that I am going to ruin it if I keep doing that.

It's a wonderful life.

Q: Saving Fish from Drowning shares affinities with The Canterbury Tales as well as Alice Sebold's The Lovely Bones. Can you speak about your major influences, in general and also in specific relation to Saving Fish from Drowning?

AT: Since reading Chaucer's The Canterbury Tales in college, I have admired its structure, tone, character, and language. It is a tale about storytelling, about different perspectives on morality, and injected with suspense, puzzles, and humor. And I love the language of Middle English, which drew me toward the study of linguistics. I used some of the elements of The Canterbury Tales to write Saving Fish from Drowning: Twelve characters on a journey, telling some part of the puzzle that has to do with morality.

The Lovely Bones by Alice Sebold was not an influence, although I enjoyed reading it. I was well into the writing of Saving Fish from Drowning when that novel was published. But it's not surprising that both of our books have ghosts and dead narrators. Ghosts have populated the literary landscape since American literature imported them from England. Beginning in childhood, I've loved stories about ghosts, those found in fairy tales or in Henry James's The Turn of the Screw, and in recent times, Toni Morrison's Beloved. The dead are narrators in Robertson Davies's Murther & Walking Spirits and Jim Crace's Being Dead, among others. No doubt my mother has also influenced my predilection for including ghosts. She not only believed in ghosts but that I could talk to them when I was a child.

My father's faith as a Baptist minister no doubt played a role in my literary aesthetic. I grew up listening to him read aloud passages of the Bible, as well as sermons he was preparing. To this day, I like a simple and direct prose style. I seek the rhythm of a passage that matches its sense. Liturgy is a lot about those same rhythms. I think that Bible stories contributed to my love of vivid and visceral imagery. As a child, I had my own illustrated Bible and I could feel hands gripping my neck as I viewed a boy slaying a giant with a rock, a woman who turns into salt, a stinking dead man who comes back to life, and a woman serving up a man's head on a silver plate.

My mother was a major influence, of course. She had a natural storytelling personality. She would relate an event from her past by acting it out. When she recalled holding her baby son in her arms as he was dying, she stared at her empty ones as if seeing him again, talking to him. Her storytelling sprang from immediacy, urgency, necessity.

Q: What sparked your interest in Burma? Have you traveled widely there? In the prefatory note, you mention that videotapes aided in researching the book. Does writing about a place at one remove give you an added sense of freedom, or is it more anxiety-provoking?

AT: I was invited to go on a cultural and arts tour of Myanmar, the country most people know as Burma. I knew the country had been in political turmoil. I vaguely recalled that a woman with an unpronounceable name (Aung San Suu Kyi) had been elected in a landslide and then imprisoned by the junta that overturned the election and began calling the country Myanmar. I also remembered she won the Nobel Peace Prize and had asked people to boycott Myanmar. But now there were art tours going to Myanmar on a regular basis. Evidently, the political atmosphere had improved–had it not?

If anything, the situation had become worse, I came to learn. I immediately decided I should honor the boycott and decline to go, and thus I would do the right thing. But then I said to myself, "I'm taking a political stance on a country I know little about. I'm choosing to enjoy a guilt-free holiday somewhere else and will soon forget I even thought about going to Myanmar. How is that helping anyone?"

As it turned out, writers are not allowed to go to Myanmar. That became my perverse rationale for going. At that point, I had an inkling I would set my novel there and should take copious notes. I applied for a visa as a consultant to children's programs, which I was for the PBS children's series Sagwa, the Chinese Siamese Cat. I went on the tour at the end of 2000 and followed an itinerary in China and Burma much like the one described in the book.

So I did not depend on someone else's videotapes to write my story, although that is what I said in the fictional "Note to the Reader." But I do know this: Had I not gone to Burma, I wouldn't have set the story there. I can do plenty with imagination, but when the setting itself is a major character, I need to have touched the ground that my characters walk. And even having been to Burma, I still did a lot of research. I checked the monetary exchange rates– black market and official–for the year my story takes place. I calculated time zone differences, distances between towns, items sold in the market, species of common birds, plants found in the jungle, ways to recharge a battery and power a television when there's no renewable source. I love doing research. So much about writing a book is the puzzle it presents. And in doing research, I learn a little about a lot of things, most of which I will never use in a story.

Q: Bibi is an interesting twist on the idea of the "omniscient voice," given that she's at once an all-seeing presence and somewhat unreliable and opinionated. Did you want to toy with our expectations of narrative voice?

AT: Ghost narrators are not uncommon in literature. By virtue of their restive state, they don't follow ordinary rules and have instant credentials for at least partial omniscience. But I don't think fictional ghost narrators are categorically unreliable. They are implausible perhaps, but once you've established a basis for plausibility, they are not necessarily any less reliable than, say, some living people in offices of authority today.

The fact of the matter is, ghost narrators are the ticket when you need a first-person voice with personality and an ability to comment on the thoughts and motivations of others. They're useful plot movers since they can give clues and red herrings as to the reason things happen, for example, why two people are in love but out of synch. Ghost narrators may have better hindsight, but they do not need to be any wiser than we are. And happily, these days most ghosts can take on more benign roles; they do not need to provide any haunting activity, aside from occasional whistling.

There are few other suitable candidates for first-person omniscient narrators. God might be one, but since God knows everything and may even will anything, he (or she) might give away the ending too quickly or intervene too soon before things can fall into a more delicious muddle. Delusional people are another possibility, especially if they think they are God. But you have to set up the parameters of their delusion carefully, and in most cases, the ending is formulaic: Either it was a delusion or absolutely real, as revealed by the psychiatrist who invariably takes over as narrator and gives the story an O. Henry kind of insight. Psychic mediums as conduits beaming into the consciousness of others are yet another possibility. But most people automatically dismiss psychics as flaky, and an obvious bid for a made-for-TV movie. No doubt about it, ghost narrators are simply the most acceptable of all the possibilities.

Of course, there is the option to skip the ghost and use the highly respectable and neutral third-person omniscient voice. But I love the intimacy of first-person narrators. Who are they talking to? Are they confessing? Are they explaining what went wrong, justifying their actions, or searching for understanding? I want narrators who are opinionated, even if they are wrong. I want them to be honest and tell their version of the truth, even if it is impossible. I want to see if their truth changes over time and circumstance, and also see what it is that transforms it. I like first-person narrators because they are confidantes, the best friend you had in junior high school, who thinks you are the same as when you were eleven and vowed to become president of the United States so you could both help the poor and be asked to the dance. First-person narrators say what they believe is the truth, and somehow it is what you believe as well.

I had another reason for selecting an opinionated ghost as my first-person narrator. I had started writing this book shortly after my mother died. I was sad for many reasons, but also that my mother would no longer figure into my stories. But then my mother said–or rather, I imagined her saying–"I can still tell stories. I can be tour guide." Thus self-appointed, she became my guide from then on to the fictional universe. The ghost of Bibi Chen has my mother's personality: her honesty and indignation, her need to question everything, her occasional crankiness, her critical eye, her humor, her prejudices and pride, her petulance when things don't go her way, her stubborn heart, and her need to be loved like a child.

Bibi also has my mother's desire to know how and why things happen. For my mother, the reasons did not have to follow a consistent ideology. Events might occur because of fate, or coincidence, or an unlucky accident, or even good-luck charms. It could be due to a curse or a miracle, a medical discovery or a lottery ticket, the will of God or bad feng shui, the help of an old friend or the inevitable tragedy of not following a mother's advice. She accepted simultaneous and sometimes contradictory explanations, say, God's will and self-will. She was always questioning, always looking for answers, for the reasons, for the truth, for the importance of anything we thought or did or felt. Thus, she did not believe in random events. Everything had a reason. And that's why she is also the perfect narrator for this book, because a story has to show what happens and why it happened. It has to keep pulling from what we don't yet realize we already believe.

Q: The novel is full of euphemisms and/or strange acronyms, including the title phrase, SLORC, SPIN, and of course, "Myanmar–the new Burma." Is degradation of language by politicians and PR spin something that particularly troubles you at this moment in history?

AT: Some of the weirdest slogans, neologisms, and acronyms are real. SLORC is the name the military junta used when it came into power. It stands for State Law and Order Restoration Council. But it sounds like a made-up evil entity straight out of a James Bond novel, and thus it is ironically apt for what it suggests and what it is. SPIN was my creation for a softer, kinder repressive regime.

I was a linguistics major and have long been fascinated by language use and choices of words. These days, we have a yearly bumper crop of new lingo that is a time capsule of culture. There are terms used often by politicians and reporters–peripheral damage, opacity, sea change, and so forth. They neutralize horror, justify problems, or sweep away complexity. Sea change is a catchphrase I heard repeatedly after the start of the war in Iraq. It was used during the elections. As best as I could guess from the context, it signified a large-scale transformation, a universal epiphany, and now I hear it used to describe corporate takeovers and the marketing of hybrid cars. Sea change is powerful yet nebulous, and perhaps dependent on divine intervention. How does a sea change occur? What comes to mind for me is the image of God parting the Red Sea. How sea changes occur nowadays is less apparent.

Sea change and regime change sometimes come with name change. So it is with Burma, renamed Myanmar by the junta, Myanmar being a version of an older name used in another period of Burma's complex history.

I'm also interested–at times perturbed–at the proliferation of slogans that people accept without a ruckus. The junta in Myanmar hired a public relations firm in the U.S. to create a better image, a friendly slogan. That also resulted in wise advice to get rid of the acronym SLORC. PR slogans package beliefs for many influential entities in the world. In my novel, I include a slogan for a fictional network news program: "We don't just report the news. We make the news." I actually heard a version of this used by a real news program. It sounds like simple tooting of one's horn. But within that slogan is a glossing over of a huge ethical dilemma: How involved should the media be in actual events? They do indeed influence what happens because of the spotlight they put on events. They keep us informed. They deliver versions of the truth. But is the media going further afield of journalistic reportage when it deliberately tilts the "fair and balanced" scale one way over the other?

In all of these words–catchphrases, slogans, name changes–I am interested in intentional meaning. That is the reason for the title, Saving Fish from Drowning. One can argue that one is not killing fish but taking them out of the water to save them from drowning. Within what we say is what we mean, what we don't intend, what we want people to think we mean . . . and all the chaos that results is the source of a lot of stories.

Q: Mother-daughter relations are central to your work, but in Saving Fish from Drowning, Bibi can only imagine the mother she never knew and the daughter she never had. How do you envision the development of the mother-daughter theme through your work thus far? Has your perspective changed in significant ways?

AT: Saving Fish from Drowning is a different book from my previous ones, but not a complete departure, as some have described it. I want to evolve as a writer, so I hope each book is different. But in very deep ways, this book is a continuation of the preoccupations of my previous novels. It is about the nature of the past, particularly the secrets within a family, which have shaped a person's present view of the world. The "past" is the mother who conveys the secret indirectly through her warnings to her daughter, warnings that a daughter rejects because she has no knowledge of what occurred in the past. This book is intimately tied to the others because it is told in the voice of my mother, with her idiosyncratic views on how the world works, why things happen, and how she or I can make things happen another way. Bibi Chen imagines her dead mother and what gifts of emotion and wholeness she would have given her.

But now, my mother, as inspiration for the voice of Bibi Chen, is released from her limited role as mother to one daughter. She is not able to impose her will, good advice, and wise warnings to twelve people. She is trying to control not just one ungrateful daughter but a repressive regime. I think my mother appreciates the promotion I gave her.

Q: Where is the appeal in blurring the line between fact and fiction for the novelist? What does this mix offer to a writer that she can't achieve in a straight piece of fiction or nonfiction?

AT: I've heard people refer to the difference between nonfiction and fiction as "telling the truth" and "telling lies." But for me fiction is never about lies; its purpose is to find personal truth. The process of writing itself is an attempt to find truth that expresses the human experience, which is always amorphous and changing. The form used is the story, also known as fiction, which only implies it is not a report on real people and actual past events. For me, the process of writing is more interesting and exhilarating than the finished work. The finished work leaves out the mistakes, the search for soul, the constant tests of what is honest, what is my essential self and not someone's perception of me. The art of storytelling contains emotions, ideas, ordinary and extraordinary situations, memory, and notions about human nature. Imagination is my way of falling more deeply into that risky unknown place where I can find the imagery that contains what is felt and still not wholly expressible. None of that is a lie.

Then there is another kind of truth that interests me, and it is that which forms our beliefs or comes from them. I am not sure if there is a chicken-and-egg dichotomy that applies or whether they are synchronous. For example, the beliefs may have to do with the existence of God and an afterlife, or qualities of humanity and what constitutes good and evil. They may be specific issues–for example, one's beliefs about stem cell research, global warming, or terrorism.

What we believe naturally influences what we do. So what if the beliefs came from less than reliable sources? There are plenty of those in an era in which spam meets scam, and blogs do spoofs, and websites spout opinions, sell remedies, and issue calls for action. What's true in any of what we read or see or hear? If it is partial truth, that may make it more difficult to discern from outright lies.

In writing Saving Fish from Drowning, I blurred fiction and nonfiction. The book begins with a section called "A Note to the Reader," words that usually denote this is not fiction. But what follows is hyperbolic fiction–a Hollywood fanfare of lightning and thunder, and a series of amazing coincidences, the kind only found in fiction, an excess of famous people, gruesome deaths, mysteries, disappearances into the jungle, and a cause cŽlbre that grabbed international headlines for weeks, "as readers no doubt recall. . . ."

Throughout the preface, I wove conflicting signposts of fiction and nonfiction, finishing up with the usual thanks and disclaimers of acknowledgments pages–and there was one last confusing clue, a name that is not mine, a fictional one, but partly true, in that it is an anagram of the six letters of my name, fiction masquerading as truth.

If people believed the fictional parts were true, then the fiction has done its part well in beguiling the reader to suspend disbelief. And there are parts of that preface that are indeed based on the facts, as near as I can verify them by multiple sources, and that is the information regarding the Myanmar military regime. All true: its ban on reporting losing soccer scores and bad weather, the existence of a myth about a younger white brother, and the persecution of a tribe called the Karen.

Which kind of fiction is most harmful: the fiction masquerading as truth, or the fiction that contains truth?

Q: If this question isn't too personal–do you think of yourself as a spiritual person? Do you have a long-standing interest in magic and/or ghosts?

AT: I do not consider myself a religious person, because I don't adhere to a particular religion or faith or prescribed beliefs, as did my father, who was a Baptist minister. And I am not an atheist, one who thinks that a belief in anything beyond the here and the now and the rational is delusion. I love science, but I allow for mystery, things that can never be proven by a rational mind. I am a person who thinks about the nature of the spirit when I write. I think about what can't be known and only imagined. I often sense a spirit or a force or a meaning beyond myself. I leave it open as to what the spirit is, but I continue to make guesses–that it could be the universal binding emotion of love, or a joyful quality of humanity, or a collective unconscious that turns out to be a unified conscience. The spirit could be all those worshipped by all the religions, even those that deny the validity of others. It could be that we exist in all ten dimensions of a string-theory universe and are seeding memories in all of them and occupy them simultaneously as memory. Or we exist only as thought and our perception that it is a physical world is a delusion. The nature of spirit could also be my mother and my grandmother and that they really do serve as my muses as I fondly imagine them doing at times. Or maybe the nature of the spirit is a freer imagination. I've often thought that imagination was the conduit to compassion, and compassion is a true spiritual nature. Whatever the spirit might be, I am not basing what I do in this life on any expected reward or punishment in the hereafter or thereafter. It is enough that I feel blessed–and by whom or what I don't know–but I receive it with gratitude that I am a writer and my work is to imagine all the possibilities.

Q: Finally, can you tell us what are you working on now?

AT: That's between me and the spirits of my imagination.
Saving Fish from Drowning
Buy Now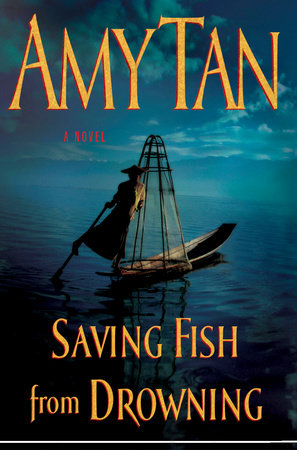 Ebook
Oct 18, 2005

|

ISBN 9781440627606
Get the latest updates about Amy Tan
And go from well-read to best read with book recs, deals and more in your inbox every week.
And go from well-read to best read with book recs, deals and more in your inbox every week.
Dismiss
Thanks!
Something awesome is on its way.
Back to Top
Become a Member
Start earning points for buying books! Just for joining you'll get personalized recommendations on your dashboard daily and features only for members.
Find Out More
Join Now
Sign In
Hi,
Member Since
---
Account Overview
Rewards
Recommendations
Orders
Account Details
Email Preferences
Bookshelf
---
Point Status

This is where you'll see your current point status and your earned rewards. To redeem, copy and paste the code during the checkout process.

See Account Overview
until your next FREE book!
You currently do not have any rewards.
Success!
Your account has been created. Upload book purchases, access your personalized book recommendations, and more from here.