The Shadow of the Wind Reader's Guide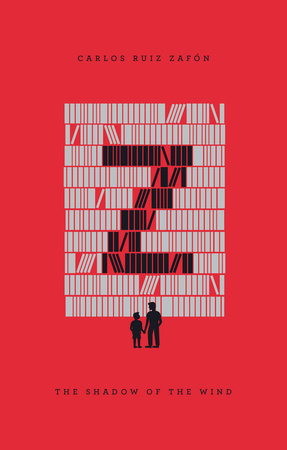 The Shadow of the Wind Reader's Guide
READERS GUIDE
Questions and Topics for Discussion
INTRODUCTION

The Shadow of the Wind is a coming-of-age tale of a young boy who, through the magic of a single book, finds a purpose greater than himself and a hero in a man he's never met. With the passion of García Márquez, the irony of Dickens, and the necromancy of Poe, Carlos Ruiz Zafón spins a web of intrigue so thick that it ensnares the reader from the very first line. The Shadow of the Wind is an ode to the art of reading, but it is also the perfect example of the all-encompassing power of a well-told story.
At the first light of dawn in postwar Barcelona, a bookseller leads his motherless son to a mysterious crypt called the Cemetery of Forgotten Books. This labyrinthine sanctuary houses the books that have lost their owners, books that are no longer remembered by anyone. It is here that ten-year-old Daniel Sempere pulls a single book—The Shadow of the Wind—off of the dusty shelves to adopt as his own. With one fateful turn of a page, he begins an adventure that will unravel another man's tragedy and solve a mystery that has already taken many lives and will shape his entire future.
When Daniel speaks with Gustavo Barceló, a local booktrader, to find out more about his new treasure, word begins to spread that he has uncovered a long-sought rarity, perhaps the only copy of any of Julián Carax's works in existence. Soon after, a mysterious stranger whom Daniel recognizes as Laín Coubert, the leather-masked, cigarette-smoking devil from Carax's novel, propositions Daniel, offering to buy the book from him for an astronomical price. Daniel refuses, in spite of the man's thinly veiled threats. With the help of his bookselling friends, Daniel discovers that Laín Coubert has cut a swath of destruction through two countries, methodically searching for and destroying all of Carax's books while erasing every trace of Carax's life.
ABOUT CARLOS RUIZ ZAFON
Carlos Ruiz Zafón, thirty-nine, grew up in Barcelona and currently lives in Los Angeles. The Shadow of the Wind spent more than a year on the Spanish bestseller list, much of it at number one, and has sold in more than twenty countries.
A CONVERSATION WITH CARLOS RUIZ ZAFON
Q. This is your sixth novel, and it has been sold in twenty countries and translated into several languages. What do you think accounts for its worldwide appeal? Do you find that readers here in the States respond differently from Spanish readers?
I think it is all about the story, the characters, the pleasure of the language and of the imagination, the experience of the read. American readers respond to The Shadow of the Wind in the very same way as Italian, Spanish, Norwegian, Australian, French, British, or German readers do. The pleasure of reading a great story and to experience the characters' adventures is universal.
Q. Daniel promises to show Bea a Barcelona that she's never seen. From the paintings of Joan Miro to the imaginative architecture of Antoni Gaudí, what is it about Barcelona that lends itself to fantasy? Do you believe, as Daniel says to Bea, that "the memory of this city will pursue you and you'll die of sadness"?
Barcelona provides an enchanting, mysterious, and romantic setting for the story because many things about the place, its streets, its history, and its people are unique. It is also my hometown, a place I know like the palm of my hand, and I wanted to use this fantastic backdrop as an organic character, very much like the great novelists of the nineteenth century did in creating the London of Dickens, the Paris of Victor Hugo and Balzac, etc. Hopefully, after reading the novel the memory of Barcelona and the joy of the story will pursue the readers as well.
Q. Daniel says, "Once, in my father's bookshop, I heard a regular customer say that few things leave a deeper mark on a reader than the first book that finds its way into his heart" (p. 8). What book was that for you? Are there any forgotten books you would like to rescue from obscurity?
I would say than rather than just one book, for me what did the trick was the world of storytelling, of language, of ideas. All books, all stories, all words and ideas, all the possibilities of the mind—such an infinite universe of wonders is what did me in and I haven't looked back. And I would like to save all books, those that are banned, those that are burned, or forgotten with contempt by the mandarins who want to tell us what is good and what is bad. Every book has a soul, as Daniel's father says, and I believe every book is worth saving from either bigotry or oblivion.
Q. Your work has been compared to Charles Dickens, Victor Hugo, and Umberto Eco. Comparisons could also be drawn between Shadow and the works of filmmaker Pedro Almodovar—the overt sexuality, the parents' sins visited on the children, the prismatic storytelling. Do you agree with any of these comparisons? Who, if anyone, do you consider your biggest influence?
I think many direct and indirect influences go into each author's work. In my case I believe I incorporate many elements from many different traditions of storytelling, from the Victorian novelists to the metafictional literary games that remind some readers of The Name of the Rose, as well as other techniques that come from a cinematic approach. My ambition is to blend all of those storytelling tools to provide the reader with a more intense, more engaging, and ultimately deeper reading experience. The wider the author's arsenal of tools and the better technically equipped the storyteller is, the better the tale will be. I believe the craft is the most important element in any artist's work, and I try to learn from everything, to incorporate and develop as many techniques as I can into my own voice. I don't ask for credentials or classic status: from Dickens to Orson Welles, from Gothic fiction to Japanese anime. If it works, I'm in.
Q. This book is obviously an ode to books and to the art of reading. You have Bea state that "the art of reading is slowly dying, that it's an intimate ritual, that a book is a mirror that only offers us what we already carry inside us, that when we read, we do it with all our heart and mind, and great readers are becoming more scarce by the day" (p. 484). Do you believe this to be true? Do you share Fermín's disdain for television?
I believe it is in our hands. Now more than ever, I believe it is up to us to decide if we want to think by ourselves, or if we want to accept and submit to what others would rather have us believe. As for TV, well, I share many of Fermín's views. I'd say TV is a very powerful medium, which can be used, and sometimes it is used, to accomplish great things. Unfortunately, those are exceptions to the rule. But blaming TV as an abstract entity is nonsensical. It's our hand on the remote. There's a world out there outside the tube. Life's short: Wake up and live.
Q. The Aldaya Mansion, the allegedly cursed Angel of the Mist, seems to be a character in its own right. It has a life of its own, creaking, moaning, and breathing fire in its belly. Where did you draw your inspiration for your novel's gothic centerpiece? Are you attracted to haunted houses, the supernatural, and other horror story trappings? Do you believe in curses?
I don't believe in the supernatural, but I think it provides excellent material for literary purposes. Ghost stories are great tools to explore symbolic and atavistic elements in a narrative. Shakespeare, Dickens, and Henry James used ghosts and phantasmagoric trappings in order to add layers of meaning and effectiveness to their stories. At the end of the day, it is all fiction, poetry, and magic. Real curses, however, don't dwell in dark basements but in our hearts and conscience. We make our own moral choices, sometimes far spookier than any horror tale, and the terrors of this world are far too real and ordinary.
Q. There are many casualties of love in your novel, not just the star-crossed love between Julián and Penélope, but also the love that makes Miquel Moliner and Nuria Monfort both lay down their lives for Julián. Why do you think we are fascinated with ill-fated tragedies of love?
Because that's the stuff that thing called life is made of. Love, deception, tragedy, joy, passion, murder, jealousy, lust, fear, generosity, friendship, betrayal . . . Human nature provides the lyrics, and we novelists just compose the music.
Q. Fermín once says of the cinema, "Between you and me, this business of the seventh art leaves me cold. As far as I can see, it's only a way of fueling the mindless and making them even more stupid. Worse than football or bullfights. The cinema began as an invention for entertaining the illiterate masses. Fifty years on it's much the same." Yet your narrative is cinematic in scope, its images lifelike and grand. You are also a screenwriter. Would you like to see your novel become a movie? If so, who would you have portraying the characters, and who would make the movie?
I have no particular wish to see a film made of the novel. I don't believe everything has to become a movie, a video game, a TV show, a T-shirt, or a piece of merchandising as a matter of course or just because the almighty dollar says so. I believe nothing can tell a story, explore the universe of its characters and its many wonders with the depth, joy, and effectiveness of a novel if it is done right. This is a book for people who love to read, who love books and reading, and it will remain so. Nobody can make a better film of this novel than the one you'll start to see when you begin to read its first pages. Film is a very interesting narrative language, and I use many of its elements—techniques from the grammar of images—to enrich the construction of the novel, but it is just one more piece in a much bigger puzzle. The greatest multiplex in the universe is inside your mind, and the only ticket you need is a good, well-written novel.
Q. To ask you a question you once asked author Christopher Fowler: The world ends next month and you've time to write one last book/story. What would it be about?
You always write about yourself, know it or not, so I would just floor it to make the doomsday deadline and finish the novel I'm working on right now, which picks up this literary experiment of blending genres and traditions from where The Shadow of the Wind left it and takes it one, or two, steps further.
DISCUSSION QUESTIONS
Julián Carax's and Daniel's lives follow very similar trajectories. Yet one ends in tragedy, the other in happiness. What similarities are there between the paths they take? What are the differences that allow Daniel to avoid tragedy?
Nuria Monfort tells Daniel, "Julián once wrote that coincidences are the scars of fate. There are no coincidences, Daniel. We are the puppets of our unconscious." What does that mean? What does she refer to in her own experience and in Julián's life?
Nuria Monfort's dying words, meant for Julián, are, "There are worse prisons than words." What does she mean by this? What is she referring to?
There are many devil figures in the story—Carax's Laín Coubert, Jacinta's Zacarias, Fermín's Fumero. How does evil manifest itself in each devil figure? What are the characteristics of the villains/devils?
Discuss the title of the novel. What is "The Shadow of the Wind"? Where does Zafón refer to it and what does he use the image to illustrate?
Zafón's female characters are often enigmatic, otherworldly angels full of power and mystery. Clara the blind white goddess ultimately becomes a fallen angel; Carax credits sweet Bea with saving his and Daniel's lives; Daniel's mother is actually an angel whose death renders her so ephemeral that Daniel can't even remember her face. Do you think Zafón paints his female characters differently than his male characters? What do the women represent in Daniel's life? What might the Freud loving Miquel Moliner say about Daniel's relationships with women?
Daniel says of The Shadow of the Wind, "As it unfolded, the structure of the story began to remind me of one of those Russian dolls that contain innumerable ever-smaller dolls within" (p. 7). Zafón's The Shadow of the Wind unfolds much the same way, with many characters contributing fragments of their own stories in the first person point of view. What does Zafón illustrate with this method of storytelling? What do the individual mini-autobiographies contribute to the tale?
The evil Fumero is the only son of a ridiculed father and a superficial, status-seeking mother. The troubled Julián is the bastard son of a love-starved musical mother and an amorous, amoral businessman, though he was raised by a cuckolded hatmaker. Do you think their personalities are products of nature or nurture? How are the sins of the fathers and mothers visited upon each of the characters?
Back to Top