A Room with a View Reader's Guide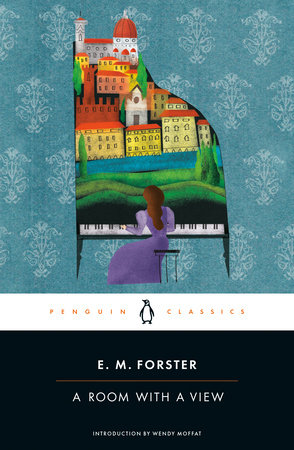 A Room with a View Reader's Guide
READERS GUIDE
Questions and Topics for Discussion
INTRODUCTION

In a journal entry from July, 1910, E. M. Forster wrote, "However gross my desires, I find that I shall never satisfy them for the fear of annoying others. I am glad to come across this much good in me. It serves instead of purity." Although Forster wrote this passage some two years after he published A Room with a View, it could have been written at almost anytime during his long life. However much he understood the "holiness of direct desire," the emotional purity one achieves by following the heart rather than social orthodoxy, he spent his youth and young adulthood, as Lucy Honeychurch nearly did, repressing his sexual desires to adhere to the expectations of society.
Forster was only twenty-nine years old when he published A Room with a View in 1908. He had already published two books,Where Angels Fear to Tread (1905) and The Longest Journey (1907). He was a respected writer, but not yet a famous one, and the themes touched on in his earlier novels—passion and convention, truth and pretense—were now given complexity and eloquence, with the maturity of a more experienced voice, in his third novel.
The first seeds for an Italian novel were planted during an extended trip to Florence that Forster and his mother took in 1901. This journey not only unleashed Forster's creativity, but also provided a source of spiritual release from the rigid moral codes of English society. His depression over his own self-deception and his increasing mistrust of English middle-class society are mirrored in the conflicted relationship between the cautious, thoroughly English Honeychurches and the impulsive, free-spirited, socialist Emersons. Forster was tormented, like Lucy, with the possibility of becoming one of "the vast armies of the benighted, who follow neither the heart nor the brain, and march to their destiny by catch-words."
While Lucy embodied Forster's internal strife, Mr. Emerson was created in the image of a man Forster admired, Edward Carpenter, a social pioneer who believed in equality for women and open expression of homosexual love. First through his published works, and later as a friend, Carpenter was to Forster a beacon of spiritual and sexual liberation who guided him toward a deeper understanding of himself. For Lucy, Mr. Emerson is the "kind old man who enabled her to see the lights dancing in the Arno," who encourages her to follow her heart's and her body's desire, explaining that "love is of the body; not the body, but of the body." This advice she must heed, as Forster makes sure, in breaking from the fettered world of Windy Corner and choosing truth over deceit.
The happy resolution of A Room with a View did not come easily to Forster. He started work in earnest on the first draft of his novel in 1902, setting the story entirely in Italy. Forster began the final version in 1904, but put it aside to complete Where Angels Fear to Tread and The Longest Journey. Forster would not pick up A Room with a View again until 1907, when he commented to a friend, "It's bright and merry and I like the story. Yet I wouldn't and couldn't finish it in the same style." Completing the work would require another full year.
The "bright and merry" surface of the novel owes much to the social comedies of Jane Austen and Henry James. Like the heroines of Mansfield Park and Daisy Miller, Lucy begins the novel as a naif on the threshold of adulthood in a strange new world. Forster captures the pretense and manners of her social world with uncanny acuity. As Virginia Woolf wrote, "The social historian will find his books full of illuminating information. . . . Old maids blow into their gloves when they take them off. Mr. Forster is a novelist . . . who sees his people in close contact with their surroundings." Like his forebears, he described the world around him with remarkable precision and insight.
Forster readily acknowledged his debt to the 19th-century domestic comedy, but said that he "tried to hitch it on to other things"—to the deeper themes of his work, such as the struggle for individuality and the barriers of social class. Forster's plots and landscapes carry greater metaphorical weight than those of his predecessors: Lucy's anguish in choosing between George and Cecil becomes a contest of modernity against the middle ages, honesty against hypocrisy, clarity against muddle. This subtext provides a richly textured counterpoint to superficial events. The novel's ending is not unambiguously joyful. It almost seems that Forster allowed George and Lucy happiness against his own instincts. "Oh Mercy to myself I cried if Lucy didn't wed," Forster wrote in a letter as he was writing the final version of the novel.
Ultimately Lucy was more successful in fulfilling her desires than Forster ever was. As he composed A Room with a View in 1907, Forster was still more than six years away from writing his great celebration of homosexual love, Maurice, and his first fully realized romance lay even further in the future. How did this repressed desire color the development of the novel? The critical literature has shown great interest in the erotic undertones of the men's bath at Sacred Lake and possible veiled references to Mr. Beebe's homosexuality ("somewhat chilly in his attitude toward the other sex"). Some even believe that the entire work is a homosexual romance with Lucy as "a boy en travesti." In the end the object of desire is probably less important than the passionate sentiment. What is remarkable, as critic Claude Summers notes, is that Forster's wrestling with homosexual desire should give rise to one of the richest depictions of heterosexual love in the English language.
Certainly A Room with a View can be appreciated from this perspective as a story of sexual awakening that provides insight into Forster's deeply felt struggle with his own sexuality. But it can be read on other levels as well. As a domestic comedy in the tradition of Jane Austen, it brilliantly skewers the world of Edwardian manners and social codes, providing some of Forster's most riotous and revealing portraits in the characters of Cecil Vyse and Charlotte Bartlett. It also can be enjoyed as a book about the contradictions and conflicts of being human: how we reconcile our inner lives with outside expectations, and how it is possible, by opening one's mind, to find faith and love in unexpected places.
ABOUT E. M. FORSTER
Edward Morgan Forster was born on New Year's Day, 1879, in Dorset Square, London, the second child (the first died soon after birth) of middle-class parents, Edward Llewellyn Forster, a Cambridge graduate and architect, and Alice Clara "Lily" Whichelo. When his son was just one, Forster's father died after a long battle with consumption, leaving the family little money and making Lily a widow at twenty-five. Unwilling to live with relatives and unable to afford a London apartment, Lily moved to a house in the English countryside, Rooksnest, where she devoted herself to her son. At Rooksnest, Forster's life was spent in the nurturing, overprotective "haze of elderly ladies" that included paternal aunts and Lily's friends, and he formed a deep emotional attachment to the place, drawing later on the memories for Howards End.
When Forster was fourteen, he and Lily faced the disheartening news that their lease at Rooksnest was up, and they moved to the suburb of Tonbridge Wells. Here, Forster attended the boarding school as a day boy, with classics as his major study. At Tonbridge he wrote for the school newspaper and won several awards for his essays, but nonetheless it was here, a place that contrasted so sharply with his happy home life, where his feelings of being an outsider hardened into an abiding distaste for the English school system.
Forster's intellectual and social life blossomed when, in 1897, he entered King's College, Cambridge. With the guidance and encouragement of his classics professor, Forster grew to admire the modern European writers Tolstoy, Proust, and Ibsen, and began to test his own powers as a writer. It was during these years, too, that he first began to acknowledge his homosexuality, falling in love with another undergraduate, H. O. Meredith, who would be the center of his posthumously published novel Maurice. Meredith helped Forster become a member of the "Apostles," the university's foremost discussion group, where he formed friendships with many of the intellectuals later associated with the Bloomsbury Group in London.
In 1901, with his formal education over and uncertain about a career, Forster, accompanied by Lily, set off on a year-long trip to Italy to study Italian history, language, art, and literature, and to work on a novel-in-progress. In 1903 he published his first short story, "Albergo Empedocle," and soon thereafter started to write for the Independent Review, a social and political journal founded by his Cambridge friends, to which he would contribute regularly for many years. His first three published novels, Where Angels Fear to Tread (1905), The Longest Journey (1907), and A Room with a View (1908) received generally favorable reviews and made him a minor literary celebrity, but not until the publication of Howards End (1910) did Forster achieve major acclaim as a writer.
During 1912 and 1913 Forster journeyed to India, beginning a lifelong fascination with the subcontinent. A return journey to India in 1921 provided the inspiration for A Passage to India (1924), which was hailed as a masterpiece on publication. After writing five novels in succession, then ending a fourteen-year hiatus with A Passage to India, Forster retired as a novelist at age forty-five.
He spent the second half of his life as a voracious reader, reviewer, and supporter of young writers such as J. R. Ackerly and Eudora Welty. A prominent public intellectual, Forster became the first president of England's National Council on Civil Liberties and was a lifelong spokesman for personal and political tolerance, testifying in the trial that successfully overturned the ban on D. H. Lawrence's Lady Chatterley's Lover.
King's College awarded Forster an honorary fellowship in 1946, and he spent the rest of his years in Cambridge. Leading an active literary and social life to the end, Forster died in 1970 at age 91.
DISCUSSION QUESTIONS
How are Lucy's character and mood captured in the descriptions of her piano playing throughout the novel? Why does she refuse to play Beethoven in Mrs. Vyse's well-appointed flat? What compels her to sing, after breaking her engagement with Cecil, the song that ends with the line "Easy live and quiet die"?
 
Forster's use of light and darkness, vision and blindness, day and night has transparent meaning in many passages: Lucy throws open the window of her room with a view while Charlotte closes the shades. Cecil is best suited to a room, while George is in his element in the naked sunlight of the Sacred Lake. Discuss the variations on the theme of clarity and shadow in the book, for example the twilight on the Piazza Signoria before Lucy witnesses the murder, or her attempts to flee "the king of terrors—Light" in the novel's second half.
 
Lucy and George both stand outside Britain's traditional class structure. George is a clerk, the son of a journalist and grandson of a laborer. Lucy is the daughter of a lawyer and her social status is "more splendid than her antecedents entitled her to." What role does social class play in the novel? Why did Forster choose Cecil to deliver the statement: "The classes ought to mix…There ought to be intermarriage—all sorts of things. I believe in democracy."?
 
Mr. Beebe is portrayed early in the novel as an observant, thoughtful counselor with a good sense of humor and an unusually open mind for a clergyman. Soon after meeting Lucy he predicts that "one day music and life shall mingle" for her. Why does he fail, in the end, to support her decision to leave Cecil for George?
 
In comparison, Charlotte Bartlett is absurdly prudish, forbidding her cousin even to sleep in the bed where George Emerson had slept. If George's surmise at the novel's end is correct, what motivates her to help bring the lovers together by facilitating Lucy's fateful meeting with Mr. Emerson? What does this turnabout suggest about the repressive forces in society? Is she, as George jokes, made of the "same stuff as parsons are made of"?
 
"Muddle" is one of Forster's favorite words and seems to carry more weight in his work than in current colloquial usage. Lucy declares at the end of Part 1, "I want not to be muddled. I want to grow older quickly." What does Mr. Emerson mean when he uses the word to describe Lucy's state of mind near the novel's end, saying, "It is easy to face Death and Fate…It is on my muddles that I look back with horror"?
 
Lucy and George's final happiness is clouded by their severed relations with those she left behind. The Honeychurches "were disgusted at her past hypocrisy," and Mr. Beebe will never forgive them. Do you think Forster believes, as Lucy asserts, that "if we act the truth, the people who really love us are sure to come back to us in the long run"?
 
What is "medieval" about Cecil's attitude toward women in general and toward Lucy in particular? What role is she allotted in his notion of chivalry? Why does Lucy feel, after George throws her blood-stained photographs into the Arno, that it is "hopeless to look for chivalry in such a man"? What kind of companionship and protection does George offer in exchange?
 
Forster, who was greatly influenced by the art of Italy during his first visit there, not only explores the proper relationship of life and art in A Room with a View but also uses art to illuminate his characters. What do we learn about the inner lives of George and Mr. Emerson from their views of Giotto's fresco in Santa Croce (Chapter 2)? Why is Lucy's outburst over Mr. Eager like "Leonardo on the ceiling of the Sistine"?
 
A frequent criticism of Forster's plots is his reliance on coincidence and chance. What improbable circumstances are required to unite Lucy and George? Is George right when he says of their reunion in England, "It is Fate. Everything is Fate"? Does the novel suggest an external force that brings the lovers together?
 
There are many kinds of deceit in the book: betrayal by friends, secrets between lovers, and most importantly Lucy's self-deceit. Four of the last five chapters show Lucy lying to nearly everyone else in the book. Which kinds of lies are most harmful to the "personal relations" that Forster cherished?
 
Though sparing in his descriptions of physical love, Forster often expresses the physical component of spiritual passion indirectly, as in his description of Lucy's piano playing: "Like every true performer she was intoxicated by the mere feel of the notes: they were fingers caressing her own; and by touch, not by sound alone, did she come to her desire." What balance between the physical and emotional expressions of love does Mr. Emerson suggest in his statement, "I know by experience that the poets are right: love is eternal. . . . I only wish poets would say this too: love is of the body; not the body, but of the body"?
Back to Top