The Saffron Kitchen Reader's Guide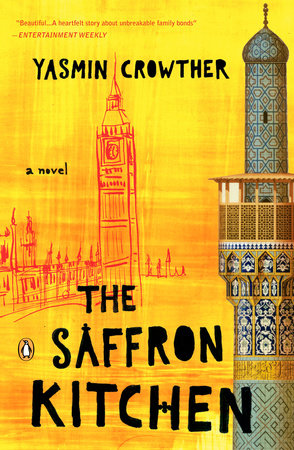 The Saffron Kitchen Reader's Guide
READERS GUIDE
Questions and Topics for Discussion
INTRODUCTION
Born to an Iranian mother and British father, Yasmin Crowther makes a unique and impressive debut onto the literary scene with her remarkable novel about culture, family, and identity. The Saffron Kitchen is a poignant and timely story about one woman's struggle to belong to more than one world and how that pull between identities affects a family for generations to come.
Richmond Hill in London is a far cry from where Maryam Mazar was born and raised, the little village of Mazareh in Iran, but this affluent suburb is where she has lived for more than forty years. She has what seems a good and comfortable life, with a devoted husband, Edward, and loving daughter, Sara. But when Maryam's last living sister dies and her twelve-year-old nephew, Saeed, comes from Iran to live with them, his arrival triggers a series of dramatic events, re-opening a wound that Maryam can no longer ignore. She decides there is only one way to heal: she must return home.
With her husband's reluctant blessing, Maryam travels alone to Mazareh to face both the dreams and the demons of her past. Mazareh is in many ways a harsh place, with mud dwellings and little in the way of creature comforts. Yet when Maryam arrives, she begins to feel a sense of peace and wholeness, a connection with the earth, that has been missing for forty years. And perhaps most important, the first love of her life, Ali, her wealthy father's former assistant, is here, awaiting her return. The healing has begun.
Maryam was a girl born before her time, independent and strong-willed, refusing to follow the traditional path for women: marriage and domestic life. Forced to leave Iran after her father disowned her for shaming the family through a misunderstood encounter with Ali, Maryam nevertheless has a powerful bond with this place and its people. But now she must decide if the life that includes her past will now become her future.
Back in London, both Sara and Edward are feeling confused and angry that Maryam seems to have no impending plans to return. How could she abandon her family? When Maryam writes and asks her to visit, Sara feels she must go. She arrives feeling bitter and resentful that her mother is acting as if their life in London is meaningless, especially when she sees Ali and her mother together. But as Maryam introduces Sara to the people and places of her childhood and finally reveals the shocking details of her forced departure, Sara begins to understand her mother in a way she never could before. In the end, Sara comes to accept that only by letting her mother go, can she finally get her mother back.
Exploring the themes of displacement and exile, of families struggling to embrace more than one culture, of longing and despair, The Saffron Kitchen is ultimately a love story, not only between a woman and a man, but of a woman for her homeland.
ABOUT YASMIN CROWTHER
Yasmin Crowther lives in London. She grew up in an Anglo-Iranian household. This is her first novel.
A CONVERSATION WITH YASMIN CROWTHER
You have worked for many years in the corporate world, and this is your first novel—a very impressive debut. Would you tell readers a bit about how you came to write it?
I've always wanted to write since I was a small child and writing has always been part of my professional career, which required me to articulate complex societal issues and to understand conflict and the challenge of engaging and reconciling different perspectives. But my day job wasn't creative writing, which was always my burning desire. As the years went by, I made ever more concerted life choices that would allow me time to write. About three or four years ago I found myself on a short writing course run by Hanif Kureishi and it was like finally being allowed to breathe! The germ of The Saffron Kitchenemerged on that course and I wrote it over the following three or so years.
You dedicate the book, in part, to your grandmothers, Eleanor Powell and Khadijeh Assadi Moghadam. Would you talk about their influence on you? You also thank your mother for her stories of growing up in Mashhad and Assadieh. In what ways is Maryam modeled on your mother and her experiences?
I've always been acutely aware of how privileged my life has been compared to my grandmothers. Both were largely uneducated, without profession and entirely dependent on the men in their lives. By contrast, I've studied at Oxford University, have a professional career and the opportunity to fulfill a childhood longing to write. It seems amazing to me that I have all that choice and freedom, when my grandmothers had so little. I suppose my book is a gift back to them in a way, although I scarcely knew them.
My mother grew up in Mashhad and came to England in her twenties. In contrast to Maryam, my mother came happily to England and remains happily with my father. The plot of The Saffron Kitchen is entirely fictional—what happens to Maryam and Sara has not happened to my mother or me. However, when I was a child, my Mum would tell me stories of her own childhood growing up in Iran. They captured my imagination. She would tell of summers spent in a village outside Mashhad, and I've since returned there with her—it is the village upon which Mazareh is based. My maternal grandmother also visited my family in England when I was a child, and she is largely the inspiration for Fatima, sitting on the garden wall watching her opium poppies grow!
The narrative voice of the novel changes throughout, from the third person, to Sara's, to Maryam's. Would you discuss why you took this storytelling approach?
Young Maryam speaks in the first person. Her first words are: "I am Maryam Mazar." She has a strong voice and sense of identity. Her father's punishment of her and her banishment from home are in some ways obliterating of her sense of self. She says "I was gone." Older Maryam speaks in the third person because she is literally at a remove from herself, from the strong "I" of her girlhood. Apart from part four of the book, Sara also speaks in the first person. This is because I wanted the reader to have to make the transition from the mind of a young Englishwoman to the mind of the young Iranian girl who would eventually grow up to be her mother. I wanted the reader to experience the discomfort of that shift, and then to eventually grow comfortable with it—the transition from mother to daughter, from Iran to England and back again. Both Sara and Maryam speak in the third person when they are together in Iran as this was the most straightforward way to tell their combined story and to represent their different voices and experiences equally.
You were born in Britain to an Iranian mother and British father. Do you think of yourself as being wholly British, or as having two identities? Could you discuss your own ideas of identity and what impact they have had on you?
I feel like I am a part of both places and not fully understood by either place. I think that's why I wrote the book—to try and communicate how difficult it is to bridge both worlds, and yet how fundamentally essential it feels to be able to make that bridge. My education has been English and I have the choices and freedoms of a woman with a British passport. Yet I grew up in a home where there was a strong set of Iranian norms and culture, and that is woven into my fiber as well. I tend to think of myself as European.
Maryam never assimilates into British culture, despite having lived there for decades. Based on your personal experiences, do you think immigrants ever truly assimilate? Should they even try to assimilate completely?
I disagree. I think that Maryam certainly assimilated into British culture—she learned the traditions, she had a home and family and a life there for many decades. In her final letter to Edward she recognizes that she may return to England some time in the future. I think that Maryam's ability to choose between the two countries is a mark of her assimilation. I don't believe that assimilated individuals should never want to return to their country and culture of origin or be required to obliterate that sense of identity. They should feel able to retain that cultural memory—be it complex, traumatic, or precious—and be welcomed for contributing its lessons to whichever land they choose to make their home, for however long.
Would you talk about how you decided to use Matthew Arnold's poem "Dover Beach" as such an integral part of the story?
It's a poem that can accompany you for an entire life, much as T. S. Eliot's Four Quartets. For me, "Dover Beach" captures the hopefulness and idealism of youth, the longing for a "land of dreams," as well as capturing the poignancy of maturity and age, of coming to terms with loss, hurt and conflict and yet—through it all—making the plea to "stay true to one another." It puts the integrity of personal relationships at the centre of a confused and warring world, and I find that extremely moving and powerful. Right from the beginning, it seemed overwhelmingly to be the poem of Maryam's life, from her girlhood aspirations through to her decisions as a mature woman and her need to find a way to be true to herself and to the others in her life.
What kind of connection, if any, do you have with Iran now? Did you visit in order to do research for the novel?
I have an Iranian mother and family in Iran and so of course I have a connection to the place, people, and culture. I have grown up with it—maybe not in my backyard, but it has a persistent place in conversations and in my mind. I visited very often as a child before the revolution and returned again in my mid-twenties. I did visit to research for the book, and stayed in Mashhad and in a village in the northeast of the country, which is the basis for the fictional village of Mazareh.
What role would you say literature plays in today's highly charged political climate?
Maybe the role of literature is to tell personal stories and perspectives, of family life struggling to go on as usual—eating, praying, laughing, falling in love, arguing, fighting, getting married, having children, divorcing, dying, surviving. Maybe, as in Matthew Arnold's poem, the role of literature is to show the struggle to "be true to one another" as an enduring human trait in spite of abuse, war, and politics.
Although you vividly portray the oppression of women in Iran, you have also created some intensely sympathetic and powerful male characters, including Ali and Dr. Ahlavi. Would you discuss their importance in the novel, and your thoughts about the roles of men and women in Western and Persian cultures?
I didn't set out to portray the oppression of women in Iran—in fact, I hope that I've painted a more complex picture than that. Maryam's Aunt Soraya is a powerful woman and Fatima is wonderfully earthy and maternal. Maryam's oldest sister, Mairy, does not feel oppressed by tradition and by the expectations of her family—she feels comfortable within a familiar routine. Of course Maryam does rebel and, years later, Farnoosh similarly feels confined by her circumstances—but both transcend that. Maryam's mother and her stepmother Leyla seem the most trapped. So I set out to show a diversity of characters rather than to tell a generic story of oppression. I would be sad if that is the main message readers take from this book. Ali and Doctor Ahlavi are indeed wonderful to have spent time creating—they represent tenderness, integrity, fairness, dignity, and respect: the characteristics of many people I know both in Iran and elsewhere.
Herman Melville wrote that, "Life's a voyage that's homeward bound." Do you agree? How do you define "home" for yourself? How do you think Maryam has defined it?
The concept of home is overwhelmingly important to me—a place to feel secure, a place where I can be with my husband-to-be and where I can write. At the end of the book, Maryam chooses Mazareh as her home because it is a place where she experiences the freedom to be herself: in a place where she is not judged (as by her niece in Mashhad) and where she feels free of the etiquette and conformity of her life in London. Even in England, she was most at home in the garden with her bonfires! Maryam derives a strong sense of self from the natural landscape and wilderness of Mazareh as well as from Ali, and from the sense that her daughter knows it and accepts her as such.
DISCUSSION QUESTIONS
The Middle East is very much in the news these days, and perhaps never before has it been more on the mind of Westerners. What issues did The Saffron Kitchen bring up for you, and did it change or influence your idea of Iran in any way?
 
Maryam says she hits Saeed to make him strong, just as her own father hit her as a girl. Do you believe this? Why or why not? Discuss the reasons you think Maryam feels so angry at Saeed. What does he represent to her? Why do you think some abused people grow up to continue that abuse, while others vow never to repeat the "sins of their fathers"?
 
When Maryam returns home (p. 28) after taking Sara to the hospital, she says to herself, "I should never have left." What is she referring to? The hospital? Iran? And what does she mean by this? How does her statement foreshadow what happens in the rest of the novel?
 
What is the moral of the Gossemarbart story and how does it relate to Maryam's own story? Discuss the symbolism of the stone woman and its significance in the novel.
 
"Your father was kind to us before his death," Hassan tells Maryam upon her return (p. 116). Was there any good in this man? Was he a product of his time and traditions? What makes a man like Maryam's father turn out the way he does in contrast with a man like Doctor Ahlavi?
 
Sara and Saeed form a strong connection with one another. Talk about the things they have in common, the things that make them different, and how they might derive comfort from one another.
 
Farnoosh, Hassan's unmarried daughter, says to Maryam, "You think [having your family is] enough? When you leave yours behind? Please don't patronize me" (p. 128). Can you explain Farnoosh's point of view? Do you see Maryam as selfish? Why or why not?
 
"For each freedom we choose, we must give up another," Maryam says (p. 128). What does she mean in terms of her own life? Do you agree or disagree, and why?
 
What do you think Maryam wants for Sara? Does Sara have a right to be angry at her mother? How would you feel, as a daughter or son, if your mother left you to return to the place of her birth?
 
Where does Maryam's love for Iran end and her love for Ali begin? Are they separate?
 
Discuss how the author uses the color saffron as a symbol throughout the novel. What does it represent, to Maryam, to Sara, to Saeed?
 
Think about the different worlds to which you belong. Consider the transitions between these worlds and discuss how navigating these transitions affects your life.
Back to Top