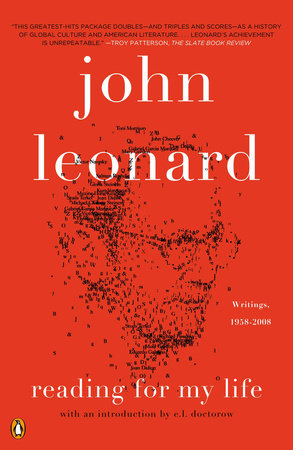 Reading for My Life
Writings, 1958-2008
Writings, 1958-2008
By John Leonard
Introduction by
E. L. Doctorow
By
John Leonard


Introduction by

E. L. Doctorow



By John Leonard
Introduction by
E. L. Doctorow
By
John Leonard


Introduction by

E. L. Doctorow




Best Seller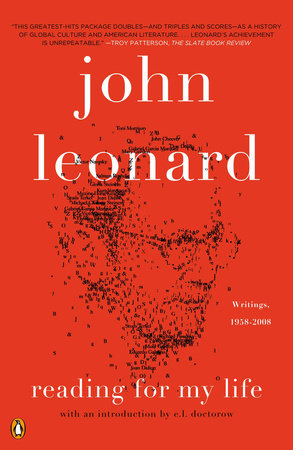 Feb 26, 2013 | ISBN 9780143122906
People Who Read
Reading for My Life

Also Read
Inspired by Your Browsing History
Praise
"Leonard could write in the style of a man who has brought a scimitar to a knife fight. . . . This greatest-hits package doubles—and triples and scores—as a history of global culture and American literature, as a shadow canon and an intellectual history. . . . Because the culture has shattered—chaos, heat, fractals—Leonard's achievement is unrepeatable."
—Troy Patterson, The Slate Book Review
"There was more than a touch of the poet in John Leonard, alongside the cheerful investigator. . . . Let's be grateful for this eloquent sample of his writings, rescued from the dust of past periodicals."
—Phillip Lopate, The New York Times Book Review
"A brilliant collection of writings on politics, social and cultural engagement and literary life. . . . Read this book for its insights into Philip Roth, Joan Didion and Michael Chabon. . . . But even more, read it for its passion, its sense that criticism can take us to the heart of everything: aesthetic, emotional, spiritual, political."
—David L. Ulin, The Los Angeles Times
"A terrific new volume. . . . John Leonard was the real deal."
—Maureen Corrigan, NPR's Fresh Air
"As a writer, Leonard was often virtuosic in the vein of the New Journalism, but with more heart; as a thinker, he was both confident and aware of the follies of confidence. He could be charmingly self-deprecating, gently bemused, or (more frequently) unapologetically angry. . . . He paid his fellow writers the great compliment of his fully engaged (even if enraged) attention."
—The Boston Globe
"No one but John could bring the honor he brought—the respect, the illumination, the sheer catch-your-breath brilliance—to whatever got his attention, whether it was a book or a piece of political folly or the day's most unthinkable news. He made the connections no one else thought of making. He made the impenetrable lucid, transparent. He was quite simply our most thrilling observer."
—Joan Didion
"Great fun to read. . . . Leonard commands love and devotion."
—The Daily Beast
"One of the beauties of literature is that it reminds us that life is still, and always, there to be lived. John Leonard is not with us anymore, yet he's with us forever. He writes with his heart on fire. He wakes us up out of our ease. He disturbs and he soothes and he provokes. He's a gentleman. A scholar. A national treasure. Literature would not be the same without him. He understood—and therefore understands—what goes on at the coalface of language."
—Colum McCann
"Nobody could write a book review like John Leonard. I don't know if anybody ever will. . . . The essays collected here will rekindle your love of the book review—and of books themselves. . . This was how one ought to write about books . . . : with naked passion, unabashed intellectualism and, above all, that elusive, unteachable quality called grace. . . . Leonard has such a capacious mind that it could leap from television to books to the theater to the movie screen without ever so much as slipping. Above all, he endowed his words with vitality—that is the greatest lesson one can learn from his work."
—Alexander Nazaryan, The New York Daily News
"An excellent collection, a greatest hits of glossolalia. . . . Town crier, troubadour, and street preacher—Leonard managed to be all at once. With him, a single sentence could turn into a high-wire act."
—Liz Brown, Bookforum
"A prolific, wide-eyed, and deeply erudite observer of the passing contemporary scene, equally at home writing about sitcoms and Nobel laureates. . . . Leonard was not only a brilliant critic, he was also a superb reporter. . . . Leonard was always writing about something larger than what he was writing about. . . . His love of good writing is not only infectious, it's also mind-expanding because his tastes were so elastic and catholic. . . . John Leonard was a writer of such consummate grace, wit, and provocation that it doesn't matter what he settled on as his subject."
—Bill Morris, The Millions
"[John Leonard's] ecstatic, exhaustive, amassing—enthusiastic!—sentences, nestled in the pages of
The New York Review of Books
or
Harper's
or
The New York Times
, were a delight to me for many years. I'm even more delighted to have so many of them in one place."
—Deirdre Foley-Mendelssohn, The Paris Review Daily
"'Extraordinary' is indeed the word for that man. He did as much service to letters in this country as anyone, and he did so with a protean, omnivore's flair. We shall not see his like again."
—Richard Powers
"This book's fantastic. . . . You should buy this book and have it in your life in exactly the same way you should have the Everyman edition of Orwell and Didion. . . . The thing that makes Leonard's books such infinite things is how deeply he believed in literature."
—The Kenyon Review

"Leonard (1939–2008), long-time reviewer for and sometime editor of the 
New York Times Book Review
, displays an astonishing erudition throughout these pieces. . . . There is often a playfulness—an informality—in his prose. . . . Leonard could also bring tears at unexpected moments. . . . Glistening evidence that a great critic needs both a bookworm's habits and a capacious heart."
—Kirkus Reviews
"Exhilarating. . . . [Leonard's] erudition on a dizzying array of subjects–flashing like fireworks in lists that sometimes stretch to 30 or more references–is never offered for its own sake. Instead, it fuels the infectious enthusiasm of Leonard's standing invitation to join him on a roller-coaster ride in the amusement park of contemporary culture. . . . The vitality of Leonard's prose helps his incisive criticism withstand the passage of time."
—Harvey Freedenberg, Shelf Awareness
"
Reading For My Life
has many, many memorable high points. . . . [Leonard] had a way of taking on the big books other critics found intimidating and methodically taking them apart, often dispassionately, to see what made them tick, to lay out in front of himself the bedrock urges that sprang the thing into being in the first place. He found nothing too recondite, and he could not be cowed (he used to say he had more eyes than a housefly, and everything he saw strengthened what he knew). . . . It feels very strange, still, not to have John Leonard's voice still going strong in the back-of-the-issue book pages of all the nation's magazines, but this anthology is some consolation at least."
—Open Letters Monthly
"The late John Leonard was brilliant, witty, earnest, brave, erudite, stubborn, poetic and totally smitten by literature. . . . His work reflected his soul. . . .
Reading for My Life
. . .  remind[s] us that essays can be as diverse and creative as novels and poems — sometimes more so — and that criticism is more than just a matter of what one admires or despises. . . . At its best, criticism is a passionate engagement with another imagination."
—Julia Keller, The Chicago Tribune
"[John Leonard] was more than one of the most influential critics of our age. . . . Leonard was the critic who helped us make the most sense of postwar, midcentury American writers and their postmodern successors. His lyrical and deeply erudite reviews and essays read like ebullient jazz riffs on pages designed for tasteful adagios. To read John Leonard is to engage in a Vulcan mind-meld in which the tumble of information and insight is so one-sided as to leave the reader exhausted from the effort of pretending to hold up one's end of the conversation. His judgments never failed to exude a generosity of spirit, even while administering a much-needed slap of critical evenhandedness."
—The Pittsburgh Post-Gazette
Back to Top