How to Read the Air Reader's Guide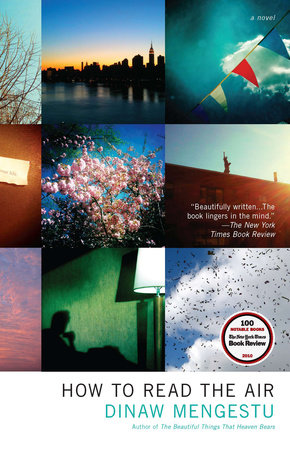 How to Read the Air Reader's Guide
READERS GUIDE
Questions and Topics for Discussion
INTRODUCTION

Dinaw Mengestu's first novel, The Beautiful Things That Heaven Bears, earned him comparisons to Bellow, Fitzgerald, and Naipaul, and garnered ecstatic critical praise for its haunting depiction of the immigrant experience in America. Now he enriches the themes that defined his debut in a novel that follows two generations of an immigrant family.
One September afternoon, Yosef and Mariam, Ethiopian immigrants who have spent all but their first year of marriage apart, set off on a road trip from their home in Peoria, Illinois, to Nashville, Tennessee, in search of a new identity as an American couple. Just months later, their son, Jonas, is born in Illinois. Thirty years later, Yosef has died, and Jonas is desperate to make sense of the volatile generational and cultural ties that have forged him. How can he envision his future without knowing what has come before? Leaving behind his marriage and his job in New York, Jonas sets out to retrace his parents' trip and, in a stunning display of imagination, weaves together a family history that takes him from the war-torn Ethiopia of his parents' youth to a brighter vision of his life in the America of today, a story—real or invented—that holds the possibility of reconciliation and redemption.
ABOUT DINAW MENGESTU
Dinaw Mengestu was born in Addis Ababa, Ethiopia, in 1978. His first novel, The Beautiful Things That Heaven Bears, received a 5 Under 35 award from the National Book Foundation, the Guardian First Book Prize, and the Los Angeles Times Book Prize Art Seidenbaum Award, and was named a New York Times Notable Book, among other honors. He lives with his wife and son in Paris.
DISCUSSION QUESTIONS
Should Mariam and Yosef have stayed married to each other? Can a relationship survive a long separation?
Who is more responsible for the failure of Jonas and Angela's marriage, Jonas or Angela?
Was it wrong of Jonas to lie to the board member? Or was it more wrong of him to invent a story for his students? Do you agree or disagree with the school's handling of his fabrications?
Do you think reenacting his parents' trip will help Jonas?
Jonas is mostly estranged from his father before he dies, and mostly estranged from his mother before the end of this novel. Is there ever a reason to cut family members out of your life, or is it better to maintain close relationships whenever possible?
Given all she had suffered at the hands of Yosef, was Mariam justified in causing the car accident in Missouri? Why or why not? Is there ever an instance in which violence should be answered with violence? How did the violent episodes in Jonas's parents' marriage shape him?
Why did Jonas lie to Angela about his position at the academy?
Why does Jonas get so swept away with rewriting the personal statements of the immigrants seeking asylum? In what other ways does he reimagine his world and the world around him? Does this tendency help him cope, or does it hurt him?
Where do you think Jonas's trip takes him in the end? What kind of future do you see for him?
Back to Top