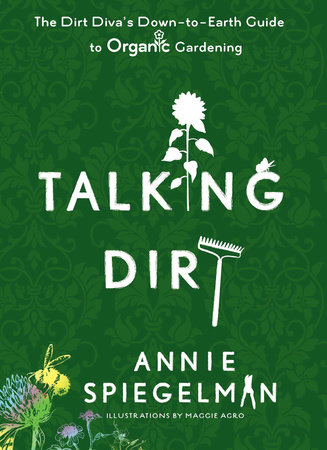 Talking Dirt
The Dirt Diva's Down-to-Earth Guide to Organic Gardening
The Dirt Diva's Down-to-Earth Guide to Organic Gardening
By Annie Spiegelman

By
Annie Spiegelman
By Annie Spiegelman

By
Annie Spiegelman
Best Seller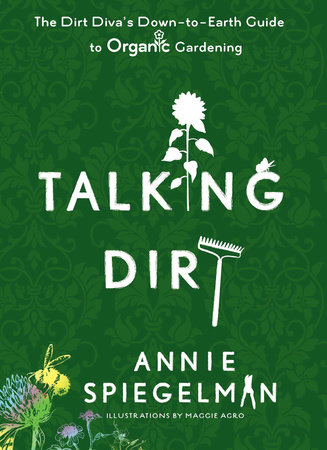 Paperback
Feb 23, 2010 | ISBN 9780399535659
Paperback

$15.00

Feb 23, 2010 | ISBN 9780399535659
People Who Read
Talking Dirt

Also Read
Inspired by Your Browsing History
Praise
"It's hard to resist a gardening book that's both chock-full of information and fun to read. It doesn't matter if you are a novice gardener or more experienced, Annie shows the way to growing and enjoying a natural, sustainable, organic garden."
-Nell Newman, cofounder and president of Newman's Own Organics

"Annie Spiegelman (aka the Dirt Diva) understands what gardening is really about: having fun . . . even when you aren't having fun! This book is laugh-out-loud useful and smart. Frankly, it's the best book on organic gardening that I've seen in 11 years (since mine came out). The Dirt Diva Royal Horticultural Society is the only gardening club I really want to be a member of."
-Maria Rodale, CEO of Rodale Inc., MariasFarmCountryKitchen.com

"Talking Dirt is wonderful-even for those who don't have a garden . . .yet."
-Christiane Northrup, MD, author of the New York Times bestsellers Women's Bodies, Women's Wisdom and The Wisdom of Menopause

"Fun, factual, and filled with ideas. What sets Talking Dirt apart from all other organic gardening how-to guides is Anne Spiegelman. Her writing has an easy style, is easy to understand, and makes organic gardening easy to put into practice. The information is presented with personality and wit, making this book a must-have resource for the aspiring organic gardener."
-Michael C. Metallo, president of the National Gardening Association

"What Skinny Bitch did for vegetarianism Talking Dirt may do for organic gardening. Annie Spiegelman's book is the perfect primer for a generation raised on supermarket food and flowers but who are searching for something fresher and more satisfying. As comfortable among the cabbages as she is in a fashion boutique, Spiegelman succeeds in making the intricacies of gardening without toxic chemicals exciting and rewarding. With a light, swift tone and ample instruction, this is the organic gardening book for busy people."
-Brian Clark Howard, environmental journalist and web editor for The Daily Green

"Beautifully combining passion, humor, and a deep-rooted care for the planet, Spiegelman is the organic femme fatale. She understands the importance of our own backyards to build a better future, one shovelful of compost at a time. What a fantastic book."
-Helge Hellberg, executive director of Marin Organic and host of An Organic Conversation Radio Show

"Spiegelman's tone is reminiscent of the 'Samurai Shopper' column in the New York Times… entertaining and effective."
-Brian Halweil, author of Eat Here and senior researcher for World Watch Institute

"Spiegelman tells the lighthearted story of her own transformation from weekend gardener to a 'Dirt Diva.' Talking Dirt is full of tips all gardeners should take to heart to make their plot organic and nurture their plants the way nature intended."
-Tom Szaky, CEO and founder of TerraCycle Inc.
Back to Top