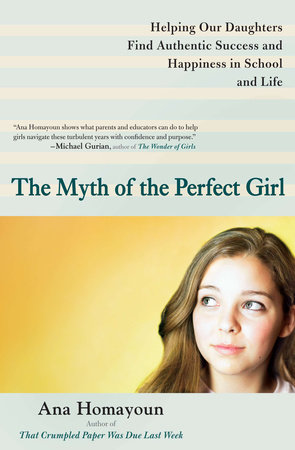 The Myth of the Perfect Girl
Helping Our Daughters Find Authentic Success and Happiness in School and Life
Helping Our Daughters Find Authentic Success and Happiness in School and Life
By Ana Homayoun

By
Ana Homayoun
By Ana Homayoun

By
Ana Homayoun
Best Seller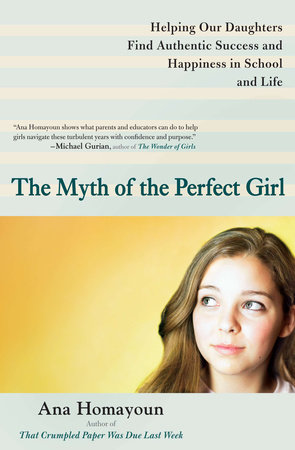 Paperback
Dec 31, 2012 | ISBN 9780399537714
Paperback

$17.00

Dec 31, 2012 | ISBN 9780399537714
Inspired by Your Browsing History
Also in Inspiration & Motivation
Praise
"An essential book…The Myth of the Perfect Girl challenges both girls and the adults who care about them to deeply reflect on the most important issues girls will face as they reach their full potential."
—Rosalind Wiseman, author of Queen Bees and Wannabes
"Whether you're the parent of an adolescent girl or a savvy young woman yourself, the insights in this book could just change your outlook — and make the turbulent teen years a little less of a pressure-cooker. Ana Homayoun is the counselor, expert, and friend every parent — and girl — needs."
—Michele Borba, Ed.D., author of The Big Book of Parenting Solutions 
"Offering fresh insights and vivid examples, Ana Homayoun makes sense of the enormous pressures facing girls today. More important, she shows what parents and educators can do to help girls navigate these turbulent years with confidence and purpose. A great addition to the field."
—Michael Gurian, Author of The Wonder of Girls
"A smart, funny and engaging study on how to give girls the tools to figure out what they really want – and how to get it.  A must-read for girls, mothers, educators and anybody who wants to understand half the population."
—Susan Shapiro, author of Unhooked: How to Quit Anything and Only as Good as Your Word  
"As our society grapples with who we want and need females and males to grow up to be, it is no surprise that our girls and boys are confused about what is expected of them. The Myth of the Perfect Girl dives deep into how this is unnerving our girls. A must read for all parents, educators, psychologists and girls themselves."
—Dr. Louann Brizendine, Founder/Director UCSF Women's Mood and Hormone Clinic, and author of The Female Brain and The Male Brain
"Many seemingly disconnected forces in society are placing unfair burdens on girls growing up today, as well as on their parents.  Gratefully, Ana Homayoun, poignantly spells out what's going on, how it's affecting our girls, and how grownups can help them negotiate the minefields.  Everyone who cares about the wellbeing of girls should read The Myth of the Perfect Girl."
—Diane E. Levin, Ph.D., Professor of Education, Wheelock College, and co-author of So Sexy So Soon
Back to Top