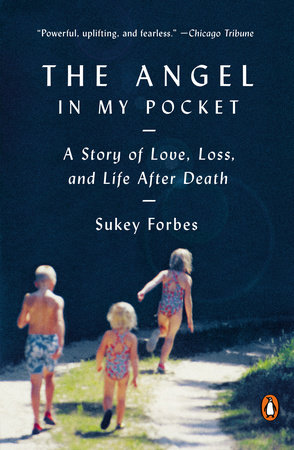 The Angel in My Pocket
A Story of Love, Loss, and Life After Death
By Sukey Forbes

By
Sukey Forbes
Best Seller
Inspired by Your Browsing History
Buy other books like The Angel in My Pocket
Praise
Praise for The Angel in My Pocket

"A powerful, uplifting, and fearless look at what happens to a mother when a child dies suddenly, written without self-pity. . . . To walk along with Forbes—through pain, denial, her past, psychics, support groups, tattoos, and transcendentalism—is strangely soul-soothing and ultimately heartening. You can, you see, survive. But getting there may take a while."
—Chicago Tribune

"There is a unique and lovely energy underlying this book—one that stems from Forbes's extended meditation on where Charlotte lands after her death. . . . Forbes's achievement in this book is that her engagement with 'the other side' is thoughtful and, yes, persuasive. . . . The best memoirs depict the movement toward transformation, and Forbes has certainly changed by the end of her book. . . . She has written a complex story of love and grief in which she comes to live with hope and faith."
—The Boston Globe

"A Boston Brahmin who had it all chronicles her experiences dealing with the tragic death of her beloved young daughter. . . . It wasn't until she took a friend's advice to see a medium that she began to accept Charlotte's passing as a form of spiritual transition and understand the depth of her connection to the Emersonian part of her heritage."
—Kirkus Reviews

"What do we do when the unthinkable happens? We have choices, of course. We can break, become tough, allow cynicism to seep into all our broken places. Or, as Sukey Forbes illustrates in this remarkable book, grief can kick the door wide open and let the light in. The Angel in My Pocket is a devastating and beautiful paean to the human spirit."
—Dani Shapiro, author of Still Writing

"How do we bear the unbearable? In this heartbreaking book, a bereaved mother offers an unflinching account of the different ways we grieve and the different—and surprising—ways we may begin to heal."
—George Howe Colt, author of The Big House

"I was raised in the Boston area and this book brought back memories of my childhood. I loved the line in The Angel in My Pocket that says 'how important it is to let all the unimportant stuff go.'"
—Temple Grandin, author of Thinking in Pictures

"If your life has ever come to a halt, if you have wondered how to want to live again, if you are looking for hope and longing for courage in the face of grief, if you seek staunch honesty and are keen to hear it from someone who knows firsthand that privilege does not protect you from pain, read this book and know that you are not alone."
—Laura Munson, author of This Is Not the Story You Think It Is

"The Angel in My Pocket is one mother's response to that most visceral question that haunts the bereaved: Where has she gone? With spiritual curiosity and tenacious love, Sukey charts a heartfelt journey that grants grief its peaceful landing on a far shore."
—Nichole Bernier, author of The Unfinished Work of Elizabeth D.
Back to Top