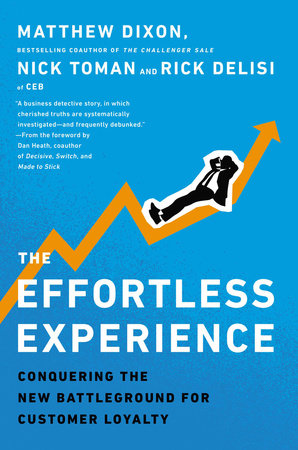 The Effortless Experience
Conquering the New Battleground for Customer Loyalty
Conquering the New Battleground for Customer Loyalty
Conquering the New Battleground for Customer Loyalty
By Matthew Dixon, Nick Toman and Rick DeLisi

By
Matthew Dixon

,

Nick Toman

and

Rick DeLisi



By Matthew Dixon, Nick Toman and Rick DeLisi

By
Matthew Dixon

,

Nick Toman

and

Rick DeLisi



By Matthew Dixon, Nick Toman and Rick DeLisi
Read by
Matthew Dixon

,

Nick Toman

and

Rick DeLisi



By
Matthew Dixon

,

Nick Toman

and

Rick DeLisi


Read by

Matthew Dixon

,

Nick Toman

and

Rick DeLisi




Best Seller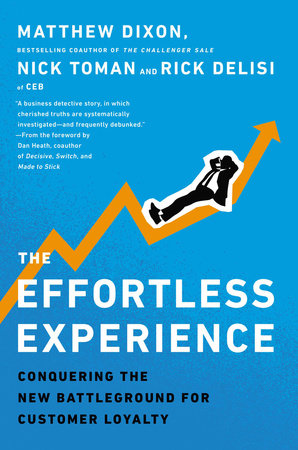 Sep 12, 2013 | ISBN 9781591845812
Buy the Audiobook Download:
Praise
"This is what every business book should be like: stuffed with practical advice, wellsupported by research, and written to keep you eagerly flipping the pages."
—DAN HEATH, coauthor of Decisive, Switch, and Made to Stick, from the foreword

"Most current customer support and customer experience improvement programs are merely replays of age-old concepts with some new terminology thrown in. The customer effort research and approach recounted here is different. It is truly the first really novel idea that I've heard—and implemented—in a long time. This is an approach that drives innovative, significant improvement within my teams . . . actions grounded in solid data . . . actions that yield measurable, customer-visible results that we just couldn't achieve via other means. It really has changed the way I think about the support my team delivers."
—DAN ROURKE, director of software support, HomeAway, Inc.

"A must-have for any true customer experience leader's library. Matt, Nick, and Rick are the 'MythBusters' of customer experience, dispelling many commonly held but inaccurate beliefs around the drivers of disloyalty and delight and what will really drive true value to your business."
—LYNN HOLMGREN, vice president, customer experience strategy, Frontier Communications

"If you are looking for one resource to keep on your desk that will bring you back to the right focus for delivering a better customer service, this is that resource."
—CHRIS HALE, vice president, reservation services, Hyatt

"Every business is looking for the secret to creating loyal customers. This book not only builds a compelling case for effortless customer experiences being the key to loyalty, but also provides a clear road map for any business to achieve that goal. It's a must-read!"
—DEB OLER, vice president and general manager, Grainger Brand, W. W. Grainger

"What's brilliant about The Effortless Experience is its pragmatism, illustrated by the observation that we can easily make things worse for customers and often do more harm than good. Here is real, practical, implementable guidance to help avoid those pitfalls."
—RICHARD JOYCE, operations director, Home Retail Group Customer Services

"The Effortless Experience provides a well-researched foundation for customer experience transformation. Reducing customer effort links the work of the service organization to the business-wide goal of increasing customer loyalty. The concepts themselves are pragmatic and actionable and this book will get you under way."
—SUE ATKINS, head of service experience, Telecom NZ Ltd
Back to Top