Marine Park Reader's Guide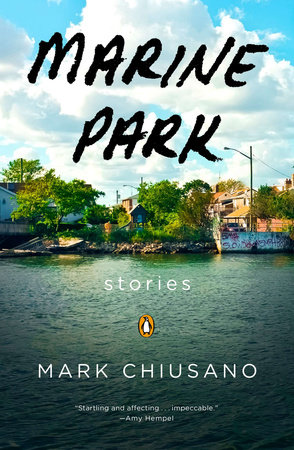 Marine Park Reader's Guide
READERS GUIDE
Questions and Topics for Discussion
INTRODUCTION

Weaving together the rich and complex life of an oft forgotten area of Brooklyn, New York, Mark Chiusano's affecting debut story collection, Marine Park, captures a neighborhood throughout generations and lives filled with ambition, hope, fear, failure, redemption, and nostalgia. Mostly set in the eponymous neighborhood located off Jamaica Bay in the far reaches of Brooklyn, these stories explore the neighborhood's unique culture through family, sports, drugs, love, and the sense of community that creates the human spirit. In many of the stories involving adolescent brothers, the author explores the fragility of youth and the vagaries of growing up, and along the way brings to life the very core of a blue-collar neighborhood and the impact that pride can bring both to those who leave and those who have been left behind.
There is heartache and struggle in some of Chiusano's stories. In "Why Don't You," Chiusano deftly illustrates the anxious stage of young romance and the confusion of intimacy. In "Vampire Deer on Jekyll Island," we see the disintegration of a relationship as both parties try to understand what the other person is missing. "Shatter the Trees and Blow Them Away" gorgeously depicts the rhythms and nuances of human communication and courtship. A question of sexuality delicately etches into the growth of maturity and friendship in "To Live in the Present Moment Is a Miracle."
Mark Chiusano smartly captures the offbeat rhythms of Marine Park and brings the reader through different periods, places, and generations throughout this collection. The stories raise a magnifying glass to the choices that define a life and the occurrences that can rearrange it. Chiusano manages the remarkable feat of revealing a sense of place and making that place wholly accessible, while challenging the reader to question his or her own emotions. Marine Park is a highly entertaining collection, equally tenderhearted and introspective.
ABOUT MARK CHIUSANO
Mark Chiusano is a graduate of Harvard University, where he was the recipient of a Hoopes Prize for outstanding undergraduate fiction. His stories and essays have appeared in Guernica, Narrative, and the Harvard Review, and online at Salon, Tin House and The Paris Review Daily. He works in publishing, and was born and raised in Brooklyn, New York.
A CONVERSATION WITH MARK CHIUSANO
1. With the collection being mostly set in and around Marine Park, did you think about how readers in the neighborhood would react to these stories? What do you suppose their reaction might be?
I'm anxious to hear their reactions. There hasn't been much of anything written about Marine Park—there's a great historian named Thomas Campanella who grew up in the neighborhood and has chronicled some of its ups and downs, and there's a great cricket passage in Joseph O'Neill's Netherland,but that's about it. My neighbors and friends on Avenue R have been pleasantly excited about the book, which is more or less all you can ask for.
2. What would you say defines the identity of Marine Park, the neighborhood, as written in your stories?
Writers' takes on communities, even their own, always seem to me to be more telling about their own identities and preconceptions than anything else, but I think the best aspect of Marine Park culture is the sense of community and nose-to-the-grindstone work, combined with some separation, for better or worse, from the life of the city at large. This sense of separation dissapears sometimes, never more so than after 9/11, which hit Marine Park, a neighborhood of first responders, particularly hard. True neighborhoods, though, are probably defined by exceptions to rules. I spoke to a police official and longtime Marine Park resident who writes poetry and is a serious photographer in his spare time, which sounds more stereotypical of some Manhattan-neighboring parts of the borough, for example.
3. The stories involving Lorris and his brother Jamison were particularly affecting and layered, as the brothers reappear throughout the collection. Did you inject personal experience into these particular stories?
I've never thought of those stories as particularly autobiographical, though as my only brother likes to remind me, Lorris and Jamison do lots of things that we used to do. I guess I used some of our experiences, and certainly the two-brother structure, as architecture for the stories, and tried to build out fictionally from there. (We did do a lot of shoveling snow. I still get angry whenever I see a snowblower on a city street.)
4. Which characters did you find hardest to write? Why?
The really hard ones didn't make it into the book! But writing outside of your age experience is often hard, I think, and that made "Vincent and Aurora" a tricky but rewarding experience.
5. The character of Martin from "Palms" is quite unique and seems to represent something special to the community. Who or what was the inspiration for him?
Semi-obviously, I think Martin reveals a bit about the other characters in the story by the way in which those characters relate to and with Martin. He serves as the puppet master for that story, directing the characters and the flow of events around him.
6. In "Shatter the Trees and Blow Them Away," we are transported into the 1940s. Was it important to you to bring this time period to the collection? Why?
Definitely.First, it's of course an interesting time in American history, and a time marked in many ways by national sacrifice and service, whose absence and appearance today is something I'm interested in. In Marine Park specifically, setting a story in the past allowed the collection to give a fuller picture of the history of the region and the park itself, which has been marked by a long downward progression from ambition to periphery existence. It also allows some of the characters in the book to assume some of the attributes of the neighborhood's history.
7. "Vincent and Aurora" reads like a thriller—a departure from the rest of the stories. What did those characters and their situation mean to the overall theme of the collection?
Marine Park is a pretty colorful neighborhood, like most neighborhoods, and I wanted the collection to have different types of stories—different genres, sort of, settings, characters, types. I appreciate story collections (like Jim Shepard's, for example) that have moments of entertainment. Also, boat chases and dock scenes provided a chance to depict the watery side of Marine Park.
8. What is your writing process like? How do you identify a story on which you'd like to expand or which characters to continue into another?
I usually write in the morning before leaving for work—I should start waking up earlier, but usually I'd write first drafts of stories over lots and lots of sittings no matter how much time I have. This creates a natural way to sieve out stories. If I'm not interested in the story for lots of days running (if rereading what I worked on the day before is giving me nausea), I'll try something new. Lots of pretty miserable beginnings on my computer.
9. Is there anything that you would have liked to include in this collection, but ultimately decided to leave out?
Some of those miserable beginnings . . . I'd been wanting to write a full baseball story to pair with the basketball ones ("Haircut" and "Ed Monahan's Game"), but it didn't come together in time. But in some ways I like the fact that baseball is sprinkled throughout the collection.
10. What is your next project?
Honestly I'm just trying to keep reading and writing. This book came together pretty organically and I'm hoping to keep writing and increasing my "writing stamina" or something every day, in old and new forms and with new and old subjects. But if Vincent and Aurora: The Movie became a thing, I wouldn't be angry.
DISCUSSION QUESTIONS
How has this collection of stories shaped your perception of the neighborhood of Marine Park? How is the general setting important to the story? Could you imagine this collection being called anything else?
Does anything in the collection remind you of the culture of your own neighborhood, either where you grew up or where you live now? Do you feel a connection to the sense of place or time in these stories?
The stories skip around within and outside of Marine Park. How do these narratives influence each other and alter your understanding of those characters? Why did the author choose to connect the stories in this way?
The dynamic between Lorris and his brother Jamison is explored in several stories. How does the relationship change over time?
Do you think that your opinion of Lorris was skewed due to the narrator being (most of the time) his older brother? Do you think there was an element of jealousy since Lorris eventually left Marine Park to experience more for himself?
In "Palms," the story revolves around a member of the community who is endearing, but also indicated as being somewhat mentally challenged. How do you feel about the use of this type of character in the story?
In "Haircut," instead of going home, Andrew decides to go to the Marine Park basketball courts. Why? Do you think he meant to run into Ed there? What was he looking for?
Did Jamison feel an obligation to stay at home in Marine Park? Was there any hint of jealousy toward Lorris, who had gone away for college?
Do you think it's important that some characters leave the neighborhood and come back to visit or to stay? Why?
Discuss the author's use of narration. Why did the author choose to employ an omniscent narrator for some stories and a first-person narrator for others?
Back to Top