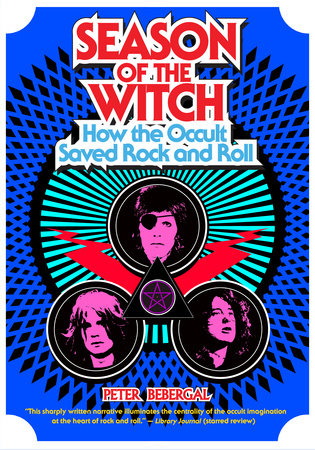 Season of the Witch
How the Occult Saved Rock and Roll
How the Occult Saved Rock and Roll
How the Occult Saved Rock and Roll
By Peter Bebergal

By
Peter Bebergal
By Peter Bebergal

By
Peter Bebergal
By Peter Bebergal

By
Peter Bebergal
Best Seller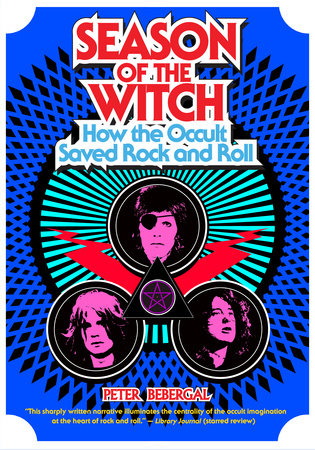 Paperback
Oct 13, 2015 | ISBN 9780399174964
Paperback

$16.95

Oct 13, 2015 | ISBN 9780399174964
Hardcover

$27.95

Oct 16, 2014 | ISBN 9780399167669
People Who Read
Season of the Witch

Also Read
Inspired by Your Browsing History
Praise
"A fascinating thesis reflecting the time when everyone seemed to give rock and roll the status of, if not a religion, then certainly that of a spiritual belief system.  Peter Bebergal's Season of the Witch brought it all back. It's an absorbing read deserving an important place in rock literature."
–Michael Moorcock

"Rather than turning in either a fanboyish rhapsody or a scholarly dissertation, he treads the line between those approaches. The result is passionate, informed, gripping and at times wonderfully lyrical."
—NPR
"This sharply written narrative illuminates the centrality of the occult imagination at the heart of rock and roll."
—
Library Journal (starred review)
"A thoroughly researched, absorbing, entertaining ride for anyone who's ever played the Beatles' 'White Album' backwards."
—
Andrea Shea, WBUR/ NPR
"Kudos to Bebergal for taming the wily spirits of rock long enough to capture their essence in this fascinating book. Perhaps more impressive is the book's comprehensiveness—from Delta blues to beatnik bluster to acid evangelists to metal overlords,
Season of the Witch
puts the hellfire in highbrow."
—The Contrarian
"Skillfully woven…will delight any music fan and music historian in equal measure."
—Spirituality Today (5/5 stars)
"This book is a glorious headlong rush into the dark, full of the electricity of the arcane.  I loved it."
–Warren Ellis
, author of
Gun Machine
and
Transmetropolitan
"From grimoires to topographic oceans, from heavy metal to hip-hop, Peter Bebergal tracks the Mysteries through half a century of popular music (and some underground noise as well). At once an overview of rock's mystic rebellions and a handy primer on modern esoterica,
Season of the Witch
suggests that we may need to round out the trinity of sex, drugs, and rock' n' roll with an additional deity: the occult, another primal portal to a re-enchanted world."
–Erik Davis
, author of
Led Zeppelin IV
and
Nomad Codes: Adventures in Modern Esoterica
"Told with clear-eyed scholarship and delectable anecdotes, Peter Bebergal's mind-expanding occult history opened my third eye to Rock & Roll's awesome power over human behavior. Rock & Roll will never sound the same to me again, and I'm glad about it."
–Mark Frauenfelder
, founder of
Boing Boing
"Bebergal displays an intelligent understanding of the interaction between religion and culture when he argues that the '"occult imagination is the vital force of rock-and-roll culture.' "
—Publishers Weekly
"Peter Bebergal has written of his own searching, reconciling spiritual aspirations and personal background, in
The Faith Between Us
and
Too Much To Dream
. Both are on my bookshelves. Here, in
Season Of The Witch,
Peter presents an overview of one "alternative influence" at work on some of those intending to change the world.

The world they hoped to change was a dangerous mess.
 
Now, half a century later…"
–Robert Fripp
"Unfussy but thoroughly documented…establishes the occult as a phenomenon above and beyond its debatable status of mere fad in the history of contemporary music."–Ralph Elawani, Exclaim!

"Anyone seeking shocking tales of demonic rock'n'roll would be best served looking elsewhere, but for someone interested in the interplay between music, culture and spirituality, Season Of The Witch is a revelatory and fascinating grimoire." –Record Collector
"A must-read for anyone who prefers their music loud, riff-driven, and loaded with lyrics about Satan, wizards, and mystical quests." —Cheryl Eddy, io9.com

"Bebergal, a Dungeons & Dragons playing rock fanboy and graduate of Harvard Divinity School has exactly the right pedigree for this line of work, infusing what could be a dry litany of rumors, hearsay, and matter-of-facts with a genuine love for the source material." –Cooper Berkmoyer, Flavorpill
Back to Top