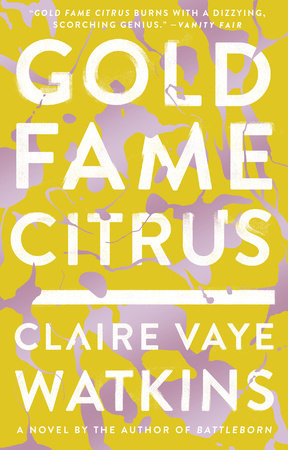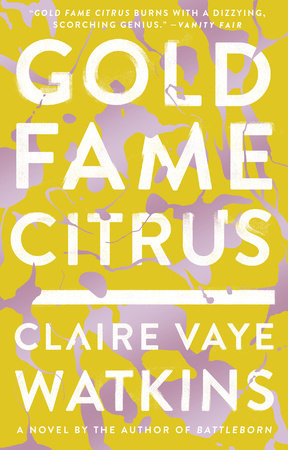 Oct 04, 2016
|
ISBN 9781594634246
Buy the Audiobook Download:
YOU MAY ALSO LIKE
QUICK VIEW
On Such a Full Sea
Paperback
$18.00
QUICK VIEW
The Resisters
Paperback
$16.95
QUICK VIEW
Even Cowgirls Get the Blues
Paperback
$18.00
QUICK VIEW
On the Beach
Paperback
$18.00
QUICK VIEW
Andrew's Brain
Paperback
$15.00
QUICK VIEW
The Sunlight Pilgrims
Paperback
$17.00
QUICK VIEW
Super Sad True Love Story
Paperback
$18.00
QUICK VIEW
Black Moon
Paperback
$16.00
QUICK VIEW
QUICK VIEW
If, Then
Paperback
$16.00
Praise
Praise for Gold Fame Citrus: 

"A beautiful debut novel . . Watkins' vision is profoundly terrifying. It's a novel that's effective precisely because it's so realistic — while Watkins' image of the future is undeniably dire, there's nothing about it that sounds implausible. . . She also writes with a keen understanding of human nature, both good and bad. She has a genuine compassion for the Angelenos who have chosen to remain in their dying, desiccated city as well as for the ones who have evacuated. . .The prose in Gold Fame Citrus is stunningly beautiful, even when — especially when — Watkins is describing the badlands that Southern California has become…One might think there are only a few ways to portray a landscape that has become, essentially, nothing, but Watkins writes with a brutal kind of beauty, and even in the book's darkest moments, it's impossible to turn away. It's an urgent, frequently merciless book, as unrelenting as it is brilliant. Watkins forces us to confront things we'd probably rather ignore, but because we're human, we can't." –Los Angeles Times

"[Gold Fame Citrus] burns with a dizzying, scorching genius." -Vanity Fair

"Watkin's narrative is mythic and speculative, its sediment forming and re-forming in lists, treatises, and reports. The writing, with its tough sentimentality, is reminiscent of Denis Johnson's, but Watkins has a style of mordant observation all her own." –Harper's

"A searing debut novel…Watkins is a master of tantalizing details…You can feel the grit in your teeth as this thirsty little family drives across an ocean of sand without a map or a prayer." –Washington Post

"With razor-sharp language and an eye for the devastating detail, the author conjures up a harrowing alternative to the former glory of the Golden State . . .her descriptions . . . achieve a kind of spooky poetry . . .Watkins never loses sight of Ray and Luz's tender humanity, rendering their predicament with an abundance of empathy, insight and wit, all of which is what makes Gold Fame Citrus a winner." –San Francisco Chronicle 

"One of the best depictions of contemporary California you're likely to find outside of Steinbeck." –BOMB

"Gold Fame Citrus is a sun-struck apocalyptic road trip of the California dream. . . working at the intersection between history and myth, reality and sheer imagination. And, refreshingly and believably, it's often very, very funny. . . This is not the nameless desolation of The Road, but a wildly vivid, arid world, radically altered and populated with characters whose multiple narratives propel the story." –Vogue

"At once beautiful and profoundly unsettling, [Gold Fame Citrus] sears its way into the brain, burning hot through the devastating journey and lingering long after the last page is turned." –Elle

"Watkins writes in a torrent, her language flooding the psychedelic landscapes of her ruined California. It's a book that could prove prophetic, and one already terrifyingly expressive of our cultural moment in which the slow-motion disaster of Western drought — a disaster more than a century in the making — has finally become un-ignorably visible… The achievement of [Gold Fame Citrus], as with the best apocalyptic fictions, is to make slow violence visible — to bring before our eyes the consequences of the invisible violence we do, and have done, to our lands and to ourselves." – Los Angeles Review of Books

"Watkins' vision — not just of a world broken by ecological disaster, but of the sorts of people who would thrive in that world — is mercilessly sharp. She's got a knife eye for details, a vicious talent for cutting to the throbbing vein of animal strangeness that scratches inside all of us." –NPR

"Claire Vaye Watkins's extraordinary debut novel, Gold Fame Citrus is set in a terrifying plausible future… [and] explores the power of both the natural world and mythmaking. The novel is in fact filled with seekers: people with a thirst not just for water, but also for purpose and faith. In that sense, Gold Fame Citrus is finally a religious story, a particularly American one—giving voice to the pioneer's faith in self-invention." –O, The Oprah Magazine

"[An] ambitious debut novel… [that] evokes the madness, glory, and opportunism of the desert with stunning lyrical flair." –Portland Oregonian

"Gold Fame Citrus features some of the meatiest sentences I've read in recent memory." –The Frisky
 
"All the strength and utility of "Gold Fame Citrus" come from the unrelentingness of its author's well-schooled gaze…[T]hat gaze encompasses more than tragedy, more than the chaos of civilization's gradual collapse. It also shares with us the feverish glow of a world lit only by fugitives' fires, the hallucinatory shimmer surrounding each individual grain of pulverized stone, each tiny tributary to an overwhelming flood of uncontrollable forces: heat, wind, dreams." –Seattle Times 

"Vivid and disturbing… a welcome addition to emerging 'cli-fi' genre . . .  Watkins' novel will certainly rank among this year's most acclaimed." –i09

"Gold Fame Citrus transcends genre. It's part bestiary, part cautionary tale, part omniscient mosaic—occasionally collective, often phantasmagoric…a postmodern post-apocalyptic masterpiece… [and] a watermark of what artists are capable of as we face climate change… This book begins with devastation, and what it becomes—vindication, vindictiveness, resurrection, ruination—is transcendent." –Southern Humanities Review

"A work of admirable scope and enviable talent. . . . Watkins has crafted a powerful, innovative and hallucinatory novel from a bleak yet all-too-real vision." –Minneapolis Star-Tribune

"There's no doubt that Watkins is wildly talented. Her prose often shimmers. . . . [and she] has an undeniably original voice that's as hard-edged as the desert Los Angeles that anchors this first novel." –Boston Globe

"An electrifying debut novel…Watkins' prose sizzles… Just as she turns a familiar landscape into a mysterious and foreboding geography, Watkins breathes new life into words we thought we knew well. Gold Fame Citrus will hypnotize you like a dream, and make you want to take a big swig of the water we have left." –Mother Jones

"Watkins'…[has a] gift for creating a world entire, from its landscape to its pop culture…[but] my favorite aspect of Gold Fame Citrus and the reason why I'll keep reading everything Watkins writes no matter its premise, is the way she portrays the Western landscape as complicit in the shaping of its people, history and ethos." –Dallas Morning News

"Claire Vaye Watkins' first novel is both an anti-myth and a legend in the making…With a melody both lonely and sonorous, Gold Fame Citrus is a love song for the desert and its bewitching undertow." —Ploughshares
 
"Prophecy lands differently when it comes in the form of a dazzlingly smart, brave, and nuanced novel . . . The world is not ending, the world is changing, and it's works like Gold Fame Citrus that can help us articulate literature's place in the larger conversation." –Full Stop

"[Watkins'] first novel is a stick of dynamite in an arid desert, placed with deliberation, scorching nearly every other book in its path… It's an apocalyptic fantasia written with a keen familiarity of the eerie, harsh landscapes of the desert. It is well worth your time." -Gawker

"Brutal and beautiful, Gold Fame Citrus immediately establishes itself as a dystopian masterpiece." –Bookriot

"In feverish prose, Watkins summons up a Southwest desiccated and mostly deserted…  [it's] worth reading merely for the beauty of Watkins' language, the specificity of her imagery and the acuity of her observations." –Orlando Weekly

"Watkins' world is both new and unfamiliar. . . where it does subvert the paradigm is in the reversal of a tale of the land as a male story. The landscape of Watkins' novel is undeniably female, not only in its symbols—Luz, her mother and Ig— but in [her] phantasmagoric imaginings." –Salon

"This splendid debut novel is really a reinvigorated version of the classic tales of settlement on the American frontier…Watkins potently evokes the nightmarish. . . and the spectacular.  . . The pulpy drama  . . . is always engaging. But it's the naturalistic portrait of an American Southwest in extremis that makes Gold Fame Citrus stand out." –The Wall Street Journal

"So deliciously, devastatingly good, I want to melt it down and sip it through a straw." –Buzzfeed Books

"Stunning." –Steamboat Today

"Watkins writes in prose that borders on poetry, capturing both the hardness and the beauty of her imagined landscape in ways that make each page of her novel sing with a sense of place… a moving American epic that explores the role stories, place and our closest relationships serve in shaping our selves." –Shelf Awareness

"Sharp and provocative…Watkins is a magnificent writer." -Newsday

"[Watkins'] feverish, heat-addled language…brings to life the beginning of the world's last days in ways that are both frightening and beautiful… Gold Fame Citrus is thoroughly captivating and haunting, just as all sinister prophecies should be." –Philadelphia Inquirer

"A blockbuster novel." –Entertainment Weekly

"[Gold Fame Citrus] sparkles with weird, disturbing beauty…an impressive debut." –Santa Fe New Mexican

"A blistering tour de force." –Think Progress

"[A] luminous debut novel." –BookPage

"A stunning read, its language rich and complex, and its story frightening and poignant." –Hello Giggles

"Instantly entrancing, alluring as a mirage, and filled with peril, mystery, sandstorms, the occult, and a cast of nuanced characters." –Los Angeles Magazine

"Scarily timely." –The Hollywood Reporter

"Gold Fame Citrus walks a fine line with balletic grace. As brutal a portrait of nature as it is, it never acts like a clarion call for change or a scolding treatise about conservation…page-turning." –Arizona Republic

"Watkins's imagination and ingenuity are astounding…. Where many futuristic novels settle for the menace of the unknown…Gold Fame Citrus is intimate with the history of disaster. Watkins traces the past onto her landscape and her characters with permanent ink…A cautionary environmental vision [and] unflinching critique of our need to believe in myths (especially about each other) when hope seems lost." –Barnes & Noble Review

"A glaring speculation into a future that doesn't seem quite so unthinkable…moving and original." –Pop Sugar

"Watkins is at her best here, characterizing the easy slide from isolation to the open arms of an accepting, if ultimately wayward, community. . .  Gold Fame Citrus is a different kind of dystopia; one that illuminates the spiritual coping mechanisms of those living in an apocalyptic wasteland." –Huffington Post

 "A gripping, provocative debut novel." –Boston Globe

"Watkins is at her most vivid when she takes the role of anthropologist, tracing the residual effects of the desert that swallowed the state. She nails, with a thoroughness edging on cynicism, the human interest stories churned out by journalists visiting the desert's last stoic and doomed townships." –The New Republic 

"Think Joan Didion meets JG Ballard, with a dash of Mad Max." -Vice

"Watkins's prose is gritty and tender, and her lush writing paints a terrifying and moving picture of what it would mean to navigate a waterless world." –Travel and Leisure

"An enthralling debut novel… [Watkins] is an interpreter for the Californian dream… [as well as] remarkably attuned to the resentment outsiders often feel toward residents. . . Watkins . . .captures California's peculiar magic, the wild and beautiful hope that has attracted people." –Slate

"Watkins's language and story—at times saturated with chimeric imagery, at others with environmental backstory—never feels cooled by the long shadows her literary forebears cast. . . The startling nowness of Watkins's novel doesn't dilute its cataclysmic premise, but rather ups its voltage." –Slant Magazine

"Watkins has proven herself capable of synthesizing the contradictions of the American West—its sublime, strange, gorgeous, and grisly elements—into fiction that is compelling and smart."  -Public Culture

A "Book We're Reading" –Marie Claire

"Watkins is a ridiculously talented writer… so it's no surprise at all that her first novel…has already received unanimous raves…Gold Fame Citrus is one book I will happily shell out hardcover money for the second it comes out." –The Gloss

"Watkins' writing is hypnotic, drawing readers into a fevered lullaby that feels fantastical and all too-real simultaneously. This is the kind of novel that readers will want to consume in great gulps …but Gold Fame Citrus is best read slowly, allowing the words to wash over you." –BookPage

"Sure to cement the young writer's literary reputation." –San Antonio Express-News

"Watkins has written a gorgeous and gripping book, rich with detail and psychological insight." -Vegas Seven

"Psychedelic and scarily real…Watkins knows that if you want to save the world, you first have to make readers care about saving the humans." -Entertainment Weekly

"Riveting.. .Watkins is a sharp-eyed portraitist with the instincts of a master storyteller. . .  even her minor characters leap off the page…a powerful new voice in American literature." –The Millions

"A promising new writer …one to watch. Watkins' great achievement here is her vivid imagination in creating this world where desolation mixes with nostalgia and hope." –Wichitia Review

"A tour-de-force first novel blisters with drought, myth, and originality….On each page [Watkins] spikes her novel with a ticking, musical intelligence… Praised for writing landscape, Watkins' grasp of the body is just as rousing. Into the vast desert she sets loose snakes and gurus, the Messianic pulse of end times. Critics will reference Annie Proulx's bite and Joan Didion's hypnotic West, but Watkins is magnificently original." –Kirkus (starred) 

"Spectacular… In Margaret Atwood mode, Watkins spikes this fast-moving, high-tension, sexyecocrisis saga with caustic parodies and resounding allusions that cohere into a knowing and elegiac tale of scrappy adaptation and epic loss." –Booklist (starred) 

"Packed with persuasive detail, luminous writing, and a grasp of the history (popular, political, natural and imagined) needed to tell a story that is original yet familiar, strange yet all too believable." –Publisher's Weekly (starred) 

"In her powerful depictions of the scorched and merciless landscape, Watkins realizes a genuine nostalgia for our lost living world, and the American West in particular…[W]ith its damaged and complicated heroine and multiple voices, shifting perspectives, and unconventional narrative devices, [Gold Fame Citrus] is a wholly original work."– Library Journal (starred)

"Exhilarating, upsetting, delirious, bold, Gold Fame Citrus is a head rush of a novel and establishes Claire Vaye Watkins as an important new voice in American literature." –Louise Erdrich, author of The Round House
 
"An extraordinary novel: relentlessly brilliant, utterly fearless, and often savagely funny. Watkins explores the maze of human thirst in all its forms. Here's a love story that tracks the mutating hopes of two lost souls, in prose that is fever-bright and ferociously assured, against the backdrop of the Great American Desert. More confirmation that Watkins is one of the brightest stars in our firmament."
–Karen Russell, author of Swamplandia!

"Gold Fame Citrus is a sun-hammered fever dream, not unlike the shimmering, sweltering Southwest it depicts. Your heart will be wrung out by the journey of Luz, Raymond, and Ig. Your imagination will feast on the assured depiction of a near-future that is burnt to a crisp. And you'll hope it's all a mirage as Watkins renders a hot and very plausible future with the frightening force of a burning inevitability."
–Smith Henderson, author of Fourth of July Creek

"An unforgettable  journey into a hauntingly imagined near-future. With her mind-bending vision, breathtaking storytelling and utterly original voice, Claire Vaye Watkins is one of my favorite writers." – Ruth Ozeki, author of A Tale for the Time Being

 "A gripping, audacious novel, plausibly imagined in all its remarkable details.  With Claire Vaye Watkins there was never promise: it was achievement from the start, and this book repays her admirers in spades."
–Thomas McGuane, author of Crow Fair
Get the latest updates about Claire Vaye Watkins
And go from well-read to best read with book recs, deals and more in your inbox every week.
And go from well-read to best read with book recs, deals and more in your inbox every week.
Dismiss
Thanks!
Something awesome is on its way.
Back to Top
Become a Member
Start earning points for buying books! Just for joining you'll get personalized recommendations on your dashboard daily and features only for members.
Find Out More
Join Now
Sign In
Success!
Your account has been created. Upload book purchases, access your personalized book recommendations, and more from here.