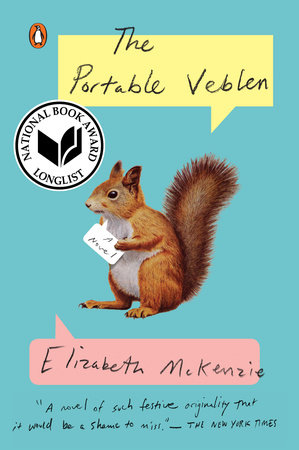 The Portable Veblen
A Novel
A Novel
Best Seller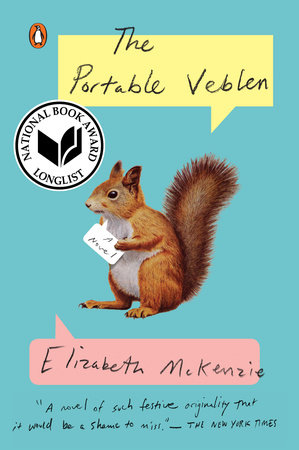 Nov 01, 2016
|
ISBN 9781101981597
YOU MAY ALSO LIKE
QUICK VIEW
Who Will Run the Frog Hospital?
Paperback
$16.00
QUICK VIEW
Knockemstiff
Paperback
$16.95
QUICK VIEW
QUICK VIEW
A Map of the World
Paperback
$15.95
QUICK VIEW
American Rust
Paperback
$17.00
QUICK VIEW
The Dangers of Smoking in Bed
Paperback
$17.00
QUICK VIEW
The Lay of the Land
Paperback
$16.95
QUICK VIEW
Nobody's Fool
Paperback
$18.00
QUICK VIEW
The 158-Pound Marriage
Paperback
$17.00
QUICK VIEW
The Accidental Tourist
Paperback
$17.00
Praise
"A literary novel with a squirrel subplot may sound improbable, yet McKenzie adroitly skirts the line between plausible and the absurd. Veblen, the book's heart and spirit, wins us over with her sense of wonder about the natural versus the man-made world — a wonder that suffuses the entirety of this quirky, engaging novel." —The New York Times Book Review

"McKenzie has crafted a story that beneath an entertaining, clever surface, is deep and wise and complicated….With so light a touch and yet more serious and beautiful and relevant than many a weightier novel, The Portable Veblen has the feel of an instant, unlikely classic." —Jeff VanderMeer in the Los Angeles Times


"Riotous …A delightfully knotty synthesis of psychological study, philosophical inquiry, romantic page-turner, and economic critique."—Electric Literature
 
"A delightfully cockeyed love story that enfolds two splendidly dysfunctional families and a winningly persistent squirrel."—More Magazine
 
"'Funny and engaging and imbued with a very particular sensibility that might be described as 'quirky' if that term had not become trivialized by its overuse; despite being full of jokes and turns of phrase that make a reader laugh out loud…The Portable Veblen is a serious and, at times, sad book. And there is a talking squirrel."—Chicago Reader


"Full of vibrant passages that practically leap off the page and twirl around the room. Veblen and Paul become richer, more nuanced characters as the book continues, thanks in part to McKenzie's deft and amusing exploration of the conflicts between them and their parents. She also unleashes her satirical powers on Big Pharma and the defense industry."—Dallas Morning News

"[Veblen] is a rich, well-rounded character…McKenzie…weaves in historical and cultural factoids about the Bay Area that truly make the novel zing…Satirical, funny, and satisfyingly clever, The Portable Veblen weaves multiple narrative threads into a seamless whole."—KQED

"Irresistibly comedic…McKenzie…has an appealingly light, playful touch…'The Portable Veblen' is about how very squirrelly family dysfunction can be — and about how, as many of us never get tired of reading, love sometimes can conquer all."—Seattle Times

"Modern romance, Big Pharma, and one very intuitive squirrel collide in McKenzie's clever, winningly surreal novel…McKenzie has a pitch-perfect ear for a certain kind of California kookery…It's hard not to be charmed by Veblen's whimsy. Grade: A–."-Entertainment Weekly  

"A sweet, sharply written, romantic comedy about the pitfalls of approaching marriage… McKenzie imbues her characters with such psychological acuity that they, as well as the off-kilter world they inhabit, feel fully formed and authentic…With its inspired eccentricities and screwball plot choreography, McKenzie's novel perceptively delves into that difficult life stage when young adults finally separate—or not—from their parents.  In the end, The Portable Veblen is a novel as wise as it is squirrely."—Maureen Corrigan, NPR's Fresh Air

"One of the great pleasures of reading Elizabeth McKenzie is that she hears the musical potential in language that others do not…Her dialogue has real fizz and snappity-pop. It leaves a bubbled contrail. Ms. McKenzie's ear is not her only asset. There is also her angled way of seeing things. The hats on all of her characters sit slightly askew…For all its charm, bounce, radiant eccentrics and diverting episodes involving drug companies and squirrels, that is what 'The Portable Veblen' is about: shaking the demented ghosts of our youth so that we can bind with clean spirits to someone in our adulthood…A novel of such festive originality that it would be a shame to miss."—Jennifer Senior, The New York Times


"A winning satire of contemporary mores…McKenzie has written a funny, deeply critical book with the heart of a cynic and the texture of a soufflé."—Boston Globe

"A smart charmer about a brainy off-center couple who face up to their differences — and their difficult, eccentric families — only after they become engaged…[The Portable Veblen] is ultimately a morality tale about the values by which we choose to live…McKenzie's delightfully frisky novel touts…a world in which 'underdogs and outsiders' like Thorstein Veblen, her appealing cast of oddballs and nonconformists, and even bushy-tailed rodents feel 'free to be themselves.'"—NPR.org

"Clever…This novel is like vegetables cut on a bias: slightly skewed, pleasing to look at, and, thanks to its skilled chef, a joy to consume…A funny and well-written novel about family, love and the perils of misplaced ambition."—BookPage

"Ambitious…[McKenzie's domestic scenes] accurately and funnily capture the complexities of modern families, made knotty by the work we're encouraged to do in our individual lives. Think The Corrections meets The Wallcreeper—where the warring wants of career-centric success and familial harmony converge, tension and comedy emerge."—Huffington Post

"[A] funny, philosophical novel…Oddball characters and plot turns abound, including talking squirrels and bureaucratic ironies worthy of 'Catch-22.' But a sober question occupies its core: Do our parents' best intentions do us harm?"—Minneapolis Star Tribune

"A wild ride that you will not want to miss… rambunctious and sober, hilarious and morbid, [with] strong echoes of Joseph Heller and Kurt Vonnegut…This unforgettable novel offers a heartfelt and sincere investigation into the paradoxical nature of love, familial as well as romantic."–Elizabeth Rosner, San Francisco Chronicle

"No matter how many novels you've read, it's safe to say you've never read a novel like The Portable Veblen. The Portable Veblen brings together its disparate themes and worlds with confidence and dexterity, making the standard well-made novel seem as timid as—well, as a squirrel."- Slate

"McKenzie skewers modern American culture while quoting from a panoply of voices, with Frank Zappa, Robert Reich, and, of course, Thorstein Veblen among them. The result is a wise and thoroughly engaging story in a satirical style comparable to the works of Christopher Moore and Carl Hiaasen."—Library Journal (starred review)


"Will these kind, if somewhat confused, young people find their ways out of the past and to each other and a happy shared future? The reader can't help rooting them on. McKenzie's idiosyncratic love story scampers along on a wonderfully zig-zaggy path, dashing and darting in delightfully unexpected directions as it progresses toward its satisfying end and scattering tasty literary passages like nuts along the way." —Kirkus, starred review

"Offbeat and winning…McKenzie writes with sure-handed perception, and her skillful characterization means that despite all of Veblen's quirks—she's an amateur Norwegian translator with an affinity for squirrels—she's one of the best characters of the year. McKenzie's funny, lively, addictive novel is sure to be a standout."—Publishers Weekly (starred review)

"A clever morality tale set against the verdant paradise of Palo Alto.  McKenzie's story of an ambitious young neurologist and the seductions of the darker side of the medical economy is both incisive and hilarious." -Abraham Verghese, New York Times bestselling author of Cutting for Ston 

"Man oh man, do I love this book! I have never read anything like it. I can't believe how funny it is given that we're dealing at times with pharmaceutical fraud, irreparable brain injury, and comatose veterans. (Family dysfunction, on the other hand, is always funny)… Audacious, imaginative, and totally wonderful: The whole books zips and zings."-Karen Joy Fowler, PEN Faulkner winner for We Are All Completely Beside Ourselve 


"The Portable Veblen is the squirreliest novel I ever read.  I enjoyed it completely."-Ursula K. Le Guin, author of The Dispossessed and The Left Hand of Darkness
 

"Wildly entertaining and overflowing with piercing emotional truths, this audacious novel gives us an irresistible portrait of a sensitive young woman navigating the kaleidoscopic freakscape we call modern America. With casual aplomb, Elizabeth McKenzie tosses off sentences that will delight and bowl you over with their insight and hilarious truth-telling….An elegy for our dying empire, full of wisdom and finely tuned grace notes about the secrets of the human heart."-Gabe Hudson, author of Dear Mr. President


"The Portable Veblen is an authentically strange—and genuinely funny—depiction of how the dysfunctions of childhood stubbornly follow us into adulthood."-Teddy Wayne, author of The Love Song of Jonny Valentine and Kapitoil 


"Only Elizabeth McKenzie could make a novel—a great novel—with such weird and wonderful ingredients. The Portable Veblen gives us squirrels, love, family dysfunction, sex, marriage, medical science, and something called the Pneumatic Turbo Skull Punch, all swirled into a funny, beautiful, heartbreaking story. The Portable Veblen is about all of these things but mostly it's about that most important of subjects: what it is to be human."-Christian Kiefer, author of The Animals and The Infinite Tides


"A deeply observed universe where heroines are named for economists and the high stakes of capitalism are set to collide with the chatter of small wild animals. In a work both humorous and wrenching, everything casts multiple shadows while McKenzie tracks the distance between individuals, measuring the wildly human hope that love, might in the end, conquer all." —Samantha Hunt, author of The Invention of Everything Else and Mr. Splitfoot


 "In scalpel-sharp prose, The Portable Veblen's gleefully perverse narrator seduces us with the story of a charming young woman soon to wed a handsome doctor. But strange shadows flicker just off the page and then begin to bleed into the story of the romance. The ethics of parenting, the disasters of war, corporate greed, the essential meanings of translation and invention, and the sacrifices of self to wedlock: these are some of the themes that surface in this extraordinary book. Oh, and also–what really is the soul of a squirrel? I was knocked out, giddily so, by The Portable Veblen."-Nelly Reifler, author of Elect H. Mouse State Judge and See Through


"The Portable Veblen is a funny, modern love story, but also the story of everything that comes before love, its dark prerequisites and murky prequels…A wonderfully insane novel with talking squirrels and lunatic parents and comedic plot twists…populated by some of the most real, fully written characters I've met on any page. Don't miss it."-Lydia Netzer, author of How to Tell Toledo From the Night Sky 



Praise for Elizabeth McKenzie's Stop That Girl

"Vibrant and clear, these connected stories present a portrait of a family whose members are funny and hurtful and real, and watching them touched by time and change is very affecting. There is a lovely expansiveness here; surrounding the humor is the recognition that life is a serious deal."-Elizabeth Strout, author of Olive Kitteredge 


"McKenzie is an accomplished humorist and a developed stylist, and she wastes no time dazzling the reader with her clean direct language, her simple but searing use of metaphor and her unflinching eye.  The paragraphs are put together with razor sharp concision, and the book is rich in both narrative and linguistic surprise.  An original."-The New York Times Book Review 



Praise for Elizabeth McKenzie

"A wonderful talent."-Jane Hamilton, author of The Book of Ruth and The Map of the World 
 

"McKenzie has a wonderful eye – and a relishing appetite – for the craziness that is everywhere in ordinary things if you know how to look."-Tessa Hadley, author of Married Love and Accidents in the Home 
Get the latest updates about Elizabeth McKenzie
And go from well-read to best read with book recs, deals and more in your inbox every week.
And go from well-read to best read with book recs, deals and more in your inbox every week.
Dismiss
Thanks!
Something awesome is on its way.
Back to Top
Become a Member
Start earning points for buying books! Just for joining you'll get personalized recommendations on your dashboard daily and features only for members.
Find Out More
Join Now
Sign In
Success!
Your account has been created. Upload book purchases, access your personalized book recommendations, and more from here.