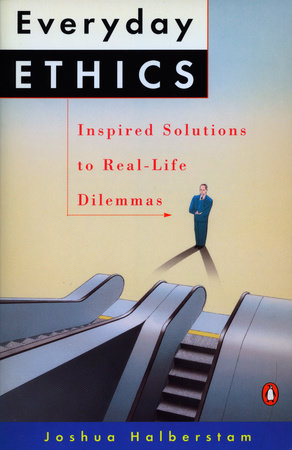 Everyday Ethics
Inspired Solutions to Real-Life Dilemmas
By Joshua Halberstam

By
Joshua Halberstam
Best Seller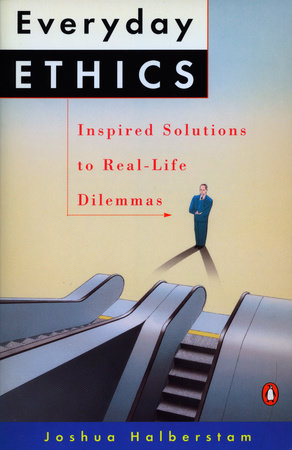 Paperback
Apr 01, 1994 | ISBN 9780140165586
Paperback

$15.00

Apr 01, 1994 | ISBN 9780140165586
Buy the Paperback:
People Who Read
Everyday Ethics

Also Read
Inspired by Your Browsing History
Table Of Contents
Preface
Introduction

Part I. The Morality of Relationships
1. Friends and Foes
Do You Like Your Friends?
Are Your Friendships Mutual?
Are You Friends at a Distance?
Special Friends
When a Friendship Is Over
Enemies
A Final Word on Hatred

2. The Morality of Romance (and a Bit about Sex)
Romance
And a Bit about Sex

3. Creeps and Saints
The Philosophy of Creephood
The Traits of Creephood
When the Saints Come Marchin' In
Your Saintly Habits

Part II. The Morality of Expression and Emotion
4. Talk
Conversation: The Three Levels of Talk
Head-Talk Versus Heart-Talk
Argument: Look Who's Talking
The Principle of Falsifiability
The Closed-System Trap

5. Emotions
The Seven Deadly Sins Revisited
Emotions and Character
Green with Envy
Taking Control of Your Emotions

Part III. The Morality of Making Judgments
Making Judgments: An Introductory Comment
6. Judging Yourself
Stop Squeezing Every Pimple on Your Personality
You Are Your Convictions
Moral Guilt
Moral Pride

7. Judging Others
Who Are You to Judge?
Three Common Evasions
Moral Projection: You Believe What You Are
You Can't Read People Like a Book
Judging Others: The Method

8. Judging the Issues
The Background: Three Confusions About Moral Judgment
The Process: Cherish the Controversy
The Courage of Your Convictions

Part IV. The Integrity of Your Values
9. Nine Misleading Moral Clichés (and Their Cures)
What Goes Around Comes Around
Let Your Conscience Be Your Guide
All's Fair in Love and War
All Religions Teach the Same Basic Moral Truths
Natural is Morally Better
Love Humanity
There are Two Sides to Every Moral Issue
You Are Responsible for Your Disease
Moral Values Can't Be Taught

10. The Value of Your Values
Reevaluating: What Do You Want?
Instrumental and Intrinsic Goods
Invent Your Future, Reinvent Your Past
The Pluralism of Ideals
On the Virtue of Being Confused
Who Is Leading Your Life?

Back to Top