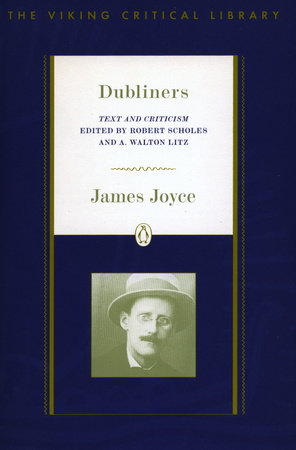 READERS GUIDE
Questions and Topics for Discussion
INTRODUCTION

In 1914, the same year that The Egoist began to serialize James Joyce's A Portrait of the Artist as a Young Man, Joyce published another kind of portrait—Dubliners, a collection of fifteen short stories. In its representation of what one character calls "Dear dirty Dublin," the book is not only a picture of the city of Joyce's youth, it is also an illustration of the contrary impulses of the exiled artist. What is dear in Dublin stands in Joyce's vision alongside the dirty, and Joyce's tour of the city spares us nothing. The same "glow of a late autumn sunset" that covers green and lush walks also "cast[s] a shower of kindly golden dust on the untidy nurses and decrepit old men" (p. 65). Joyce is as likely to describe a man passed out in a pub bathroom as lamplight falling on the curve of a girl's neck.
In the story "A Little Cloud," Gallaher, who is returning from London, designates Dublin as both "dear " and "dirty." Like Joyce, Gallaher brings an outsider's perspective to the city, raising the question of whether clarity and objectivity are best attained from a distance. Joyce left Dublin in 1904, frustrated with the oppressive twin forces of religion and politics that paralyzed the soul of the city. He called Dubliners a "chapter in the moral history of my country." Despite his confession in a letter that "the odour of ashpits and old weeds and offal hangs round my stories," these are not the bitter tales of an exiled writer seeking revenge against the city that threatened to stifle his creative talents. Instead, the irony, the anger, and the heartbreak found in these stories express as much affection as critique. While Joyce clearly denounces Farrington's violence in "Counterparts," in "The Dead" he depicts a complicated marriage filled with secrets, but also with love. Because it intermingles hope and despair, Dubliners cannot be reduced to an unequivocal statement about the city and its dwellers.
A number of phrases in Dubliners suggest the narrowness and limits against which the characters struggle. An ever present "channel of poverty and inaction" (p. 35) often leads to a life of "commonplace sacrifices closing in final craziness" (p. 33). In many of the stories, husbands feel "savage and thirsty and revengeful" (p. 88), while wives "after a quarter of a century of married life [have] very few illusions left" (p. 156). Trapped by alcoholism, sexual repression, and poverty, Joyce's citizens cannot summon Gallaher's energy to "revolt against the dull inelegance" of the city (p. 68). When characters make an effort to escape their conditions, they often end up in prisons of their own making. This kind of dead end is best illustrated by the fact that the book is framed by the death of a priest in the first story, and the death of a childhood sweetheart in the last.
Joyce establishes the thematic significance of paralysis on the very first page: "Every night as I gazed up at the window I said softly to myself the word paralysis" (p. 1). From Eveline's hesitation about running away with her lover to Bob Doran's entrapment in marriage, Joyce's characters usually are incapable of taking decisive action to improve their lives. At the conclusion of these stories, we are often left wondering how much of a character's plight is due to the milieu Joyce so specifically illuminates and how much is due to human qualities that transcend environment. Faced with religious intolerance and political inefficacy, it might be far easier to submit to paralysis than to fight a losing battle like that of Mrs. Kearney in "A Mother."
However, Joyce's portrait of Dublin is not entirely bleak. The sympathy he shows for Stephen Dedalus as well as Leopold and Molly Bloom in Ulysses finds its beginnings in Dubliners. Joyce could simply have condemned Dublin, as Gallaher does, or followed the example of Duffy, who, in "A Painful Case," seeks refuge in brittle, lonely seclusion. But Joyce chose the more challenging course of grappling with the inherent ambivalence of exile, confronting and accepting the loss of the "dear" in "dirty Dublin."
To present this range of feeling and attitude, Joyce casts a wide net, arranging the stories so they move from childhood to adulthood and from public to private. In his thoroughness, Joyce is as tender as he is fierce. The first Dubliners we meet are curious children hungry for adventure and love. There are young boys with romantic visions of chivalry and young women longing to escape. While youthful dreams quickly fade for the adults in later stories, Joyce shows us that their defeat is not unavoidable. Characters like Mr. Kernan in "Grace" and Farrington in "Counterparts" help to create their own despair. But Joyce's focus on community calls us, in turn, to ask what strength we can find together in the places we call home. Moreover, Joyce invigorates Dublin with the poetry of his prose, "falling faintly . . . and faintly falling" (p. 225), like the snow at the end of "The Dead," upon all of the city's inhabitants, elevating their condition by virtue of his art.
ABOUT JAMES JOYCE
James Joyce was born on February 2, 1882, in a suburb of Dublin. He was one of twelve children raised in poverty by a father who wasted the family fortunes and a mother who died at the age of forty-four. At the age of six, Joyce was sent to a Jesuit boarding school, Clongowes Wood College. In 1902, he graduated from University College in Dublin, where he studied foreign languages and philosophy.
Immediately after graduation, Joyce left Dublin to study medicine in Paris, but he returned to Ireland in 1903 to see his dying mother. In June 1904 he met his future wife, Nora Barnacle, and they moved to Trieste and then Zurich, where he taught languages at the Berlitz school. They had two children—Giorgio, born in 1905, and Lucia, born in 1907.
Joyce's first major work, A Portrait of the Artist as a Young Man, a novel published in serial form beginning in 1914, established his literary reputation. The book was groundbreaking in its form, depicting the growth of an Irish Catholic boy solely through the consciousness of the narrator. Joyce also published a collection of short stories, Dubliners, that same year, and began work on what many critics consider his crowning achievement, Ulysses. Finally published in 1922, Ulyssesearned Joyce charges of obscenity and did not appear in an American edition until 1934. The novel, which loosely follows the structure of Homer's Odyssey, traces one day in the lives of Stephen Dedalus, the hero of Portrait, and Leopold and Molly Bloom, a Dublin couple. Encyclopedic in both its use of narrative techniques and its attention to the details of everyday life,Ulysses redefined the novel as a genre. In 1939, Joyce completed his last book, Finnegans Wake, a radical, extravagant experiment in language and narrative. Joyce died in Zurich in 1941.
DISCUSSION QUESTIONS
In what ways are characters in Dubliners paralyzed? What forces render them unable to act?
 
Is "Araby" a conventional love story?
 
At the end of "Araby," why does the narrator say his eyes "burned with anguish and anger" (p. 28)?
 
In "Eveline," why doesn't Eveline run away with Frank?
 
What does Joyce mean in "After the Race" when he describes Dublin as a city that wears "the mask of a capital" (p. 39)?
 
How would you describe the relationship between Corley and Lenehan in "Two Gallants"?
 
What is the significance of the small gold coin Corley is holding at the end of "Two Gallants"?
 
In "The Boarding House," why does Bob Doran feel compelled to marry Polly?
 
In "Counterparts," why is Farrington so angry?
 
In "A Painful Case," why does James Duffy resist his passion for Emily?
 
What is the significance of the poem Mr. Hynes recites near the end of "Ivy Day in the Committee Room"?
 
In "The Dead," the narrator describes Gretta listening to music on the stairs as "a symbol of something" (p. 211). Is Gretta a symbol of anything? And, if so, of what?
 
Once Gretta falls asleep after telling Gabriel about Michael Furey, why does Gabriel feel so alienated from her?
FOR FURTHER REFLECTION
To what extent does one's birthplace determine one's identity or destiny?
 
Is individual freedom inevitably limited by the social customs of a particular place?
RELATED TITLES
Sherwood Anderson, Winesburg, Ohio (1919)
A collection of interconnected stories, this highly influential work portrays life in small-town America as alternately strange, desperate, and joyful.
Ernest Hemingway, In Our Time (1925)
The author's first book of stories launched his career as a master of minimalist style with a keen eye for realistic detail.
Henrik Ibsen, Hedda Gabler (1890)
A strong influence on Joyce, Ibsen portrays the clash between aristocratic and bourgeois values in a drama centering on a woman's tragic quest for individual freedom.
Edna O'Brien, Lantern Slides (1990)
This collection of twelve stories set in Ireland and England explores the spiritual confinements of provincial life.
William Trevor, The Collected Stories (1992)
One of the great Irish prose writers of the twentieth century, Trevor sets many of his stories in the Irish countryside and small towns as he examines themes of pain, defeat, and love.
Back to Top