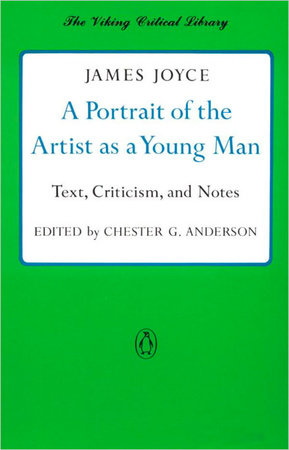 A Portrait of the Artist as a Young Man
Text, Criticism, and Notes
By James Joyce
Edited by
Chester G. Anderson
By
James Joyce


Edited by

Chester G. Anderson




Best Seller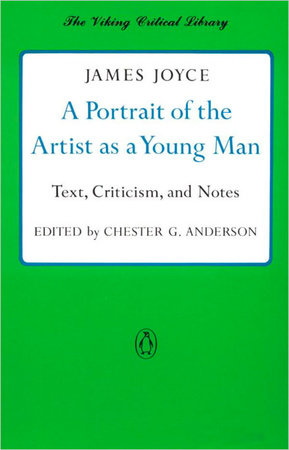 Jun 30, 1977
|
ISBN 9780140155037
Buy the Paperback:
Inspired by Your Browsing History
Buy other books like A Portrait of the Artist as a Young Man
Praise
"Joyce's work is not about the thing—it is the thing itself."—Samuel Beckett

"Admirable."—Jorge Luis Borges
Table Of Contents
A Portrait of the Artist as a Young ManEditor's Preface
I. A Portrait of the Artist as a Young Man: The Text
A Note on the Text

Related Texts by Joyce
Editorial Note
A Portrait of the Artist
Epiphanies
From Stephen Hero: Emma Cleary; I Will Not Submit; The Convent Girls; You Are Mad, Stephen; Epiphanies
The Trieste Notebook
From Ulysses: Let Me Be and Let Me Live; The Only True Thing in Life?; Nothung!
From Finnegans Wake: Shem the Penman; The Haunted Inkbottle

III. A Portrait of the Artist as a Young Man: Criticism
Early Comment:
Ezra Pound, Letter to Joyce
Edward Garnett, Reader's Report
Ezra Pound, James Joyce: At Last the Novel Appears
Diego Angeli, Extracts from Il Marzocco
H. G. Wells, James Joyce
The Egoist, Extracts from Press Notices
The Egoist, James Joyce and His Critics: Some Classified Comments

The Tradition and the New Novel:
Maurice Beebe, The Artist as Hero
Irene Hendry Chayes, Joyce's Epiphanies
Frank O'Connor, Joyce and Dissociated Metaphor
William York Tindall, The Literary Symbol

General Readings:
Richard Ellmann, The Growth of Imagination
Harry Levin, The Artist
Hugh Kenner, The Portrait in Perspective
Kenneth Burke, Definitions

Controversy: The Question of Esthetic Distance:
Editor's Introduction
Wayne Booth, The Problem of Distance in A Portrait of the Artist
Robert Scholes, Stephen Dedlaus, Poet or Esthete?

IV. Explanatory Notes
Chronology
Topics for Discussion and Papers
Selected Bibliography
Back to Top