The Vivisector Reader's Guide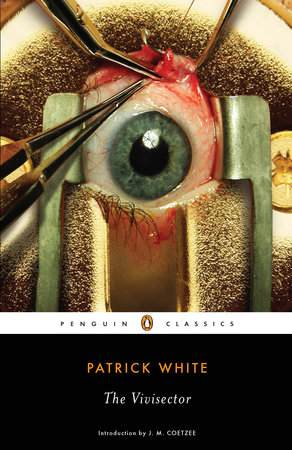 The Vivisector Reader's Guide
READERS GUIDE
Questions and Topics for Discussion
An Introduction To The Vivisector

The Australian painter Sidney Nolan, to whom The Vivisector was dedicated, often claimed that White's novel was based on his life. White disavowed any connection between Nolan and the novel's main character, Hurtle Duffield. During his stint living in London of the 1930s, White surrounded himself with painters and artists; their lives and ambitions must have partly inspired Duffield. The paintings described in the novel bear a strong resemblance to those of Francis Bacon, the British artist who was in fact busy on a series of paintings of dismembered medical specimens at the time White began writing The Vivisector. In addition, Bacon's fame had spawned a group of Australian imitators in the 1960s. These influences notwithstanding, Hurtle Duffield represents more than a specific artist or group of artists—he represents the modern artist, whether a painter, musician, or novelist. His life and career act out a complicated heroism, which share similarities with Voss's in its suffering and ambiguous redemption.
The suffering, lonely artist has been a common theme among writers and painters since at least the Romantic period. The appropriately named Hurtle Duffield is certainly lonely and often misunderstood. Yet he also inflicts hurt with quite literally deadly and unconscionable accuracy. This is apparent very early when his mother, just before she packs him off to his adopted family, the Courtneys, describes one of his early drawings as "the Mad Eye . . . aiming its arrows the bow-shaped eye was at the same time the target, or bull's-eye" (p. 69). His stepsister, Rhoda, whose humpback is repeatedly and cruelly scrutinized by Duffield, refers to his artistic methods as vivisection. The childhood scribble of his that haunts him throughout his life—"God the vivisector / God the artist / God"—stresses his awareness of the cruelty of his vision and his conflation of God and artist.
Duffield has no inclination to form any meaningful relationships. People, whether they are family, lovers, or perfect strangers, exist solely as potential subjects for his art. What is remarkable about the novel is that despite the often repellent nature of its protagonist, we are drawn to follow the arc of his career and persuaded of the magical qualities of his art. Furthermore, as J. M. Coetzee comments in the introduction, "There is something absurd at the heart of the enterprise of embodying a metaphysical vision in a series of paintings that exist solely in the medium of words." It is a testament to White's verbal and narrative powers that the reader is invested in both Duffield's life and his work.
Part of the reason we are convinced of Duffield's powers as an artist is that he approaches his vocation with a monklike commitment. He lives in squalor, even after he achieves international fame. He cares little for money or the sensual pleasures of life. Even sex becomes only a means to attain artistic vision, as the narrator comments on his sexual awakening with the prostitute: "[Duffield] was seducing Nance Lightfoot into giving him, not money, not her actual body so much as its formal vessel, from which to pour his visions of life" (p. 198). We sense progressively in the novel that his vocation is larger than himself, that his visions and the paintings that represent have tremendous significance.
In some respects these visions are based in elemental psychology. Late in the novel he says to Rhoda, in reference to his childhood painting of his tutor's suicide: "I was trying to find some formal order behind a moment of chaos and unreason" (p. 515). This would apply to all or most of his paintings. Each attempts to create a formal aesthetic experience out of the elements of disfigurement and deformation, whether they are inspired by a suicide victim, the death of a lover, or a sister's deformity. The final painting of his career is aptly called "The Whole of Life." This is an ambitious, perhaps even blasphemous attempt to represent his vision of God. Twice he is suffers a stroke during its composition, and Duffield dies with paintbrush in hand, but not before "acknowledging with all the strength of his live hand the otherwise unnameable I-N-D-I-G-O" (p. 616). White conveys this rather dramatic climax to the novel with abundant religious symbolism. For example, "I-N-D-I-G-O" as it is written recalls one of the early representations of God in the Old Testament, the Tetragrammaton Y-H-W-H. Second, it forms a neat anagram: "GOD IN I." Third, in Eastern religious traditions the color indigo is associated with the "third eye," which enables one to perceive and know the spirit world. This association brings us back to the "Mad Eye" of Duffield's childhood drawing and to the early vision of his adoptive mother's blue eyes and blue dress (p. 21).
The ending of The Vivisector, like that of Voss, is replete with religious symbolism and ambiguity. Both Duffield and Voss suffer in part to their overreaching. Yet the heroism of their final acts in some measure redeems the two characters. Duffield literally dies for his art and his vision. He could have accepted the knighthood and retired to a dotage of great wealth and fame. Instead, he became a Job-like figure determined to finish his vision of God despite partial paralysis. Furthermore, "The Whole of Life" leaves no victims in its wake, except for the artist himself. Duffield's redemption, if we can call it that, does not come with apologies, regrets, and remorse. The truth of his redemption comes only with a painting we cannot see.
 
ABOUT PATRICK WHITE
Patrick White was born outside London, England in 1912. When he was six months old the family relocated to Sydney, Australia. White's childhood in Australia was plagued by numerous illnesses, including asthma, a condition that worsened throughout his life. At twelve, he was sent to a boarding school in Cheltenhem, England, which he considered his "English prison." While on a school holiday in Scandinavia he discovered the plays of Ibsen and Strindberg, and his budding vocation as a writer.
White finished his schooling early and returned to Australia where he worked for two years as a jackeroo in the mountains of New South Wales. Although his health improved during this time, it became clear to White that he was not suited for a life outdoors. From 1932 to 1935, White studied French and German literature at King's College, Cambridge. It was then that he began writing plays and poetry in earnest. After taking his degree, he stayed in London and associated with other writers and artists, including the young painter Roy de Maistre. De Maistre would become an important friend and influence on his career. White dedicated his first novel to de Maistre and used a specially commissioned painting of his for the cover of one of his novels. When his father died in 1937, White was left an inheritance of 10,000 pounds, which provided the means to finance a career as a writer.
His literary break came in 1939, when his first novel, Happy Valley, was published in London and later in America by the Viking Press, which would be White's longtime U.S. publisher. The book, like most of White's novels, was well received in Britain and America but was dismissed in his own country. During the Second World War, White served as an intelligence officer for the RAAF in Egypt, Palestine, and Greece. While in the Middle East, he met Manoly Lascaris, a Greek Army officer, who would become his lifelong partner. After the war, the two settled down in an old farmhouse outside Sydney, where for the next eighteen years White would publish his most accomplished novels. Notable among these works are The Tree of Man(1955), Voss (1957), and Riders in the Chariot (1961).
Australians finally accorded him recognition and respect by selecting Voss as the winner of the inaugural Miles Franklin Literary Award. White won the award again in 1961 for Riders in the Chariot and again in 1968 for The Vivisector. After winning the Britannia Award in 1968, the relatively wealthy author decided that he would not accept any more prizes for his work. White's stature as a leading international writer was enshrined in 1973, when he became the first Australian to receive the Nobel Prize for Literature. The Swedish Academy cited his "epic and psychological narrative art which has introduced a new continent into literature." White didn't attend the Nobel ceremony but did accept the monetary award, which he used to establish the Patrick White Literary Award "to advance Australian literature." In addition to supporting Australian literature, White was a generous contributor to the aboriginal community and the visual arts. White's health began to decline in the 1970s but he continued to publish respected work throughout his later years, including the The Twyborn Affair, which was shortlisted for the Booker Prize in 1979. White's last novel, Memoirs of Many in One, appeared in 1986. In addition to his many novels, White published several plays, the short story collections The Burnt Ones, The Cockatoos, and Three Uneasy Pieces, and the autobiography Flaws in the Glass. He died on September 30, 1990.
DISCUSSION QUESTIONS
Several times throughout the novel, the narrator addresses Duffield directly, for example on page 49 ("You would have liked to show you weren't just a boy . . .") and on page 532 ("You glanced back irresistibly . . ."). What effect has this device on your reading of the novel? What is the narrator's relationship to Duffield?
As his parents discuss exchanging Hurtle for 500 pounds, the narrator says "Mothers and fathers, whoever they were, really didn't matter: it was between you and Death or something" (p. 47). Discuss this theme about the relative unimportance of family for determining one's destiny, a theme repeated in this novel and in other of White's work.
In a reappraisal of Patrick White for the Times Literary Supplement, the novelist David Malouf said The Vivisector was "full of larger-than-life (theatrical) characters and grotesques, lurid situations, and an oddly old-fashioned view of the artist as sacred monster; a march of folly in which the traditional decencies have given way to rank opportunism and cannibalistic greed." In what ways do you agree with this assessment?
There are a few superficial connections between The Vivisector and Voss. The explorer Leichhardt is mentioned in a letter from Mr. Courtney; Palfreyman's sister and Rhoda share the same humpbacked condition. More important, both novels address the themes of suffering and redemption. Discuss how these themes are handled in each novel.
The death of the prostitute Nance Lightfoot is left unexplained. Was Duffield complicit in her death? Did she commit suicide? Was it a bizarre accident?
Most of the women who come into contract with Duffield show a surprising awareness of his artistic motivations and methods, so much so that he recoils at their ability to interpret his works. Discuss his relationship to these women, including Rhoda, Nance Lightfoot, Olivia Davenport, and Hero Pavloussi.
According to White's biographer David Marr*, The Vivisector was an attempt "to show 'unbelievers' the faith buried inside of them." Discuss the Christian theme of redemption as it is employed in the novel. Is this a Christian novel? Has Duffield achieved redemption at the end?
Discuss the conceit of vivisection in the novel. Is this a compelling metaphor for the visual artist? Is there something inevitably cruel about art, as the metaphor implies?
The Kathy Volkov episode has obvious parallels with Nabokov's Lolita. Did you find this episode gratuitous? Besides age, how does Kathy differ from the other women in Duffield's life? Is she one of the few to escape unscathed from his art?
The portrait of the artist here is not necessarily an original one. He is the lonely pariah, existing outside the obligations of conventional society. Did you find this an outdated or overly clichéd portrait? Are artists today viewed as such?
*Source: Marr, David. Patrick White: A Life. London, 1991.
Back to Top